by Mary Therese Biebel: Students and other passersbys did a lot of double takes on Monday, especially if they walked through the atrium in The University of Scranton's Loyola Science Center more than once.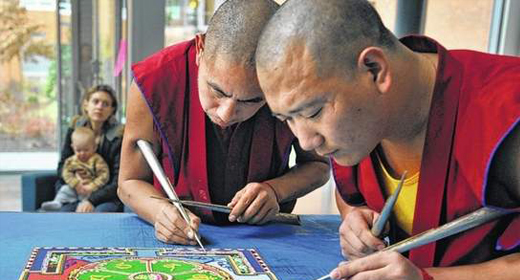 Sporting maroon robes and shaved heads, half a dozen Tibetan Buddhist monks from Gaden Shartse Montastic College in India were busy there all day, slowly and purposefully using tiny grains of colorful sand to build a richly patterned, wheel-like "mandala of peace" on a tabletop.
If bystanders happened to leave and come back, say, after an hour in class or at lunch, they were amazed at how much the monks had accomplished while they were gone — and with such precision.
"I think it's beautiful," said Renee Giovagnoli, manager of the building. "It shows patience and perseverance and dedication. That's a good lesson all in itself."
"It's very relaxing to watch," Constance Wall, 21, a biology major from Connecticut. "It's good for finals week, that's for sure."
"They're super-focused and diligent," said Tyler Dempsey, 23, of Clarks Summit. "Tons of people are coming in and out, but that doesn't seem to distract them."
During a midday lecture to about 20 students and staff, one of the monks, Lama Phuntsho offered insight into the philosophy that leads to such focus.
"Everyone has only two wishes," he said. "We all don't want suffering, and we want happiness."
"To have compassion is to try to free each and every one from suffering. To love is to help others achieve happiness," he told the group. "Always make your mind spacious, make your heart open. The more you open your heart, anything could happen; it won't distract you."
A life of service, caring for others and not being selfish helps a person accumulate merit, Lama Phuntsho said, and in the Buddhist belief system leads to being reincarnated in a higher realm. The six realms of the samsara wheel, which were depicted symbolically in the sand mandala, include god, demi-god, human, animal, hungry spirit and hell.
While the monks worked for hours to craft the sand mandala, they never intended for it to be a forever piece of art. As a symbol of the impermanence of life, by Monday evening the sand was to be swept away, blessed and distributed.
Seventeen-year-old Raven Strozzieri of Lake Ariel was among the spectators determined to watch the ritual and leave with some blessed sand. "I attended a similar event at a church in Philadelphia when I was 4 years old," said Strozzieri, who is home-schooled. "It made such an impression on me. I told my parents I wanted them to bring me here and I would stay all day."