by Michael Graham Richard: There's already been a lot of speculation – partly based on facts, partly on rumors – that Apple is working on an electric car…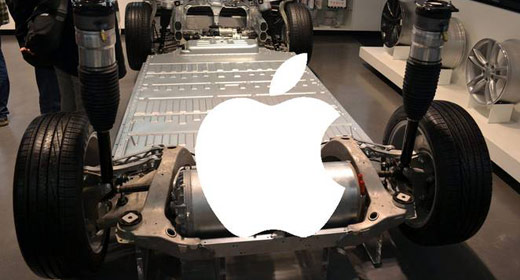 We covered the basics here, and I even gave 9 reasons why I think Apple might eventually buy Tesla. But since then, things have been pretty quiet, until just now. New court documents from a lawsuit that A123 Systems, a battery company that filed for Bankruptcy in 2012, has filed against Apple.
A123 claims that Apple has "poached" some of its employees, including its former Chief Technical Officer (CTO), Mujeeb Ijaz.
Ijaz was in charge of the technical side at A123, making $294,000 per month, guiding a team of engineers to try to make the best electric car battery yet (which were going to be tested in Formula 1 electric racing, requiring the highest power density possible). Getting him to change employers probably required dangling not just money in front of his face, but a big exciting project too.
Before working at A123, Ijaz was at Ford, so he's an automotive guy as much as a battery guy. His LinkedIn profile says:
The court filing accuses Apple of:
Upon information and belief, Apple is currently developing a large scale battery division to compete in the very same field as A123. In connection with that development, beginning in or around June of 2014, defendant Apple embarked on an aggressive campaign to poach employees of A123 and to otherwise raid A123's business…

…all of the Individual Defendants [allegedly poached by Apple from A123] are working in a field of battery science, technology, and/or products that is substantially similar if not identical to the field they worked on in at A123.
Further adding that Apple has also hired battery experts that previously worked at Toshiba, LG, Samsung, and Panasonic.
It would be rather strange for Apple to hire all these people with automotive background if they had no plans to use their skills. Of course, talented engineers can work on more than one thing, and some of the knowledge from EV batteries is no doubt useful in mobile gadget batteries, but still, there's a lot of smoke so far — chances are, there's also a fire somewhere, well hidden behind locked doors and biometric security…
An electric car would certainly fit with Apple's renewed interest in all things green, and the automotive industry is one of the few large markets that could move the needle for the largest public company on Earth.
Source: Treehugger