by Tara Lynda Guber: Contact Yoga presents an inspiring new vision of yoga created to deepen your relationships with lovers, friends, family, and other intimates in your life…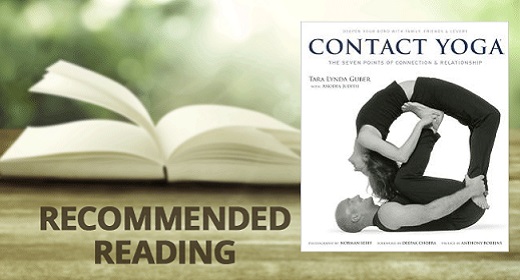 Contact Yoga explores that mysterious and dynamic edge where two people connect: physically, emotionally, and spiritually.
Drawing on her yoga practice of over thirty-five years, Tara Lynda Guber offers valuable insight into the dynamics of all loving relationships using poses designed for two participants that embody the "Seven Points of Contact." Contact Yoga brings these Seven Points (Trust, Passion, Commitment, Love, Communication, Vision, and Union) into focus as points on the body and as emotional and intellectual qualities for connecting, relating, and engaging with others. Contact Yoga will appeal to all who seek depth and fulfillment in their relationships.
Even someone who does not practice yoga will find the philosophy informative and inspirational.Contact Yoga is direct, practical, and effective—a "real world" encounter with a practice that produces immediate results for a physical, emotional, and spiritual body that will transform your daily life.
Contact Yoga also features over one hundred striking tri-tone photographs by award-winning photographer, filmmaker, and director Norman Seeff. His vivid images capture candid portraits of renowned yoga teachers, such as Patricia Walden, Anna Forest, and Shiva Rae, as well as celebrities in dynamic yoga poses. Featured celebrities include Harry Hamlin and Lisa Rinna, Cheryl Tiegs, Carrie Otis, Daphne Zuniga, Catherine Oxenberg, Linda Gray, and Elizabeth Berkley.