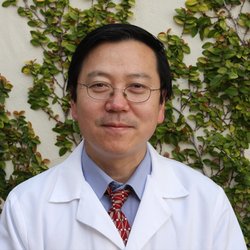 Home Base
Los Angeles, California
Expertise
Acupuncture
Total Views: 7,031
Dr. Hua Bing Wen
Dr. Hua-Bing Wen, B. Med., MS, L.Ac. (licensed acupuncturist) brings his expertise in the field of medicine to Los Angeles while coming from a long line of rigorous schooling in China.  Dr. Wen began his studies at the age of sixteen with a deep thirst for knowledge and problem-solving that has followed him throughout his career.  He earned his medical degree from the prestigious Beijing University of Chinese Medicine (BUCM) in 1987, graduating with highest honors.  This earned him the privilege to forego the entrance examination for the graduate program at the same university.  He continued his studies to earn a master of science degree in integrated clinical medicine while achieving "best thesis of the year." To this day Dr. Wen uses his insight, self-discipline, tireless effort and problem solving skills on behalf of his patients.  "If everyone has given up on you, come to me," he says.
Dr. Wen is comfortable with complicated challenges.  He spent two years following graduate school serving as a resident physician in the Emergency Room of Dong-Zhi-Men hospital, and another two years there as attending physician of Internal Medicine.  Here he treated a vast number of patients, taught medical students, and conducted research projects measuring the effects of herbs and acupuncture on a myriad of diseases including diabetes, heart disease, stroke, as well as kidney disease and thyroid conditions.  His scientific publications involve various areas such as diabetes, hypertension, stroke, and integrative chemotherapy with TCM therapy.
Since 1993 Dr. Wen has made Los Angeles his home.  In addition to his private practice in Beverly Hills, he currently serves as a faculty member of the Masters programs at both Yo San University of Traditional Chinese Medicine  and Emperor's College of Oriental Medicine. Dr. Wen also proceeds to hold classes in TCM oncology, Advanced Chinese Internal Medicine, and Chinese Classics in Emperor's well-renowned Doctoral Program.