by Sara E. Morrow: Most of us go to our local yoga class, sweat as we hold a few poses, say a few 'Ohms' and feel more grounded and calm…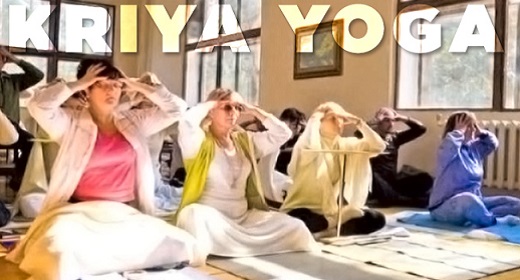 Truth is, we have been taught little about the true spiritual nature of the yogic practice itself.
Yoga has been done for centuries as a way to connect to God and the Universe – Enlightenment – with the ultimate goal being to leave our physical body behind and transcend in our spiritual form.
Kriya Yoga is practiced to speed up your spiritual evolution. Devout disciples believe that it holds the key to true enlightenment. Through years of dedicated practice and study their ultimate goal is spiritual rebirth.
In Sanskrit, Kriya means 'action'. A transformative state. Kriya Yoga became widely known in a book written by Paramhansa Yogananda: Autobiography of a Yogi. Intensive study of Kriya with a Guru is thought to have the potential to lead one to a second, conscious rebirth. But in order to do this, you must leave everything your mind controls in your previous spiritual life behind and devote yourself to God, and your yogic practice.
Kriya yoga directs life energy to revolve, upward and downward around the six spinal centers which correspond to the twelve signs of the zodiac. It was first made In another book, Conversations with Yogananda, Paramhansa Yogananda he writes:
"You can be in a room twenty years, trying to get out through the walls, the ceiling, the floor. It is when you finally discover the door that you find your way out. That's how it is with the soul. The average devotee may struggle his whole life trying to escape the bodily limitations by unscientific means, and by the paths only of devotion or discrimination. By Kriya Yoga, however, if he is sincere, he can escape quickly. Kriya Yoga takes one to God by the universal highway: the spine."
Those who don't want this extreme of a journey can still find a connection with the Kriya way of life – it's just on a less intense level. For anyone serious about this journey – it's a must that you have a guide. A Guru. The Swami Kriyananda says: "… to take up Kriya Yoga signifies entering seriously onto the path to God. It is not a game, and should certainly be treated as a lifetime commitment… a very sacred step in one's life. "
You can start on your path for a greater connection and higher purpose driven life with a Guru and take baby steps towards what you feel comfortable with.