by Rachel Grunwell: Recently I hopped along to the opening of a yoga studio that offers kundalini yoga, and TV presenter Carly Flynn was there…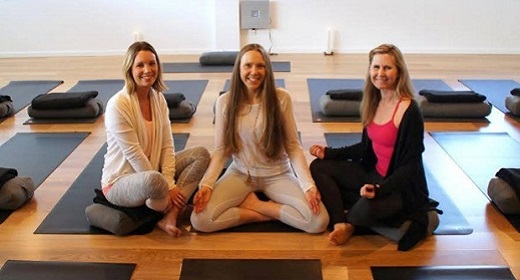 Turns out it's her secret "happy place". She's a convert to kundalini yoga, which is a unique style of yoga not common in New Zealand.
Carly and I used to work together in the media industry and we had a chuckle about the media business being full of stress bunnies (although what industry isn't these days?) But that's possibly why Carly and I have both been driven to yoga. Better that we turn to this to unwind than another kind of addiction!
We are also part of a growing trend of mums who seem to care increasingly about wellness, healthy food and getting fit. It's about beauty on the inside before beauty on the outside. There's a saying for it: that the new badge of wealth appears to be health. Actually, for me, it's also about yoga complementing my marathon training and so I remain injury-free (I also teach yoga to runners in Auckland).
Anyhow, where is Carly's "happy place? Well, I'll let you in on a secret. It's the Golden Yogi Beachside yoga and wellness centre in Takapuna, Auckland. You can get raw food treats here, healing teas, massage, nutrition and wellness advice in addition to several different styles of yoga from kids' sessions to restorative, flow or yin yoga. The people who work here are highly qualified. But this studio's unique point of difference is it offers kundalini, which is rare. Co-owner Erin reckons there is only a handful of classes of this style nationwide, including in the Auckland suburb of Albany, Wellington, Christchurch and Blenheim.
Golden Yogi is a brand owned by sisters Kirsty and Erin O'Hara (this is their second studio in Auckland). Kirsty is the marketing genius, while Erin is the yogi and meditation expert. She trained in kundalini-style meditation while she lived in LA when she was a professional triathlete, racing on the pro half-ironman circuit. She says kundalini is massive in the States, but it is still filtering through to New Zealand.
The studio describes kundalini yoga as this: "The focus is on balancing the glandular system, strengthening the 72,000 nerves of the body, and bringing the body, mind and soul into balance."
While I'd describe it like this: A gentle style of breath-led yoga, with meditation, focus work and some chanting. It's a tool to tap into being calmer, more centred and ultimately happier.
I was interested as to why Carly had chosen this studio to work out at – given there are hundreds of studios throughout Auckland. It turns out that the studio is near her home and when she tried kundalini yoga, she felt a heart connection to it. Carly says she sleeps better when she attends classes here. She's also never felt better as a mum as it renews her energy levels, and she has fun practising this yoga at home with her kids.
The trick for her to keep fit, she says, is "just to get there". She's like many busy mums with a chaotic schedule, but she knows if she just fits in some fitness then she will feel better.
Carly says Erin is key to this place. "She's changed my life!" She describes the yoga teacher as caring and "without ego". Carly feels happy in this place, where there's no "judging". "It's a nurturing, safe and caring environment."
Erin says she never knew who Carly was – she doesn't own a TV! – and so treated Carly as she would any other yoga student.
Carly says she now suffers from "yoga guilt". She explains: "the more you do it, the more you want to do it."
Here are four things you might experience in a kundalini class at Golden Yogi:
1. Tune in by chanting – to call on your higher self and connect to the teacher within.
2. Breathing work – to tap into your life energy and to calm the mind.
3. Kriya – specific postures and chants for a specific outcome i.e. to be more flexible, or to feel more love or happiness, for instance.
4. Meditation – to raise awareness and control of thoughts. Though using mantra (sacred sounds repeated aloud or silently) and mudra (sacred hand gestures such as touching different fingertips to your thumb), it is believed this can clear negative patterns and help yogis to connect with a higher consciousness.