by Sarah Berry: This is not what I'm expecting…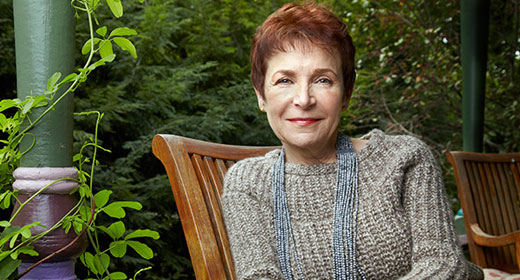 "See, you don't understand or you would not have said that," snaps Caroline Myss, tilting her head back as she stares at me through the glasses perched on the end of her nose.
In case you haven't heard her, Myss is a hugely successful author and "medical intuitive", a regular on the New York Times bestseller list and a popular guest of Oprah.
She is the world's leading medical intuitive – that is someone who can "intuit" people's physical or emotional problems.
To earn yourself a listing as a medical intuitive on the International Association of Medical Intuitives website, all you have to do is fork out $50.
Airy-fairy as this may sound, Myss is a far cry from the vaudeville caricature of an incense stick-wielding, tarot card-shuffling, kaftan-wearing cat lady.
The author of Anatomy of the Spirit, who has a degree in journalism and a masters in theology, is more a picture of conservative academic, with her cropped brown hair, demure dress sense and astute gaze.
Her tone is no nonsense too.
Myss, who discovered her abilities as an eight-year-old and found fame via her collaborations with Harvard neurologist Dr Norman Shealy, is touring Australia in November.
How does she explain what she does to a conservative audience?
"I don't bother," she replies. "Some people have a need for everything to be very logical, to be orderly and physical and they don't understand that the majority of our lives is lived in the invisible world.
"Our emotions, our mental [world], our ideas, and now our technology are all essentially invisible and what we do in the physical world is the consequence of this [invisible world]."
Despite our desire for everything to be logical, fair or easy to understand, it is not, she says. But we can learn to tap in to the world we cannot see and understand the way it works.
"There's nothing more natural than being able to have an 'innernet' that operates exactly like the internet, so if someone sends me data, it's like an email and I am wired to pick up email in exactly the way a computer is."
There are, of course, critics who insist it can't be possible if it can't be proven, but Myss is a compelling person to have a conversation with. Still, I find myself, at times, taken aback by the terse tone.
'The Western mind is so foolish'
At one point in the conversation, we are discussing the idea of attachment.
She says that attachment is often the cause of our suffering and offers an example of someone saying something that we consider hurtful.
If we didn't "attach" ourselves and make it personal, it wouldn't hurt, she explains.
I am familiar with this idea – at least I am with the Buddhist concept of non-attachment.
Loosely, it involves having compassion and a sense of "loving kindness" towards others without tarnishing it with the expectation that can come from ownership (attachment); "My" partner, "my" child, "my" friend.
"If one's compassion toward someone is tinged with attachment, it can easily turn into its emotional opposite due to the slightest incident," the Dalai Lama explains.  "Then instead of wishing that person to be happy, you might wish that person to be miserable."
So, I wonder out loud to Myss how we can be in intimate relationships without attachment. This is one occasion she snaps.
"See, you don't understand or you would not have said that," she shoots back, irritated.
"See, this is the Western mind thinks 'we don't care'. It does not … the Western mind is so foolish. Jesus. The Western mind is the most irritating place I've ever encountered because it's so emotional, it's so pathologically emotional. It doesn't mean that, it means you stop taking everything personally."
Myss offers the example of an addict in a relationship.
"Whether that addict is married to you or anybody else, that addict is going to lie. So if you say 'how can you lie to me?' you're taking something personally that has nothing to do with you … and what detachment is, is your capacity to recognise the addict and know that the addict in that person is an impersonal force that will behave in a certain way …
"Taking it personally is positioning yourself in such a place that you think you're the exception to the archetypal pattern.
"This is where people end up being the source of their own suffering, because they think they're exceptions to the rules. And they're not."
'The paradox of health and healing'
Whatever you make of Chicago-born Myss (who I like, despite the sometimes sharp rejoinders) her lack of pretense has cut through. Anatomy of the Spirit has been published in 18 different languages.
Healing by understanding the interplay between our physical and psychic worlds is something that features strongly in Myss' work.
She tells me an anecdote about an astrology teacher she once had, who she "adored".
The teacher smoked four packets of cigarettes a day until one day she gave up and never smoked again.
Instead, she replaced cigarettes with food and became morbidly obese to the point where she could no longer walk.
"She would say 'I'm going to start my diet tomorrow' and that became her mantra. And I would say 'Ingrid, if you can stop smoking like you did, you could do this'. But she couldn't," Myss recalls.
Or, Myss says, more truthfully she didn't want to stop.
"It was like an equation – as this obesity caused greater restriction on her movement and her life it made her indulge even more with food because it was the only pleasure she had as a result of losing all her movement, but the reason she lost it is because of [overeating]."
The desire to be happy or healthy but the reluctance to do anything about it is what Myss refers to as the paradox of health and healing. It is an issue she feels is of special significance given rising rates of obesity and chronic health problems.
How to overcome it is what she intends to speak about while in Australia.
'This is why people don't heal'
The excuses we feed ourselves are what hold us back from being as healthy and happy as we could be, Myss says.
"People like excuses, they like not pursuing the light," she says.
"They like thinking about it, but they don't trust the light, they trust the darkness, for all kinds of reasons.
"One is that people know how to manoeuvre in the dark a lot better than they do in the light. There's only one answer, if I ask you something, 'did you do this?' Truth is there's only one answer, but in the dark, there's 1000.
"Truth will change your life, lies don't. You can change your life the way you want with a lie but truth changes your life according to what needs to happen. With truth you have no control over how your life will change. With lies you're just trying to control it every step of the way – cause you just add one lie onto another. So people like being in the dark.
"They get to blame others, they get to do very nefarious things and it's always someone else's fault – it's never theirs. It's their childhood, it's their wounds. This is why people don't heal."
It's a harsh assessment and a levelling opinion. Thankfully there is some reprieve.
"It's not that they don't want to be better," Myss says. "That's the soul in them, because the soul is a relentless force of goodness and it will never let people rest easy. Because people essentially want to be this full person who's not afraid of their own life. And that is what the search is about."
Myss may not take any prisoners in her assessments of life and health, but she says her mission is to teach people how they can escape the paradoxical struggle.
"It is not easy. It's so difficult to live day-to-day with people and take truth and live it and that's what I really want to talk about and how to apply it."
Source: SMH