by Joseph Erbentraut: The solar farm is expected to be the largest in the world…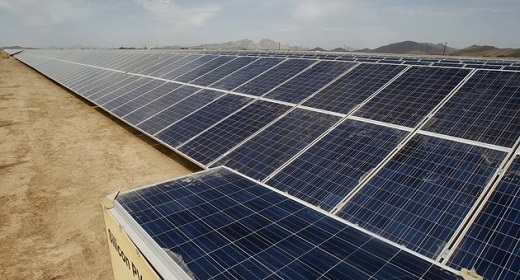 The U.S. government just made its largest renewable energy purchase to date.
The U.S. Navy has invested an undisclosed amount in the Mesquite solar farm in sun-rich Arizona, allowing for an expansion of the facility that is anticipated to make it the world's largest solar farm.
As the Climate News Network's Paul Brown reports, the farm — located about 40 miles west of Phoenix — will provide 210 megawatts of direct power, a third of the energy needed to power 14 Navy and Marine Corps sites. The solar farm, slated to go online next year, is expected to save the Navy "at least" $90 million in energy costs over the course of the 25-year contract with Sempra U.S. Gas and Power, which operates it.
The Mesquite facility, which completed its first phase of buildout in late 2012, has a potential capacity of 700 megawatts, which would power up to 260,000 homes. It requires no water to operate and reduces greenhouse gas emissions, according to Sempra.
The investment marks a big step toward the Department of Defense's Congress-mandated goal to either produce or procure 25 percent of its total energy needs from renewable sources by 2025, the Navy announcement noted.
Meanwhile, India has also set its sights on creating the world's largest solar farm. The country announced last month that it will build a 750-megawatt plant on 1,500 acres of barren, government-owned land in the northeastern Madhya Pradesh state. The plant, however, is not expected to be in operation until 2017.
The increased interest in solar energy comes amid a new report from the Paris-based International Energy Agency showing that the cost of producing electricity from solar and other renewable sources has decreased "significantly" in recent years; they are no longer "cost outliers" when compared to fossil fuels, Bloomberg reports.