by Madeline Giles: Guru Jagat is the outspoken face behind the Ra Ma Institute, the only all kundalini yoga studio in California's Venice Beach…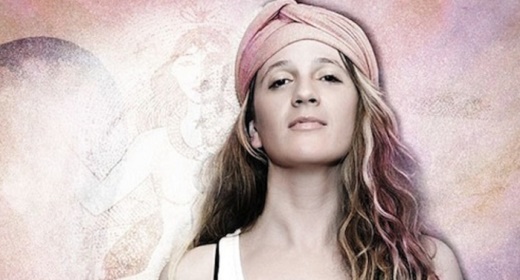 She talks to Madeline Giles about her vision for the Age of Aquarius, life on the 33rd parallel and outsmarting the Global Elite. Conspiracy theories or conscious debate? You decide…
I moved to Venice Beach from Brooklyn on December 30, 2013 – and by January 7, three people had already mentioned Guru Jagat to me. I learned she founded and taught at Ra Ma Yoga Institute, the only all-kundalini yoga studio in Venice. Since I a) loved kundalini yoga (I practiced in New York, but not consistently) and b) operate by the rule of three – meaning if I hear something mentioned three times or more, I take it as a Divine directive to do it – I went to her class as soon as I could.
Guru Jagat begins each class with a 20-minute lecture seated in front of Ra Ma's 60-inch gong (which was initially made for Van Halen). Whether she's talking about astrology, her most recent meditative conversation with a Pleiadian priest, the influence of the Global Elite, the Piscean Age vs. the Aquarian Age or her all-white, probably vintage, always amazing attire – I always find myself laughing (she's really funny!) and learning SO much.
I adore Guru Jagat because she isn't afraid to talk about things most people disregard – and I, for one, want to hear all about how that one Lady Gaga song is actually a mantra used to control the masses (more on that in the Q&A below). Yet beyond that, and perhaps more importantly, she has an incredibly ability to make people feel like they belong.
I've experienced this firsthand several times since first stepping into Ra Ma a few months ago. In class, Guru Jagat acknowledges and personally welcomes all her students, whether they are first-timers or regulars. She offers a free dinner after Sunday night class, free daily Sadhana, endless amazing events, specific classes and workshops based on the planetary cycles, and magical, high-vibe mantra music via Ra Ma Records (she sings, too!). To me, Guru Jagat is a true embodiment of what it means to thrive as a magical person in a modern world.
In a world where many spiritual teachers (not that Guru Jagat would ever call herself that) walk their talk solely on social media and stage, Guru Jagat is setting a new example. She's devoted to her students' growth whether or not the livestream camera is on, and it's a palpable aspect of her presence. If you're unable to make it to Ra Ma in person, I highly recommend experiencing her classes online via Ra Ma TV.
Tell us about your journey into kundalini yoga. How did you become this cosmic warrior queen of Earth?
"Well, I'll tell you…I had studied with the Osho people, the Encounter groups – I was doing the New Age circuit, yet when I walked into my first kundalini yoga class, I felt a massive opening of my crown chakra. New Age savvy as I was, I didn't know what was going on. I later learned that's not an uncommon experience for first-timers – the kundalini energy moves up the spine and that pressure opens up the crown chakra, which attributes to elevating your consciousness. I was lucky enough to be around when Yogi Bhajan was still alive, and I got major transmissions from that by studying with him in New Mexico as much as possible before he passed away. I've been trailblazing the forefront of the kundalini revolution since.
What do find most valuable about the kundalini yoga teachings?
Kundalini yoga is so accessible to anybody. It literally has more mass appeal than any other type of yoga, because anybody can do it – and by that I mean people in peak physical condition all the way to paraplegics can do some form of the yoga. This (points to turban) has kind of kept people from it, but at Ra Ma we're working to debunk it without watering it down or apologizing.
That's what I love about your classes. They're so unique without comprising the integrity of the teachings, plus you lecture on subject matters that most people choose not to acknowledge – like the concept of the Global Elite…
"A bunch of people are joking that they're going to take my quote and make it into a t-shirt, which is: "If the Illuminati can do it, we can do it!" It would be an amazing t-shirt! Basically, the whole Aquarian Age – this age of consciousness – is about taking our power back. The Global Elite know how to use the lunar cycles, the astrological phenomenons and the grid of the planet (latitude and longitude substantiates the grid). That's their specialty, and they've used it in a certain way – and now, the Aquarian Age is about the masses accessing all that power and using it in a light way. The Age we just came from was all about the Elite having the power to control the masses, but now, thanks to the Internet, there are no secrets. Now the masses have the opportunity, and kundalini yoga helps people access this power and use it to evolve consciousness."
You've mentioned in class about Ra Ma needing to be situated in a certain location so it can be on the 33rd parallel. Can you speak a bit more about that?
"Venice Beach is situated on the 33rd longitude degree, which also goes through all these other occult places on the planet. Kennedy was assassinated on the 33rd parallel, Yogi Bhajan's yoga school in Florida is situated on it, and in the 2004 election the night before the debate, it made national news that Bush chose to spend the day in the middle of a Florida field with 40 farmers, while Kerry was touring around the major cities of Florida. Even the newscasters were like; "what is Bush doing?" Basically, he was specifically put on the 33rd parallel to soak up the energy – but that's another story! Anytime you get the number 33, you're working in the sixth dimension of reality – it's a power place, a vortex. Yogi Bhajan told me when he was still alive that [my yoga studio] had to be between certain blocks on Lincoln Blvd. [in Venice] – and as particularly close to Rose Ave. as I could get it. If we were north of Rose, we would be on the 34th parallel, so it literally had to be here."
What are your thoughts on people who dismiss things like this as conspiracy theory?
"Kundalini is the yoga of awareness, so practicing it we become aware of this information. It's about what we do with it that matters. If you want to put yourself on this frequency, you actually see that the whole world is conspiring for your greatest good, and once you activate your brain centers in a certain way – at a certain vibrational frequency – you can't go back to sleep. For lack of a better metaphor, once you go in and say, "I'm an addict" or "I'm an alcoholic," you'll never be able to go and use again the way you used to. I feel that a lot of the conspiracy theory rabbit holes are being used for fear mongering and money making, however, and that's obviously not what we're about."
What is your vision for a society that fully integrates the teachings and energy of the Aquarian Age?
"In the vision of the Aquarian Age, there's enough for everybody and the reason we're here is to serve others. Our [collective] vow is to be actively and generously giving our gifts to the world and each other, and so everything we do becomes a creative and manifesting act. That sounds very utopian on some level, but it's also very ordinary. In the Piscean Age, everything was compartmentalized. People said things like; "this is my yoga practice and then I go do whatever I do" – which was usually not in alignment with the yoga practice. Everything had a split and a chasm and a compartment. In the Aquarian Age, everything is integrated seamlessly."
"My vision and my interpretation of Yogi Bhajan's vision is that we are integrating all the activities of our regular, ordinary, householder lives into very extraordinary, spiritually connected experiences. Meaning that every moment, everything that we're doing throughout the day – working, picking up kids, doing schoolwork or whatever we're doing – we're actively bringing elegance to the moment. It sounds poetic, but the actual practice is very intensive. It's meditation in action. From that space, the more we are able to experience glimpses of inner peace, the more the world is going to experience glimpses of world peace. It's totally and completely related."
With all the changes happening in the world, how can we adjust? Especially for people who aren't open to practicing kundalini yoga?
"The sound current and the breath creates a buffer, and in this technology we believe the sound current puts you at a certain frequency that then determines who you meet and who you don't meet. Like frequencies are going to attract each other, so the more developed your frequency, the more sophisticated the interactions and opportunities that come your way are going to be. That's why we're focused on getting our songs and mantras out on Ra Ma Records. So many people are listening to my songs that would never go to a yoga class, but they're getting an infusion of energy. Same thing with Ra Ma TV. I've gotten an overwhelming amount of emails and messages around the fact that people are having their parents or sisters or brothers or kids listen to my lectures. They're not doing the yoga, they're just watching the class, and they're getting a transmission of energy through the sound current of my voice."
Which is kind of amazing…
"We kind of downplay Ra Ma records and say, oh it's just this fun little project – but it's one of the most important things we're doing. The songs on Ra Ma Records Volume 2 (released this past summer solstice) are all crossover tracks. Every single one could be played on the radio, and it's going to happen. The thing is, the Global Elite also know how to use rhythm and sound to control the masses. It's no coincidence that nobody knows any of the words from Lady Gaga's biggest hit except for; "ra ra ra ma ma, ra ra ra ma ma" – it's a mantra. So, if they can do it, we can do it!"