by Alison van Diggelen: Last night, Elon Musk's SpaceX achieved a spectacular milestone in the history of space travel: its Falcon 9 rocket launched 11 satellites into orbit…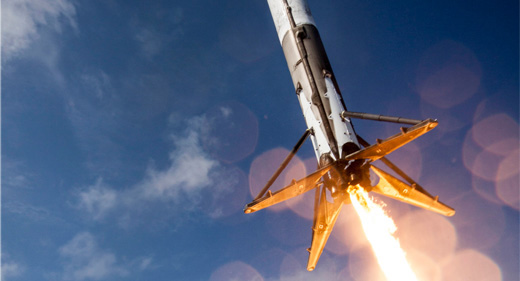 performed a spin and landed back on earth, six miles from where it launched. Why is this ultimate recycling feat so consequential?
Quite simply, this could revolutionize space travel as we know it today.
During our in-depth 2013 interview, an emotional Elon Musk told me of his disappointment at the progress of space exploration and his ultimate goal: to make human life multi-planetary.  He explained that if he could "show the way" by making rockets as reusable as airplanes, this would:
1. dramatically reduce the cost of space travel
2. re-energize support for NASA's mission
3. increase NASA's budget
and "then we could resume the journey"…to Mars and beyond. Watch the interview, starting at 35:00
The back story of SpaceX
"I always thought that we'd make much more progress in space…and it just didn't happen…it was really disappointing, so I was really quite bothered by it. So when we went to the moon, we were supposed to have a base on the moon, we were supposed to send people to Mars and that stuff just didn't happen. We went backwards. I thought, well maybe it's a question of there not being enough intention or 'will' to do this. This was a wrong assumption. That's the reason for the greenhouse idea…if there could be a small philanthropic mission to Mars…a small greenhouse with seeds and dehydrated nutrients, you'd have this great shot of a little greenhouse with little green plants on a red background. I thought that would get people excited…you have to imagine the money shot. I thought this would result in a bigger budget for NASA and then we could resume the journey…"
On negotiations with the Russian military to buy two ICBMs
"They just thought I was crazy…I had three quite interesting trips to Russia to try to negotiate purchase of two Russian ICBMs…minus the nukes…I slightly got the feeling that was on the table, which was very alarming. Those were very weird meetings with the Russian military…'remarkably capitalist' was my impression (of the Russians)."
Why he chose to create his own rocket company, SpaceX
"I came to the conclusion that my initial premise was wrong that in fact that there's a great deal of will, there's not such a shortage. But people don't think there's a way. And if people thought there was a way or something that wouldn't break the federal budget, then people would support it. The United States is a distillation of the human spirit of exploration. People came here from other places…people need to believe that it's possible, so I thought it's a question of showing people that there's a way…There wasn't really a good reason for rockets to be so expensive. If one could make them reusable, like airplanes then the cost of rocketry (and space travel) would drop dramatically."