by Emily Peck: The SpaceX CEO's answer was encouraging…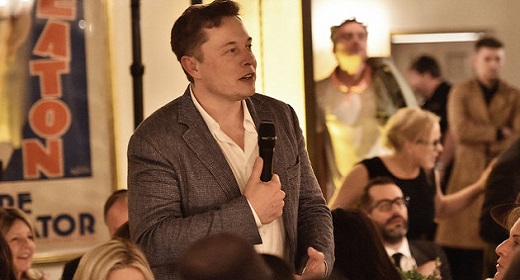 Elon Musk is considering reviewing employee salaries at SpaceX to ensure that women and men are paid fairly, the chief executive and founder said at a dinner at a private residence in Beverly Hills last Thursday.
Dubbed The Dinner for Equality and co-hosted by actress Patricia Arquette and Marc Benioff, chief executive of the software company Salesforce, the event brought together women's activists, chief executives and some Hollywood A-listers to discuss how to advance the cause for women's rights at both the policy and corporate level.
The pay gap between men and women has drawn renewed attention in the business world over the past year or so, particularly since Benioff announced publicly last year that he would audit employee salaries and then spent $3 million to correct the internal gap at Salesforce.
"It is scary for a CEO" to look at pay by gender, Benioff told attendees. You're not sure what you're going to find, he said. "It can go sideways fast."
Early on in the evening, The Huffington Post asked Musk, who is founder and chief executive of both SpaceX and the electric car company Tesla, if he'd follow Benioff's lead and audit pay by gender at one or both of his companies. He said he'd "think about it."
When Benioff later on asked Musk about equality, he shared his thoughts: "Principles of fairness and justice are what matter," Musk said, speaking before about 70 attendees. He emphasized that the highest paid person at SpaceX is a woman: Gwynne Shotwell, the president and chief operating officer. Musk does not take a salary at the rockets and aircraft company.
But then he went on: "I was asked tonight if we would audit pay," Musk said. "We will do that." Attendees applauded.
A spokesman for SpaceX, contacted later by HuffPost, said that Musk planned to talk over the topic with Shotwell, but wouldn't answer questions about gender or pay at Tesla.
Tesla is publicly traded, with annual revenues of about $4 billion and about10,000 employees. SpaceX, with its approximately 4,000 employees, is privately held and valued at around $10 billion.
Neither company releases information on its gender or racial makeup, as has become standard at many tech companies, including Facebook, Apple and Google.
Tesla appointed one women to its board in 2014, after getting called out for its all-male leadership team and directors.
"Diversity is one of the many factors we consider when hiring and recruiting, and we are fortunate to benefit from a wide range of backgrounds, perspectives, and ideas from our employees," the company said in a statement to Fortune at the time. "This diversity will remain a key feature of work life at Tesla going forward."
Women are paid less than men, on average, at all levels in the Unites States, making 79 cents for every dollar a man makes, according to Census data. Women of color make even less, as compared to the wages of white men. If you drill down into those numbers, and control for things like education and time spent in the workplace, the gap does narrow but not entirely.
There's a chunk of the gap that can probably only be explained by gender discrimination, Cornell economist Francine Blau told HuffPost earlier this year.
Companies don't often talk publicly about gender and pay, but 20 percent of human resource managers recently surveyed by CareerBuilder said that men were paid more than women at their organization. Learning more could help grow understanding of what causes pay discrepancies and help lead the way in eradicating them.
Intel's chief executive, Brian Krzanich, said that this year, for the first time, the tech company had no pay gap between men and women. "We've made progress," he told HuffPost. Microsoft, Pinterest and Redfin also recently audited pay and gender at their firms.
There's increasing pressure on companies to release or at least look at this information — and not just from Salesforce's CEO.
The White House announced last month that it plans to start collecting pay data for women and minorities at big U.S. companies. That data would not be made public.
The Securities and Exchange Commission meanwhile, has been asked to require public companies to disclose gender pay ratios for all to see. Disclosure would likely force companies to take action to fix inequities, Julie Gorte, an executive at Pax World Management, an investing fund that's asked the SEC to look at gender and pay, told HuffPost.
"We're tired of the unexplained wage gap," she said.