by Deborah Charnes: Last week, while leading a private yoga therapy session, I repeated the common mantra: "Pain is inevitable, suffering is optional."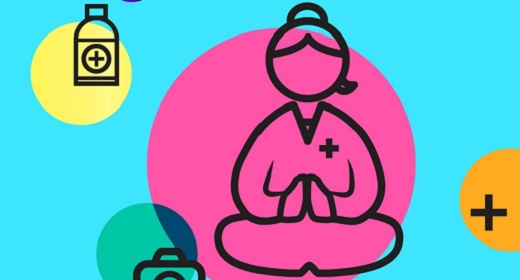 But it doesn't always feel like it. Our modern go-go-go lifestyles breed tension, which leads to anxiety and can cause stress-related illnesses. Indeed the "yoga chill pill" I was trying to provide may have been hard to digest for my client who is dealing with severe chronic pain and PTSD. However, I believe in the power of integrative medicine. I have faith in the knowledge passed down from the Rishis, updated by yoga therapists, researchers, and other health care professionals.
As a yoga therapist, I yearn to see traditional Chinese medicine, Ayurveda, and integrative medicine as mainstream therapies. Fortunately things are moving in the right direction, with research backing the benefits of integrative medicine and treatment centers such as the MD Anderson Cancer Center utilizing them in their patient approach.
In fact, in March, the CDC recommended that opioids not be the first line of therapy for pain management, and that clinicians consider other options, including physical therapy. Soon after that announcement, the cables connected on another integrative approach. Meditation: It's free, and can be practiced by anyone who can breathe. Side effects: lower blood pressure and less stress.
And we need less stress.
Yoga therapy and meditation have long been on the charts at MD Anderson Cancer Center. Dr. Lorenzo Cohen has been the director of MD Anderson's Integrative Medicine Program since 2002. Yoga as therapy is in his blood. He is the grandson of Vanda Scaravelli, who hung around with Krishnamurti and was a student of Iyengar and Desikachar.
"In a perfect world, all cancer patients would have integrative medicine consults to improve their outcomes and be given all the necessary supports," Dr. Cohen states. "Today, research proves that stress reduction and other complementary medicine modalities make an undeniable difference in our patients' long-term quality of life."
At this year's Texas Yoga Conference, yoga therapist Smitha Mallaiah, along with Dr. Alejandro Chaoul, spoke about Yoga Nidra and Tibetan yoga, both part of the integrative medicine tools used at MD Anderson Cancer Center.
Taming the Monkey Mind With Tibetan Yoga
Tibetan yoga has been one of the integrative therapies at MD Anderson Cancer Center since 1997. Dr. Chaoul, who received his doctorate in Tibetan studies, endorses Tibetan yoga to reduce chronic stress, anxiety, and sleep disorders, and to improve quality of life and cognitive function. Through Tibetan yoga, Dr. Chaoul says one can maintain stillness to help release the mental, physical, and spiritual obstacles. "That stillness can be a doorway to openness," he says.
Tibetan yoga is a powerful practice to reach a higher level of focus, clarity, calm, and awareness. "The breath is a wild horse," says Dr. Chaoul. "The mind is its rider and has a tendency to monkey. When we hold the breath, we help the holding of the mind, so it can gain control and focus, and relax in that state of mind. Meditation is a state of mind that is both calm and aware."
Dr. Chaoul provides an 11-minute practice to his patients (on CD), and refers to it as his "connecting with the heart." The hard part, he acknowledges, is "what happens the other 23 hours and 49 minutes in the day." Therefore he prescribes 'meditation pills,' short meditation moments during the day.
Sleep Like a Baby With Yoga Nidra
While one may not be able to fully eliminate the side effects that cancer and its treatments wreak on patients, integrative medicine surely can help. Smitha Mallaiah, a yoga therapist at MD Anderson Cancer Center in Houston, notes that years ago, the plague and cholera were rampant. Now, with diseases like those mostly eliminated, a big part of our lifestyle is stress, which can lead to diseases. Mallaiah says that relaxation is essential in the treatment of patients and also within society, given the high stress and fast-paced lifestyles most of us live.
"Yoga chill pills" are found very helpful, especially in the form of Yoga Nidra. This is particularly the case among those diagnosed with cancer. Sleep disturbances are among the most common cancer-related symptoms, with about 15 to 95 percent of cancer patients reporting sleep disturbances during and post-treatment.
"We use a modified form of Yoga Nidra—a conscious-relation technique, and women who have had trouble sleeping for 30 years have learnt to relax and sleep effortlessly," says Mallaiah, referring to her patients. "The fight between domination of positive and negative emotions leads to pranic or emotional imbalances, which are deeper than physical tensions."
As our lifestyles are linked to more stress-related diseases and dysfunctions, we need to offset them, and Yoga Nidra is an appropriate recourse. "Most relaxation methods are external, like television or video games, which over-stimulate," says Mallaiah, "So there is no silencing of the mind, body, and spirit. It is very important to rethink what you do for relaxation."
I can also vouch for Yoga Nidra. My Yoga Nidra style is based on the writings of Swami Satyananda Saraswati who said: "When the relaxation is complete, the receptivity is greater… Whatever impressions enter the mind at that time become powerful, and they remain there." I used it in my aforementioned therapy session. And last year I worked with an 80-year-old on a pharma mix of 14 drugs, including sleeping pills she'd taken for 40 years. After each Yoga Nidra session, she reported better sleep. More recently, I gave two Yoga Nidra sessions to someone awaiting biopsy results. Filled with stress, she hadn't been able to sleep for 10 days, and as a result, was weak. After the first one-hour deep-relaxation practice, she reported a good night's rest. The day after her second experience, her Sankalpa was confirmed. She was cancer-free.
Yoga Nidra and Tibetan yoga can't solve chronic physical or emotional pain or illness in one session. However, both are excellent lines of treatment, beyond recovery from cancer. Both have a track record for positively impacting stress-related diseases and imbalances. But, just like any other meds, one dose won't do it. You need to stick with integrative medicine in order to truly reap the benefits. Give one session a try and see how you feel—chances are you'll be walking away with less stress, and that's something we all could benefit from.