by Nick Visser: Despite initial worries, the company has done it again…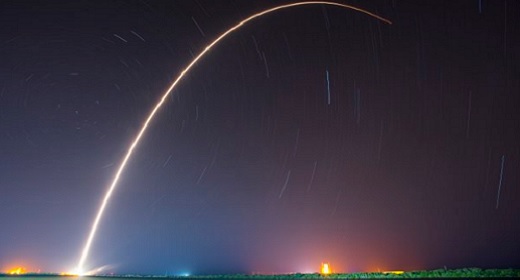 SpaceX successfully landed its Falcon 9 rocket on an unmanned drone ship in the middle of the Atlantic Ocean early Friday morning. The landing, which founder Elon Musk called unlikely due to the complexity of a "faster and hotter" reentry, was another big win for the company set on reaching Mars by 2018.
The launch took place without a hitch at 1:21 a.m. ET, sending a communications satellite into orbit during a mission dubbed JCSAT-14. Around 10 minutes after liftoff, the first stage of the Falcon 9 landed unscathed aboard the drone ship "Of Course I Still Love You," floating a few hundred miles off the coast of Florida.
This is the second successful landing of Musk's reusuable rocket on a ship. SpaceX first made the historic attempt last month after a half dozen unsuccessful endeavors ended in fiery crashes. Despite last month's success, the company was hesitant about the prospects of Friday's launch due to the rocket reentering the atmosphere much faster.
The launch will undoubtably be a boon to Musk's efforts to land an unmanned mission on Mars within the next few years. Those plans rest on the back of a much larger Dragon spacecraft fueled by a Falcon Heavy rocket system. But if the successful landings are any indication, such a feat shouldn't be too far away.