Libraries have long stood as the greatest symbol of our intellectual development…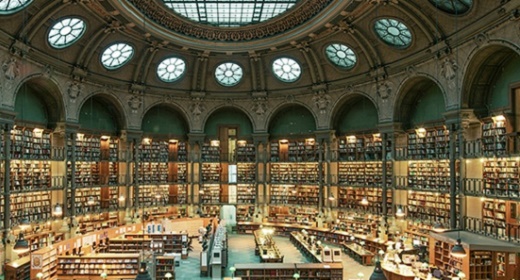 Many have been built on a grand scale, their creators sparing no expense. Despite the passage of time, some of these great public buildings still have the power to astound. In fact, there are very few modern libraries which have the ability to match these older 'temples of knowledge'.
Here are 25 of the most surprising, astounding, incredible and beautiful libraries around the world.
The National Library of the Czech Republic, Prague, Czech Republic
Admont Abbey Library, Admont, Austria
Trinity College Library, Dublin, Ireland
The Royal Portuguese Library, Rio de Janeiro, Brazil
George Peabody Library, Baltimore, USA
The St. Florian Monastery Library, Linz-Land District, Austria
The National Library of France, Paris, France
The National Library of the Netherlands, The Hague, Netherlands
Austrian National Library, Vienna, Austria
The Joanina Library, Coimbra, Portugal
Stuttgart Municipal Library, Stuttgart, Germany
University of Iowa Law Library, Des Moines, USA
Science Library, Görlitz, Germany
The Beinecke Rare Book & Manuscript Library, New Haven, USA
French Senate Library, Paris, France
The New York Public Library, New York, USA
Walker Library, Minneapolis, USA
Vennesla Library, Vennesla, Norway
Mazarine Library, Paris, France
Library of St. John's College, Cambridge, Britain
The Library of Congress, Washington, USA
Library of the Technical University, Iassi, Romania
Library of Sárospatak Reformed College, Sárospatak, Hungary
The National Library of China, Beijing