by Stefanos Nikitas: It's one of the best places in the world to see the galaxy…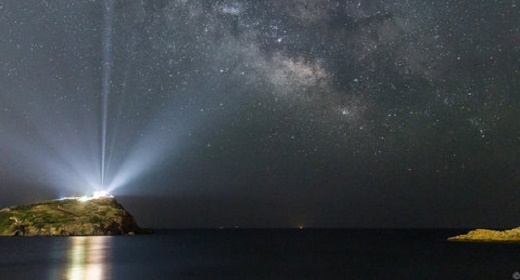 The Milky Way is the spiral galaxy that holds our solar system. It is our home in space. And the lens of photographer Alexandros Maragos captures spectacular views of this seemingly endless collection of stars above Greece.
In the Northern Hemisphere, the Milky Way appears like a strip of white light and is visible in the southern half of the night sky. This makes Greece one of the best places in the world to see and photograph the galaxy, because of the country's geographic location in southern Europe.
Greece is at the tip of the Balkan Peninsula. It has 6,000 islands and boasts 8,497 miles of coastline, and 80 percent of the country is made up of mountain regions. There are countless locations from which someone can view the Milky Way.
The best month to see and photograph the Milky Way is July, though the light pollution of big cities or a visible moon make observation of the night skies difficult.
Maragos has managed to capture images of the galaxy from various points, and has a collection of the photographs titled "The Milky Way Over Greece."
Last June, NASA selected Maragos' picture of the Milky Way over the temple of Poseidon in Sounio as the "Astronomy Picture of the Day."
Check out these extraordinary photos Maragos snapped from Greece.