by Nick Visser: He sees Tesla vehicles that will allow drivers "to sleep, read or do anything else enroute to your destination."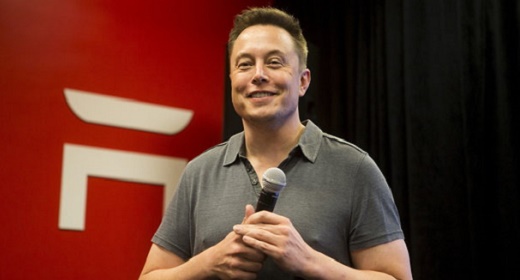 Tesla CEO Elon Musk unveiled the second phase of the electric carmaker's "master plan"on Wednesday, outlining a future in which individuals use solar power to provide their own energy, automated vehicles replace heavy-duty trucks and buses, and self-driving technology that could be "10 times safer than the U.S. vehicle average" becomes pervasive.
Musk's plan, drawing on projects he's backed for years, represents an ambitious, public mission statement for a man and company known to reach for the improbable.
"The main reason was to explain how our actions fit into a larger picture, so that they would seem less random," Musk wrote on Tesla's blog, noting that the company's first "master plan," was posted 10 years ago.
"The point of all this was, and remains, accelerating the advent of sustainable energy, so that we can imagine far into the future and life is still good," Musk wrote. "That's what 'sustainable' means. It's not some silly, hippy thing ― it matters for everyone."
The new plan touches on four main goals, most of which are already in motion: Create affordable, individual-use solar roofs; expand electric vehicle production to many modes of transportation; popularize Tesla's self-driving technology, called Autopilot; and allow for consumers to share their cars with others as a secondary form of income, like Zipcar.
Musk's post comes after several months of misfortune for Tesla.
In June, a driver was killed in a Model S that was using the company's hailed Autopilot feature. The company said the crash occurred under "extremely rare circumstances," but its technology faces increased scrutiny and federal investigations. 
Undeterred, Musk said the company would continue to advance the Autopilot technology, rather than waiting "until some point in the future." He said the feature will continued to be labeled as a "beta" version until it is 10 times safer than U.S. vehicle average. He said it had already gone through "extensive internal validation" and the system "gets better every day."
"When used correctly, it is already significantly safer than a person driving by themselves and it would therefore be morally reprehensible to delay release simply for fear of bad press or some mercantile calculation of legal liability," he wrote.
"When true self-driving is approved by regulators, it will mean that you will be able to summon your Tesla from pretty much anywhere," he wrote. "Once it picks you up, you will be able to sleep, read or do anything else enroute to your destination."
Tesla tractor-trailers and urban buses will be unveiled next year, he said. The trucks will increase safety and reduce the cost of transporting goods. "With the advent of autonomy, it will probably make sense to shrink the size of buses and transition the role of bus driver to that of fleet manager."
July was also a rough one for Tesla product deliveries. The company failed to meet expectations in the second quarter as it scrambled to increase manufacturing, spurred by record preorders for the upcoming Model 3. Some have qustioned whether Musk's grand plans to speed up production are actually possible.
The company announced in May it hoped to make 500,000 vehicles by 2018. Musk has been known to sleep near the production floor to help spur manufacturing.
Earlier this year, Musk said Tesla and his alternative energy company SolarCitywould merge. Investors have been apprehensive about such a deal, but Musk said the union would benefit the world's ultimate goal to achieve energy sustainability.
"That they are separate at all, despite similar origins and pursuit of the same overarching goal of sustainable energy, is largely an accident of history," he wrote.
Scientists argue that almost all remaining fossil fuel reserves should be left in the ground to avoid the worst effects of human-induced climate change. That admonition, Musk said, has helped guide Tesla's mission toward electric vehicle affordability.
"By definition, we must at some point achieve a sustainable energy economy or we will run out of fossil fuels to burn and civilization will collapse," he wrote. "Given that we must get off fossil fuels anyway and that virtually all scientists agree that dramatically increasing atmospheric and oceanic carbon levels is insane, the faster we achieve sustainability, the better."