A new federal report found a self-driving Tesla car was speeding before a deadly crash in Florida three months ago…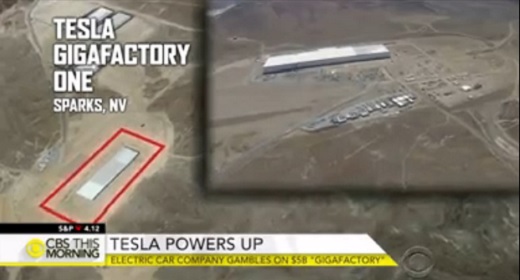 The NTSB's preliminary review released Tuesday says the Tesla Model S was going 74 miles an hour in a 65 zone when it struck the side of a tractor-trailer, killing the driver. The driver was using the car's autopilot feature.
Despite this and other recent setbacks, Tesla is pushing forward with what some its costliest gamble in Sparks, Nevada. Here in the desert, Tesla is building a massive, $5 billion factory to make batteries for electric cars, reports CBS News correspondent John Blackstone.
In heat and dust, huge machinery and around 1,000 workers are racing to build the factory that Tesla says will be by far the biggest maker of lithium-ion batteries in the world, and a huge gamble for Tesla CEO Elon Musk.
Tesla needs the factory to meet demand for its mass market Model 3. The company has 373,000 pre-orders for the $35,000 electric car.
"We're really excited about what's happening," Musk said. "Things are on track to be able to meet the Model 3 and start production in the middle of next year."
"The success of the Model 3 is really dependent on the success of the Gigafactory here," said Tim Stevens of CNET. "Tesla needs the battery packs to come out of here on a huge scale and on a really cheap cost in order to make the Model 3 work."
Tesla is depending on economies of scale and the scale of this project in the desert is impressive. What's here now is just the beginning of a factory that Tesla says will have the largest footprint of any building in the world. When this is completed, it will cover an area equivalent to 107 NFL football fields.
Inside the one section of the factory that is now complete, robots and workers have already begun assembling battery packs, but not yet for cars – only for power storage units Tesla is making for commercial and home use.
Musk is also facing questions about his plan to have Tesla take over Solar City – the solar power company where he currently serves as chairman. And after a fatal accident, he continues to defend Tesla's autopilot system.
"I think we did the right thing. We improved the people's safety, not just in fatalities, but also injuries," Musk said.
But the question for Tesla now is whether the company can build the Model 3 fast enough.
"Nothing could possibly go wrong," Musk said.
When completed, the factory is projected to employ more than 6,000 workers and Musk said as many as 10,000. That's why Nevada has given Tesla $1.3 billion in tax breaks to put the factory here in the desert outside Reno.