by Alexander C. Kaufman: The billionaire envisions solar roofs and batteries powering homes with electric cars in the garage…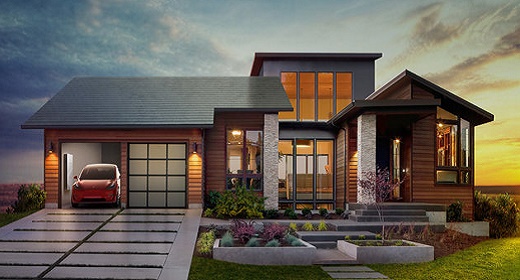 Elon Musk late Friday debuted glass roofing shingles that generate electricity from the sun, a critical step toward merging Tesla Motors with his solar energy firm, SolarCity.
At a 30-minute press conference on a movie studio lot in Los Angeles, the billionaire tech titan unveiled a suite of shingles, some made to replicate traditional roof tiles, that he said were designed to make rooftop solar chic, the way his Tesla cars made zero-emissions vehicles fashionable.
"Just like with electric cars, which didn't look good, had low range and didn't have good performance, they looked like golf cars. People had a really hard time buying electric cars," Musk told a crowd gathered at the outdoor event, which was broadcast on both Tesla and SolarCity websites. "Something similar needs to happen to solar. We need to make solar panels as appealing as electric cars have become."
Musk showed off four houses ― which looked to be from the set of the ABC's "Desperate Housewives" ― with different styles of glass shingles. The first, using a laminate coating, replicated a Tuscan terra cotta tile. The second mirrored the design of French slate. The third modeled a gray, textured look commonly seen on suburban homes. The fourth sported a sleek, modern look.
Photovoltaic cells, embedded under layers of glass, become visible as the tiles are tilted in different directions.
Musk didn't say how much the solar shingles would cost or when they'll be available.
The shingles aren't necessarily supposed to replace the solar panel business that has buoyed SolarCity. Rather, Musk said he's targeting the roughly 5 million homeowners who replace their roofs in a given year. He said the new solar tiles are more visually appealing than traditional shingles or solar panels.
"Over time, every house would be a solar house," he said. "It's a neighborhood where the aesthetics get better over time. You'll want to call your neighbors over and say, 'Check out the sweet roof.'"
Tesla in June made a bid to buy SolarCity in hopes of combining the companies into a one-stop shop for clean energy needs. Together, the companies would sell panels to produce electricity, which would be stored in Tesla Powerwall batteries and charge the Tesla vehicle in the garage. The deal, which has been panned by skeptical Wall Street analysts, seems likely to win approval from shareholders when it comes up for a vote on Nov. 17. After all, investors who buy stock in Tesla and SolarCity ― both cash-hungry companies that have historically struggled to turn profits ― tend to be among Musk's most devoted believers.
Musk also announced an update to the $5,500 Powerwall, a lithium-ion battery meant to store excess solar energy during the day for use at night. The new Powerwall doubles the amount of energy that can be stored and deployed.
"You can take a four-bedroom house and you can power your fridge, sockets and lights for a day," Musk said. "If you have solar on your house, you can power indefinitely."
Still, the economics of storing energy may not yet make sense in most parts of the United States. In most states, electricity rates are higher during the day and cheaper at night. Through a process called net metering, utility companies buy excess solar energy from homeowners at the higher day rate. When the sun sets, those customers buy electricity back at the cheaper night rate. Only a handful of states lack such policies.
"It only makes sense for storage if it's more expensive to buy electricity at night and sell it back during the day," Brian Warshay, an analyst for Bloomberg New Energy Finance, told The Huffington Post in May 2015, when the Powerwall was announced. "But most people aren't on those types of rates."
Musk, however, focused on the big picture, outlining a vision for a distributed system of energy production in which utilities ― with the help of Tesla and SolarCity software ― manage a grid fed by massive clean-energy power plants and homeowners' rooftop solar. Along with the Powerwall II, Musk unveiled a new Powerpack, a scaled-up battery meant for use by utility companies.
Already, Tesla is working on three projects with utilty companies in southern California, Hawaii and New Zealand, he said.
Climate change, caused by carbon emissions from burning fossil fuels, makes such an energy transition necessary, Musk said. The presentation began with Musk standing in front of a NASA chart showing a massive spike in the amount of carbon particles, which trap heat from the sun and cause global warming, in the atmosphere.
"The future is bright for electricity," he said. "It's a very bright future for both utilities and for rooftop."
Musk isn't the first to launch a solar shingle product. But, with star power almost unprecedented for an energy or auto executive, he is likely the highest-profile person to try.
"The allure that this guy has for sparking the imagination of people, he does bring a certain panache to this for sure," Tensie Whelan, director of New York University's Stern Center for Sustainable Business, told HuffPost ahead of the announcement. "How he thinks in systems is really interesting ― connecting the roof, the battery and the car. That broader, fully integrated solution is a smart way to go."
Still, the solar roofing market remains a nascent industry with more losers than winners. Industrial giant Dow Chemical Co. discontinued its solar shingle in June, five years after predicting the product would pull in $1 billion and capture one-fifth of the market. Over the last few years, at least a dozen other companies manufacturing similar products have closed down or gone bankrupt.
A few seem to have succeeded. For example, French behemoth Saint-Gobain, which rolled out its solar shingle soon after Dow, still sells the product, called Apollo II.
And Luma Resources, a small startup based in southern Michigan, has spent nine years honing its solar roofing product. It has installed about 750,000 watts of shingles, enough for roughly 150 to 200 individual homes in the U.S., Canada and Jamaica. The company's president, Robert Allen, credits his staying power with his earlier career as a roofer, and his view of the product foremost through that lens.
"Musk is in for a much, much, much bigger challenge to create a solar roof than he thinks he's in for," Allen recently told HuffPost.
But, then again, automakers ― nearly all of which are now rolling out electric cars to rival Musk's ― likely said much the same thing about Tesla.