by Cassie Brewer: It is widely known that yoga helps us conquer a long list of health benefits…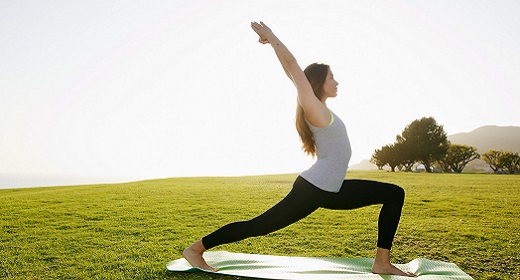 Yoga eases anxiety and relieves symptoms of depression. It helps with back and neck pain and it reduces stress levels; it helps us be more in the moment and so much more. Despite knowing that yoga is good for us, it can still be hard for us to do yoga, especially when we have an already overpacked schedule. You don't need a full hour to incorporate this exercise into your daily routine, however, and the following tips will show how you can do yoga every day, no matter how busy you are.
Choose the poses you love and need most – we do yoga so we can feel better physically, emotionally or mentally, depending on how we are feeling at the moment. If you are too busy to do a whole sequence, choose only a few poses that will serve the issue of the moment. You can focus on poses to ease your anxiety for instance, or simply choose to do poses that alleviate your back pain.
Find online videos – There is a sense of community when attending a yoga class but a class can take up more of your time and that is why a great alternative is to find an online video. There are millions of videos out there, some of them short and others long, and all of which will offer different poses at different levels. Online videos are perfect to switch on first thing in the morning to do yoga right before you tackle the rest of your day.
Add yoga to your workout routine – If your workout schedule includes HIIT and the morning run but you know your body needs yoga for stretching and winding down, then you can swap the last ten minutes of your workout to do yoga. You can also combine your routine with yoga. If you work your abs with a hula hoop, then you can use this tool with yoga poses to attain better balance or if you love your weight training, then you can add weights to your yoga routine. There are no rules here, only what feels good to you.
Make time for yoga before bed – Unlike other workouts, yoga will wind you down and help you become calmer so you can have better sleep. You don't need an hour here. You can find a ten-minute routine that works for you, one you can do in your nightwear.
Use your office chair – If you are one to work at a desk all day, then you can still do yoga and help your posture in the process. Poses such as the seated twist or Gomukhasana (the Cow Face Pose) are simple poses you can do throughout the day.
Make a schedule and track your activity – Finding a slot on your calendar for yoga and jotting it down is the best way to add yoga to your week. It could be a ten-minute routine on Monday morning and half an hour during your lunch break but marking it down will make it easier for you to do it. Moreover, you will keep track of your yoga activity and know how much yoga you are doing on a weekly basis.
Yoga should never be a chore, no exercise should. We have too many things that we do because we have no other option but yoga should not be one of these things. If you do decide to do yoga, do it because you know it makes you feel better, only then will you make more time for this workout.