by Anjali Bisaria: Kitty Hawk, the 'flying car' project funded by Google co-founder Larry Page has made its maiden lift-off in California…
The 'ultralight' electrical aircraft can take-off and land vertically, similar to a helicopter or if you may, a flying jet ski! Powered by eight rotors, the prototype has its controls built into the handlebars that imitate the buttons and joystick of a video game controller.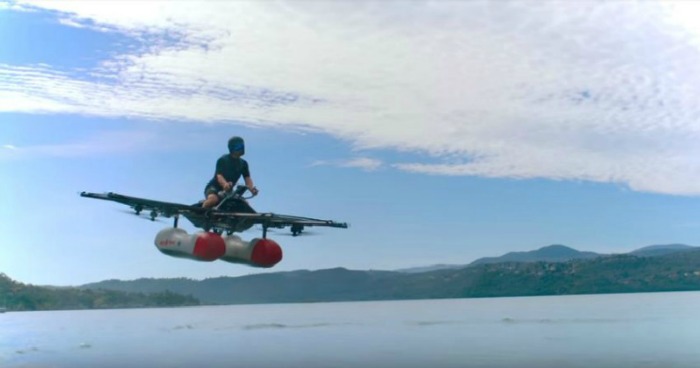 The aircraft weighs 100 kg and can hit speeds up to 40 km/hr. It doesn't require a pilot's licence to fly and is completely legal for flying in the US in 'uncongested areas'. Anyone can learn to fly the vehicle in minutes.
For now, the vehicle can only be flown over water at a height of 33 feet in the air.
KITTY HAWK
The cost of the machine remains a mystery, however, the start-up company is offering a $2,000 discount to anyone who wishes to make an early deposit of $100. The interested buyers will also be given free test flights along with the discount.
The flyer is expected to go on sale by the end of this year.
An excited Larry Page – who invested over $100 million in flying car start-ups – told The New York Times, "We've all had dreams of flying effortlessly. I'm excited that one day very soon I'll be able to climb onto my Kitty Hawk Flyer for a quick and easy personal flight."