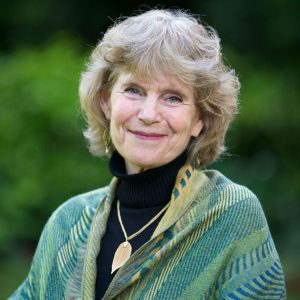 Home Base
Kirkland, Washington. USA
Foundation of Teaching
Compassion, Awakening
Quote
"Loving Ourselves from the Insides Out, we meet the world from the spaciousness of our hearts."
Contact
425.889.5937
awaken@maryomalley.com
Total Views: 7,283
Mary O'Malley
Mary O'Malley is a speaker and the author of Belonging to Life: The Journey of Awakening, The Gift of Our Compulsions: a Revolutionary Approach to Self Acceptance and Healing, The Magical Forest of Awakening, and What's In the Way IS the Way. She is a certified counselor in the State of Washington in private practice in Kirkland, Washington. She leads groups, retreats, and classes throughout the United States and in Denmark.
Mary O'Malley grew up in Washington State and attended Puget Sound University in Tacoma, Washington.
Throughout her youth, she experienced an ever-deepening descent into darkness, culminating in hospitalization in 1968. The year after her hospitalization, after a number of suicide attempts, she had a life-changing realization in which she saw through the games of the struggling mind and experienced a full and complete connection with life which is the foundation of her work.
She then spent a number of years studying with Patricia Sun, Stephen Levine, Jack Kornfield and Pema Chodron, and Brian Swimme and she has done ongoing work with Adyashanti. As she grew in understanding, people started seeking her out and asking for guidance. Since the early 1980s she has been writing books, speaking to groups, leading retreats and working with people individually.
As Neale Donald Walsch says, "…paying attention to what is ultimately happening as opposed to what we observe to be happening can so affect your life that you may never have to endure emotional turmoil again. Ever!….This is where all true Masters live such as Stephen Levine, Eckhart Tolle, Byron Katie, and Mary O'Malley. These are people who understand and who some say have mastered life."
Quotes
"What would our lives be like if we could move beyond struggle and instead reconnect with the joy, wonder, and vitality of being truly alive?"
"When we try to control our compulsions we think that this will hold back these powerful urges,but controlling never brings us the lasting healing that we long for. Instead, it actually fuels the compulsive cycle."
"What we fight controls us. What we resist persists."
"In the light of our compassionate attention, not only do our compulsions lose their power over us, but they also become a doorway into the healing that we long for. ad, it actually fuels the compulsive cycle."
"[true alchemy] is about using the light of human attention to transform the dense, dark clouds of our forgetting into the aliveness and joy of our remembering. he compulsive cycle."
"Loving Ourselves from the Insides Out, we meet the world from the spaciousness of our hearts."
"Help is always available from our own inner wisdom, which is connected to the wisdom at the heart of life."
"As we make contact with our own wisdom, we have the capacity to let go of doing life and we become life instead, reconnecting with the healing of simply being."
"When we learn how to listen to our compulsions, they will teach us how to be conscious, compassionate, loving, wise human beings."
"I began to listen so deeply that I was able to see what I was trying to run away from when I was compulsive."
Read More Quotes >>>