Eckhart Tolle, born Ulrich Leonard Tölle, February 16, 1948) is a German-born resident of Canada, best known as the author of The Power of Now and …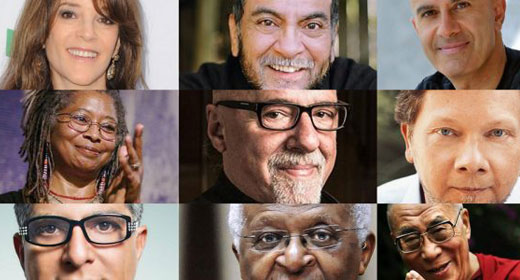 A New Earth: Awakening to your Life's Purpose. In 2011, he was listed by Watkins Review as the most spiritually influential person in the world. In 2008, a New York Times writer called Tolle "the most popular spiritual author in the United States".
The 14th Dalai Lama was born in Taktser village (administratively in Qinghai province, Republic of China), Amdo, Tibet,[4] and was selected as the tulku of the 13th Dalai Lama in 1937 and formally recognized as the 14th Dalai Lama at a public declaration near the town of Bumchen in 1939.
His enthronement ceremony as the Dalai Lama was held in Lhasa on February 22, 1940, and he eventually assumed full temporal (political) duties on 17 November 1950, at the age of 15, after China's invasion of Tibet.
Desmond Mpilo Tutu, (born 7 October 1931) is a South African social rights activist and retired Anglicanbishop who rose to worldwide fame during the 1980s as an opponent of apartheid.
He was the first black Archbishop of Cape Town and bishop of the Church of the Province of Southern Africa (now the Anglican Church of Southern Africa).
Tutu's admirers see him as a great man who, since the demise of apartheid, has been active in the defence of human rights and uses his high profile to campaign for the oppressed. He has campaigned to fight HIV/AIDS, tuberculosis, poverty, racism, sexism, homophobia, and transphobia. He received the Nobel Peace Prize in 1984; the Albert Schweitzer Prize for Humanitarianism in 1986; the Pacem in Terris Award in 1987; the Sydney Peace Prize in 1999; the Gandhi Peace Prize in 2007;[1]and the Presidential Medal of Freedom in 2009. He has also compiled several books of his speeches and sayings.
Deepak Chopra;  born October 22, 1947) is an Indian American author, public speaker, alternative medicineadvocate, and a prominent figure in the New Age movement.[3][4][5] Through his books and videos, he has become one of the best-known and wealthiest figures in alternative medicine.
Paulo Coelho de Souza;  born August 24, 1947) is a Brazilian lyricist and novelist. He is the recipient of numerous international awards, amongst them the Crystal Award by the World Economic Forum. His novel The Alchemist has been translated into 80 languages. Coelho has sold over 200 million copies worldwide and is the all-time bestselling Portuguese-language author.
Alice Malsenior Walker  (born February 9, 1944) is an American novelist, short story writer, poet, and activist. She wrote the critically acclaimed novel The Color Purple (1982) for which she won the National Book Awardand the Pulitzer Prize for Fiction.[2][a][3] She also wrote Meridian and The Third Life of Grange Copeland, among other works.
Robin Sharma  is a Canadian writer and leadership speaker, best known for his The Monk Who Sold His Ferrari series.Formerly a litigation lawyer, he walked away from his legal career at age 25 due to dissatisfaction with his life, and self-published MegaLiving, a guide to stress management which incorporated both western and eastern spirituality techniques. He initially also self-published The Monk Who Sold His Ferrari, which was then picked up for wider distribution by HarperCollins and became a Canadian and international bestseller.
Don Miguel Ruiz, is a Mexican author of Toltec spiritualist and neoshamanistic texts. His work is part of the New Age movement that focuses on ancient teachings asa means to achieve spiritual enlightenment. Ruiz is listed as one of the Watkins 100 Most Spiritually Influential Living People in 2014. Some have associated Ruiz's work with Carlos Castaneda, author of The Teachings of Don Juan.
Marianne Deborah Williamson  (born July 8, 1952) is an American spiritual teacher, author and lecturer. She has published eleven books, including four New York Times number one bestsellers. She is the founder of Project Angel Food, a meals-on-wheels program that serves homebound people with AIDS in the Los Angeles area, and the co-founder of The Peace Alliance, a grassroots campaign supporting legislation to establish a United States Department of Peace.