by Susannah Shmurak: With some thoughtful planning, delicious local food can grace your table all year round…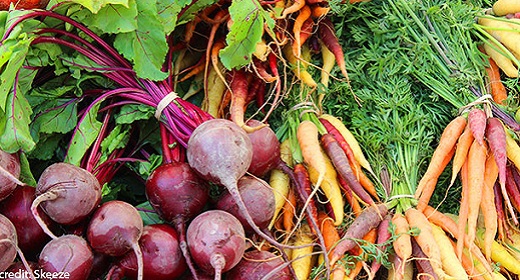 As awareness of the impact of modern food choices has spread, more of us have worked to source our food locally, whether that means growing our own, shopping at farmers' markets, or joining a community supported agriculture (CSA) program. Some lucky folk live in climates where food grows abundantly year round and have little trouble eating locally in every season. Others live in areas where the ground is frozen solid for half the year, posing more of a challenge to our locavore lifestyle. How can you eat locally when the gardens and farms have frozen?
In the age before cheap transportation allowed us to import foods from warmer parts of the world, people in cold climates turned to long-storing and preserved foods to see them through the winter. We can borrow the mindset of our ancestors who knew they had to prepare during the growing season for the leaner times ahead. Thanks to modern conveniences like dehydrators, pressure canners, and freezers, a little work during the growing season can vastly increase our household supply of local foods. And even if we don't choose to "put up" much ourselves, new interest in local food means we can often find excellent local options in stores.
Here are five ways to eat more locally during the colder months.
1. Stock Up On Storage Vegetables

A few years back, our CSA added the option of a "storage share" to their regular season share. Each November, those of us who purchase this additional share come pick up stunning amounts of winter squash and long-storing roots like carrots, parsnips, beets, onions and potatoes. There's also usually some garlic, kale, and cabbage. We local food lovers happily restock our pantries with squash and cram huge bags of super-sweet carrots into the fridge, which seems sadly empty when regular farm season ends in mid-fall. Last year, our farmers opened up a winter store, and this share allows us to replenish our supply of local roots until they run out in early spring.
Our town's co-op also stocks local roots and squash as long as they last. They also sell veggies from a few innovative growers using hydroponic methods to raise lettuces and tomatoes in greenhouses through the winter. Chances are you can find similar items in your local stores, too. You might also seek out area farmers with storage vegetables to sell either at their farms or at one of the farmers' markets that continue through the winter. Use the searchable database at localharvest.org to find vendors in your area.
2. Expand Your Local Food Repertoire
In most places, there's a lot to eat locally besides vegetables. You can probably find local eggs, meat, and honey in your natural foods store (or maybe even your supermarket). And don't forget about nuts, dairy products, and preserved foods like jams, sauerkraut, and dried fruit (if you didn't put up enough yourself – see below).
The network of co-ops in my area prominently displays signs around the store to flag items grown within a 50-mile radius of the store. When shoppers choose a bag of tortilla chips, the sign points them to the local grain company. Similar signs flag beans, dairy, honey, eggs, and meat. There's even a note at the bottom of the store receipt that shows you what percentage of your purchase was local. If your preferred store doesn't make it so easy, ask someone in customer service to point some local products out to you.
3. Preserve the Season's Bounty
Whether it's dehydrated tomatoes and greens or canned applesauce and pickles, there are lots of options for enjoying the current season's bounty in the depths of winter. Getting a little burst of summer in the form of a dried plum, homemade jam, or frozen berries is one of my favorite ways of coping with Minnesota's frigid winters. Late summer-early fall is a great time to get preserving.
Dehydrating
Dehydrating is a great beginner's project, since drying food is usually simple and straightforward. With very little investment, you can put up huge quantities of garden surplus and enjoy raiding your jars full of summer goodies all winter long. Try drying:
Freezing
Freezing also takes little specialized knowledge, though you're limited by the amount of freezer space you have. Freezing peppers and fruits while they're at their peak (and lowest cost) is a quick project, requiring nothing more than cutting up and putting them in the freezer. Some produce takes a little more prep work for successful freezing. Find all you'd ever want to know about freezing produce in the National Center For Home Food Preservation guide.
Fermenting
As research mounts demonstrating the incredible health benefits of fermented foods, fermenting has experienced quite a renaissance. Workshops, books, kits, and online tutorials abound for making a huge variety of fermented vegetables. You can ferment far more than pickles and sauerkraut. Try carrots, garlic, and a host of other delectable and healthy veggies.
Canning
Though canning takes a bit more knowledge and specialized equipment, veteran canners will tell you without hesitation that eating home-preserved sauces and vegetables through the winter makes the effort totally worth it. Summer's bounty of tomatoes is a great place to start as they can be added to so many different kinds of cooking, from pasta dishes and pizza to curries and chilis.
4. Extend the Outdoor Growing Season
In all but the most extreme climates, many foods can be grown right through the winterwith a little help. Use a cold frame, greenhouse or a hoop house to cover your hardier vegetables, like cabbage, kale, and other cold-hardy greens.
5. Get Sprouting
Even if you don't have a sunny windowsill, you can also grow greens and sprouts inside. Microgreens are not only a welcome taste of freshness in winter, they're incredibly nutrient-dense. Growing sprouts is easy and fun and lets you eat freshly grown food all year round! You can even grow your own mushrooms with a mini mushroom farm. To learn more about growing food indoors this winter, read our article How to Be Successful Growing Vegetables Inside This Winter.
You don't have to source everything locally to do some good for your household foodprint. Even small changes can make a difference. With so many options for local foods, eating more locally in the off season is not only doable, it's an exciting challenge.
Bon appetit!