Despite a clear pattern of exponential gains in the efficiency of solar and wind production over the last decade…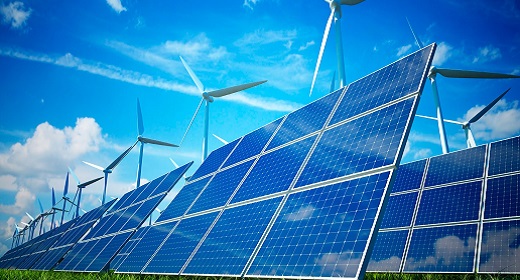 the success rates and adoption continue to be misreported and misrepresented by official US reports, seemingly to prop up the fossil fuel industry.
Every two years America's official source for energy statistics, the US Energy Information Administration (EIA), issues projections about how much solar, wind and conventional energy will be produced over the upcoming decade.
Solar power has been doubling every two years for the past 30 years and the price has been falling dramatically. However, since the mid-1990s, the EIA's projections have turn out to be wrong. As Quartz recently reported, last year, they proved spectacularly wrong.
The Natural Resources Defense Council, an environmental advocacy group, and Statista recently teamed up to analyze the EIA's predictions for energy usage and production. They found that the EIA's 10-year estimates between 2006 to 2016 systematically understated the share of wind, solar and gas. Solar capacity, in particular, was a whopping 4,813% more in 2016 than the EIA had predicted in 2006 it would be.
In 2006 the prediction was that in 10 years, the US would be generating just 0.8 gigawatts (GW) of solar energy.
"They're not just conservative about change, they're ignoring the evidence of what's actually happening in the market."
Moreover, the EIA seems to regularly underestimate the growth in alternative energy but overestimates US fossil-fuel consumption, which some critics see as an attempt to artificially boost the oil and gas industry.
The official reports, which are used to form other important policy in the US seem to reflect fundamental misperceptions about the performance and cost of today's renewable energy and energy efficiency technologies, as they are rooted in outdated information and perpetuated by inaccurate official market projections.
"They're not just conservative about change," Advanced Energy Economy vice-president Robert Keough told Politico. " They're ignoring the evidence of what's actually happening in the market."
The rise of wind and solar power to the efficiency level where they are competitive with traditional energy sources is a threat to the status quo, but it may also be interpreted as an indication of how difficult it is to understand exponential technology.
Despite this wonderful new development, the economic trends point out the Dickensian worst of times for many, including those whose economic livelihood is seemingly tied to the fossil fuel industry.
At the same time, the historically large middle class in America is disappearing, and this process parallels the advancement of technologies like solar energy and wind power.
People say the goals environmentalists set for clean energy were unrealistic
New clean energy technology is undoubtedly going to have positive effects on the world and power future technology. The question for some remains, will they accept the facts.