Do you yoga features yoga to help calm the nerves, balance your body, yoga body challenge, handstand, and much more…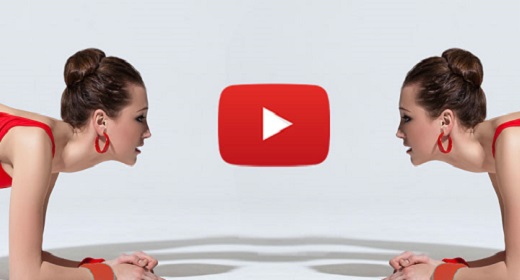 She also has a 30-day yoga challenge on how to work out every part of the body starting with the chest and shoulders, posture, abs, workout, and lower back. Her videos range from 10-20 minutes, easy to understand and do. This is the best exercise you will learn without having to pay for it. If you're looking to fix your diet, to look good, and to eat the right foods?
Yoga by Adrienne features yoga camp, which features an array of a different kind of yoga. Her videos are from 10 minutes to an hour. She introduces yoga camp which demonstrates sensations you get in your body when performing a certain type of yoga.  She has yoga for weight loss and beginners. She also gives you a mantra to practice during that day. A mantra is a prayer or a song, Mantras are powerful and meaningful, and usually it is used in repetition.
Ekhart Yoga, features wake up, strengthening, relaxing, energizing, living in the moment. Ekhart uploads a video each week, most of her yoga she does is called "Hatha yoga, and Vinyasa yoga" Hatha yoga is used in sequences of asanas, and it is to help align your skin, muscles, and bones. Vinyasa yoga is used for breathing and focuses on the energy. She has well over 500 videos on her site and useful for everyone; beginners, weight loss, morning, and relaxation.
Yoga by Candace, featuring yoga pose challenges, anxiety, mental issues, anxiety, and sleeplessness. Candace is an international yoga instructor which she covers a wide variety of themes. Her videos are narrated by her, 15-30 minutes long. Candace also features Mantra meditations; she has original yoga sequence for people to use. She also demonstrates healthy treats, holiday food preparations, and more. Her channel has more than 50 videos, and she regularly adds new videos.
Fight master yoga, featuring beginner's yoga 30-day challenge. Fight Master also features free classes on Mondays, meaning, you can log on to her channel and get live yoga with her. She has a variety of videos on meditation, fun yoga, flexibility and stretching, intermediate classes, Ashtanga yoga, and even for pregnant woman yoga. Her videos are informative and easy for beginner's that are learning the moves, and learning to stretch. Her goal is to aim for a healthy yoga habit daily with 15-40 minutes. There are also videos on alignment, to help your posture and fight pain.
Jessica Smith TV features full-length videos for diets, workouts, and for relieving negative energy. She has over 15 years of experience as a personal trainer, wellness coach, and a yoga instructor. She has 10 minutes of ab work, flexibility workout, total body strength, at home cardio, working out using no equipment, and how to burn fat. She also has instructions on how much water you should drink a day.  She updates her channel weekly, free of charge.
Sara Beth Yoga features restorative, hatha and vinyasa. Her videos are 20-30 minutes, along with a 7-day challenge, featuring 15-minute mat sessions. For those that want an hour-long session, she has downloads available for rent or purchase. Sarah's yoga demonstrates good techniques, power yoga, meditation, and help those with scoliosis. She teaches how to gain muscle, arm balance challenge, and neck and back pain yoga also presents a video on healthy foods.
Bad yogi, Erin Motz, features full-length videos and tutorials, she provides nutrition and fitness tips, and four-week yoga challenge of 20 minutes for ten days. Erin isn't the typical yogi, in fact, she is a French carnivorous and red wine type, however, she teaches hip sequences, meditation, 5-minute videos to get started, neck and shoulder, upper body, along with seven-day yoga challenge videos of 15-30 minutes long. Erin also demonstrates the proper yoga to do after a run and after working out. She presents stress-free videos.
Yoga by psyche truth, features 5-day yoga weight loss challenge, along with a beginner's yoga channel 20-40 minutes long. This channel features a variety of educational videos, nutrition, chiropractic, psychology, weight loss, alternative medicine, health care, fitness, exercise, facts, and mind control.  In her videos, she demonstrates Thai massages, and psychology videos and side effects to medicine. This channel is very educational and inspirational.
Yoga by Sean Vigue Fitness, features yoga focusing on the muscles for 30-40 minute long videos. Sean uploads weekly videos, he demonstrates Pilates, which was nominated top best 50 workouts by "The Huffington Post." Sean, likes to have a diverse of collections when it comes to yoga, he has boot camp, and body weight demonstrations. The best thing about this channel is that it has short videos, and long ones, so you decide which is best for the moment. His videos are nontraditional. Therefore, it is fun and humor videos.
Live strong woman, features practice tools that help make a healthy living easy and sustainable. Her videos demonstrate restorative yoga, the proper kind of planks, how to lose weight, workout for kids, squats, kicks, jumps, clapping pushups, getting rid of love handles, six pack building, buttocks workouts, leg workout, and how to get toned, and finally, how to gain stress relief.