by Oliver McAteer: We need to tear up the blueprint that created "The Old Boys' Club…"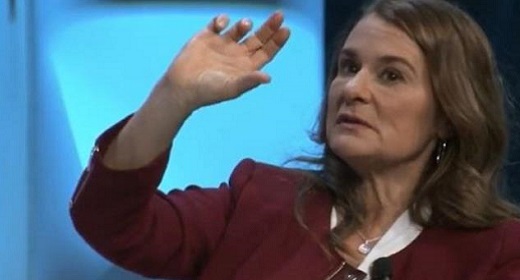 Melinda Gates has called on each and every one of us to help overhaul the 21st century workplace as she revealed the turbulent launch of her career inside an "aggressive," male-dominated culture at Microsoft.
The philanthropist and visionary said today's job landscape is still designed for "people who look like my dad"—a white guy with a degree from Stanford University, as she delivered her keynote speech at SXSW on Sunday.
"I was the only woman in my hiring class of ten MBAs," Gates said of her first job at Microsoft. "But that wasn't what bothered me. The problems started to begin at my first orientation, when one of my fellow hires decided immediately that he was going to pick a fight with the VP. I thought, 'that's a bizarre way to start a job.' It turned out that he'd been advised by a professor that he should be more assertive.
"It wasn't just him; several colleagues that I worked with were very aggressive, even abrasive and combative, and I started worrying about fitting in. I wish I could stand up here and tell you that perfect story about how I drew on this inner-reserve and I just knew that I'd persevere. But I have to tell you that it took a while for me to realize that what I was doing was wrong.
"I was trying to emulate the people around me and force myself into their mold. Then it occured to me: maybe I'm not the problem, maybe the mold is the problem. This is a story that repeats itself in industry after industry, generations over generations."
Gates, who didn't know a lot of women who worked outside of the home when she was growing up (and whose role model was Alexis Carrington—a conniving oil executive on "Dynasty"), said the time for change is yesterday.
She stressed that young people everywhere are entering the workforce and being met with multiple barriers which makes them question whether they belong.
"That's because even though the American workforce has evolved dramatically over the course of my lifetime, the American workplace hasn't caught up to that," she continued. "It's still designed largely and for people who look like my dad. If you're a white guy with a degree from Stanford and a stay-at-home partner, it works great.
"The modern workforce still assumes that talent looks like one thing and comes from one place. It doesn't know what to do with people who don't fit that pre-existing mold. It doesn't challenge those biases that keep out certain people. The status quo is unsustainable."
Her solution? Simple: be the change you want to see in the world. She called on all of us to help tear up the blueprint that created "The Old Boys' Club." Gates said it starts by understanding the realities of today's workers—who they are, where they're coming from, what supports they need to rise as high as their talents will take them.
"You have an outside role in designing what the workplace to should like," she said. "You can decide who you want to be surrounded by tomorrow. What you can do is insist on equality in the workplace. It can be part of every single conversation that you have. You can lead a radical redesign of how we think about work in this country in the 21st century.
"Let's think big. Let's think boldly. This is our chance to create a future of breakthrough innovations that's open to anyone who dreams of making them happen. That's the future that I believe in."