by Krysten Peck: Moments of crisis can trigger fight-or-flight responses for even the most mindful and centered folks…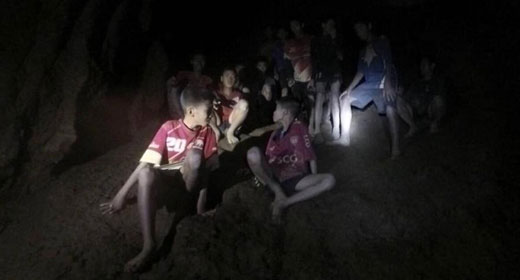 That's why meditation was key for the Wild Boars, the Thai soccer team that was rescued from a cave this week after catastrophic flooding.
The soccer team of 12 boys ages 11-16 was trapped in a cave for nearly 10 days before rescue officials located their whereabouts. Left to survive with no food or clean water, and low oxygen levels, the boys turned to meditation for solace and survival—all thanks to the team's coach.
According to the Washington Post, 25-year-old Ekapol Chanthawong led the boys through several sessions of meditation to help quell any anxiety or fear related to the prospects of their dire situation. His aunt told reporters that meditation is a part of his regular practice, which definitely helped him and the boys stay calm in the cave. He also taught the boys how to meditate in ways that would help them conserve as much energy as possible until they were found.
Before he became the assistant soccer coach, Chanthawong trained as a Buddhist monk for a decade in northern Thailand, meditating daily with monks at the temple—an experience that helped him and the boys cope while they were trapped underground.
Now that the benefits of meditation have been backed by research, it's becoming more common for mindfulness practices to be used in the treatment of mood disorders (like anxiety), and more people are tapping into mindfulness to deal with daily stress. Experts even say that introducing mindfulness meditation to children early on may help them develop skills like self-awareness, adaptability, and a more flexible, open mindset.
In the case of the Wild Boars, continuing to meditate may even help them cope with any trauma related to their experiences in the cave. Studies suggest that trauma-stricken children (think: those who experience war and/or long-term poverty) benefit from exposure to meditation and other mindfulness-based treatments.
And if you weren't sold on the power of meditation before, just think: If mindfulness can get people through 10 days of being trapped in a flooded cave, then imagine what it can do for the smaller, everyday stressors in life.