A lot of people have heard the buzz around electric vehicles (EVs), but they don't know if an EV would be right for them…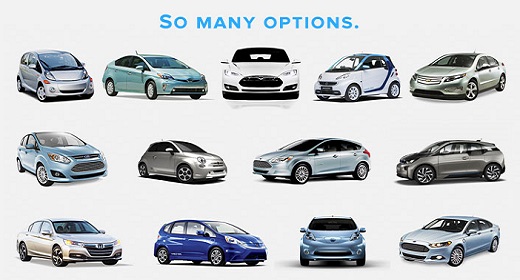 In fact, many don't even know what would be the right questions to ask themselves to figure out whether cars like the Tesla Model S, Nissan Leaf, Chevy Volt, or Ford C-Max Energi would fit their lifestyles — not to mention their budgets.
I'm happy to report that we at the Sierra Club have launched a 'pick-a-plug-in' web tool to help people figure out which electric cars, if any, are right for them. I hope you'll check it out and share it with your friends.
A poll last year found that nearly half of American households could purchase an EV for their next car; it would be a great fit for their driving needs, and they would have a place to charge it with electricity. We're talking about many millions of people. Are you one of them?
There are a lot of compelling reasons why more than a quarter million Americans have already bought EVs since they first came on the mass market a few years ago. They are cool high-tech wonders (imagine driving an iPhone!), there is little or no need to ever visit a gas station (depending on whether you purchase a full battery electric or a plug-in hybrid car), they are much cheaper to fuel (the equivalent of about $1 a gallon), and they are much better for the environment (even when considering the emissions from the electricity to charge them up).
Also, there is a $2,500-7,500 federal tax credit that comes with the purchase of an EV. And many people live in cities and states where they can take advantage of additional incentives, like a purchase/lease rebate (in some places get a check in the mail for thousands of dollars — I am not kidding!), carpool lane access, and special utility rates for EV drivers. Linked to our new 'pick-a-plug-in' web tool is our online EV Guide that has all of this information if you enter your zip code. If you click on a specific EV, we'll even tell you how much you'll avoid in carbon emissions and fueling costs compared to the average conventional car.
But are EVs currently the right fit for everyone? No. For example, some people don't have a place to charge them with electricity. For many, though, it's simpler than they think. I had a basic 110 volt outlet installed on the side of my house, so I can charge up my car in our driveway. Easy peasy.
Many people ask me, "What's the best electric car to get?" My answer is always, "it depends." How many miles do you drive in a typical day? Do you take a lot of long-distance trips? How much money are you willing to spend? There are nearly 20 great models available in the US and more coming out every year.
So, what are you waiting for? Check out 'pick-a-plug-in,' and start your EV journey.