by Byron Katie: Stephen and I were talking about Jesus and the Gospel, which he told me means "the good news…"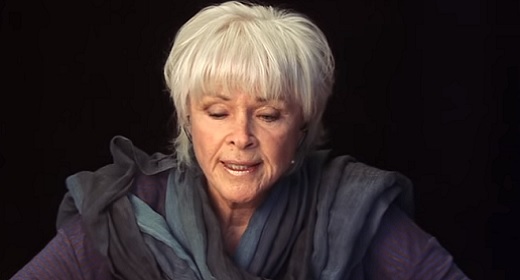 He asked me what I thought of Jesus's message. Here is an edited version:
There's nothing that isn't good news. The good news is that there is no bad news. I imagine that Jesus saw goodness in all things. He received everything with an open mind and heart, and he realized that every experience is given, every experience is a gift. It's falling down, it's getting up, it's your everyday chores, it's the smell of fresh strawberries, the smell of garbage, it's the death of a loved one, it's your husband falling in love with another woman, it's everything that happens in your life, whether you believe that it's good or bad. He saw the apparent bad as good, because he no longer lived in the world of opposites, the world where there is anything powerful enough to override the true nature of everything. He had understood this good news, the nature of things, so deeply that he could live it.
This is another way of saying that Jesus trusted God with all his heart. He called God "Father" not because he imagined God as a human being sitting above the clouds, but because to his mind a father was pure generosity. I don't think Jesus was a mystic; he didn't have visions or exotic experiences; he saw and heard and smelled just what you or I see and hear and smell. But he saw it all as good. He knew what the Bible meant when it says that on the sixth day God looked at all of creation and said, "It is very good."
People usually talk about God as if He were a character in a story. I don't think that Jesus saw God that way. I think that he saw God with a clear mind, as everything. For me, the word God means "reality." Reality is God, because it rules. I often say, and I love to repeat this: If you argue with reality, you lose—but only 100 percent of the time.
I can always trust God's will, and I don't have to guess what it is. Whatever happens is God's will. Whether I live or die, whether my husband and children live or die, whether I am rich or poor, sick or well, whether there is war or peace, abundance or famine, sunshine or hurricane or earthquake, that is God's will, and therefore it's my will. I'm in love with reality, and reality includes everything: both sides of everything. My arms are open to it all.
The story goes that "God" gave the commandments to Moses on Mount Sinai. I don't know what happened, if anything, on Sinai. But I do know that if God is a character in a story, I have to project all sorts of qualities onto him. If I believe that he is judgmental and punishes disobedience, like a strict father, I have to live in fear. If I believe that he is compassionate and loving, I'll live in trust—until something apparently bad happens or until things don't go my way. After the Newtown massacre in 2012, I heard a priest say on television that God was sad because He couldn't keep it from happening. I can see why people get angry or disappointed at a God like that. But with either version of God—the cruel, judgmental one or the well-meaning, powerless one—people are simply reacting to their own projection.
Even if you project God as all-loving, all-compassionate, and all-forgiving, that God is still too far away for me. He is still separate, and there is no freedom in separation. It has to be closer than that. With anything you love, with anyone you love, you always want to be closer, closer. For me, God means no separation. No separation, physical or mental. When the mind can no longer separate God from reality, we are left in the state of total intimacy. We become one with reality in an entirely new way, and that's a beautiful thing.
I have spent a lot of time in the desert, apparently lost, and very comfortable in being lost. I've spent hours watching insects going about their lives. I've watched a bird in a cactus or in the crevice of a hill gathering materials for a nest, with everything supplied for it to do that, an abundance of everything. Its wings carry it wherever it needs to go, and it even has feet to hop on, and it knows its way around, and everything works perfectly in unison for it to get what it needs. Everything the bird has eaten and drunk nourishes its body, and its life is so simple, water and air and earth all working together as the original mother of perfection. That perfection is always going on, everywhere. Other than what you're believing about it, what else could reality be? What else could you be?
Those insects, those birds, were always acting within their own integrity. They were following God's simple commandment. No external authority can give you the peace of heart that you feel when you act from your own integrity. And how can there be an external authority? Isn't that just you, believing what someone else says is true? The truth can only come from within your mind. Ultimately, no matter what someone tells you to think, you're the one who believes it or not, and responsibility begins and ends in the innocence of believing. Life is a projection of mind, and you're the projector. You are the authority. You always have been.
I experience reality as something so benevolent, so beautiful, so pure that there is no word for it. I don't have a problem calling it "God." It exists wherever I turn my eyes (and even saying "exists" is saying too much). When I first realized this, I was amazed. I was ecstatic, and I still am. God, God, God—that was the song I heard. That is the song I keep singing. There is nothing that doesn't fit into this kindness, this pure abundance. And who of right mind wouldn't be devoted to it? It was—is—so obvious. That's where I found myself—on my knees internally, at its feet, without reservation, unceasingly, awake to what I had realized. God, for me, is the beloved, the goodness and purity of the world. And in my experience, I can't know God until I know myself.
Stephen tells me that the Hebrew name for God can mean "That which is." "That which is" is an excellent name for God. God is everything. Everything is good, and when we don't experience it that way, we suffer. Seeing anything in your life as unacceptable obliterates God's goodness. But it obliterates it only for you, only for a while. God's goodness doesn't change. It is what it is, whatever you think it is, until it's not. And for this we have inquiry.
If you've enjoyed sitting in on this conversation, let me know, and it can continue.
Loving what is all,
BK