by Krysten Peck: Today is International Day of Yoga, and here at mbg, we want to highlight the stories in the yoga space that are changing the practice for the better…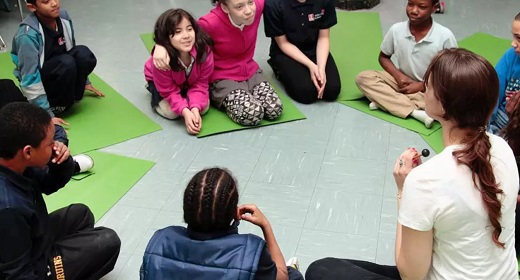 Read on to hear about how one organization is taking a You.We.All approach in making yoga accessible to children everywhere.
Yoga might be reserved for some as just a practice or lifestyle, but for Yoga Foster, yoga is a tool for education and social change.
Started by founder Nicole Cardoza, Yoga Foster is an organization that uses resources like yoga and mindfulness to empower educators and create healthier and happier classrooms for students
"Our whole motto is to make wellness elementary," Cardoza says over the phone. The organization provides in-school programming around wellness in the form of yoga teacher training for educators, who then use the knowledge and skills in the classroom settings for their students. Teachers are provided with yoga mats, lesson plans, and self-care resources to shed light on the power of mindfulness in the classroom.
Accessibility, research, and advocacy remain at the heart of Yoga Foster's mission—to Cardoza, wellness can and should be for everyone, regardless of socio-economic background.
Cardoza, who previously worked in the e-programming sector of tech, first thought of the idea for Yoga Foster while volunteering as a yoga instructor in schools where the majority of students were low-income. "There's not so much leadership in this space of wellness," says Cardoza. She opted for pursuing the nonprofit route, to emphasize the organization's mission of giving back and reinvesting in underserved communities.
"Eighty percent of our teachers receive free programming," explains Cardoza, which is no small feat considering many public school educators struggle to receive adequate funding for basic necessities like school supplies. "We're just equipping them with more tools to deepen their teaching and classroom experience with their students."
Yoga Foster is representative of the current uptick in mindfulness-based yoga program offerings for schools and institutions countrywide, especially since the science behind the practice is linked to improved levels of resilience and coping mechanisms—even more so for at-risk youth.
For Yoga Foster, implementing a comprehensive curriculum gives a structure and network to track progress and impact in an otherwise independent and practice. The organization's comprehensive database uses over 22 metrics comprised of emotional and physical questions to gauge the students' response to programming and overall efficacy of the resources.
With 1,500 classrooms and 500 schools across 49 states enrolled in Yoga Foster's program, the organization's vision of providing full-fledged access to healing within community includes a digital portal, where teachers receive work sheets, playlists, lesson plans, and more—in addition to a built-in community of teachers implementing the same programming across the country.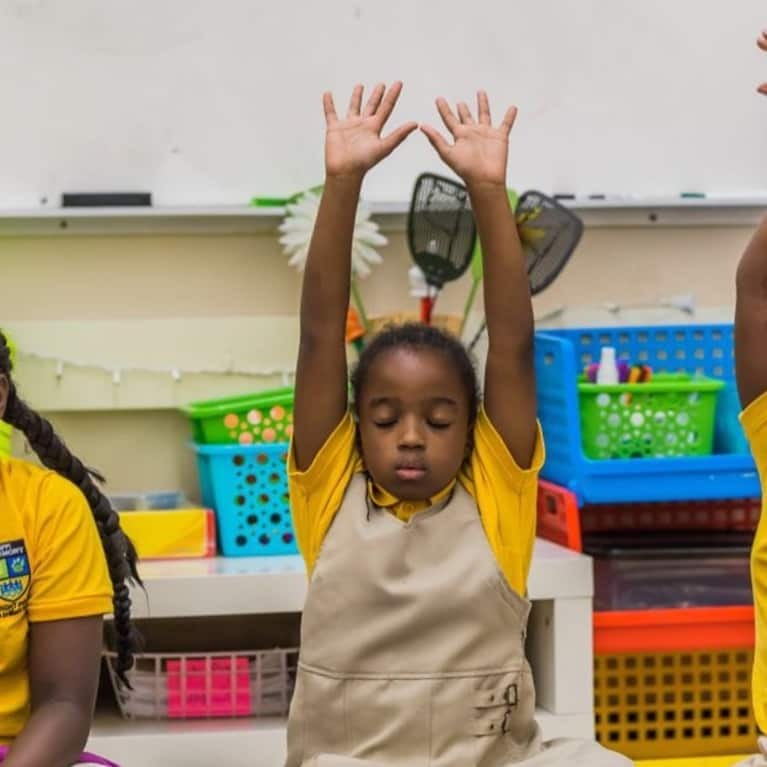 And with the high school pilot program campaign on the horizon, Cardoza hopes Yoga Foster will help generate a larger conversation in wellness about self-care and community. "It's about empowering students to learn yoga on their own terms and to make meaningful connections with communities and studios in their own area."