by Mark Hand: "What I love about the Green New Deal is the emphasis on equity and equality, and representation."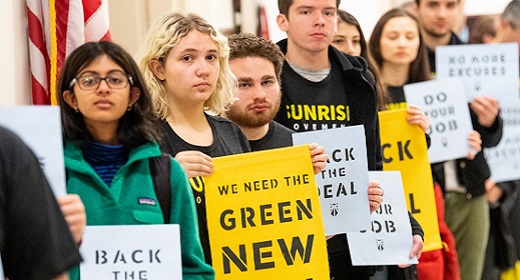 Rachel Gold, an earth sciences student at Brown University, has been too busy with her research into signs of abrupt climate change to attend rallies in Washington, D.C. in support of aggressive climate policy action at the federal level.
"I haven't had the time to pursue the level of activism as my peers," said Gold, who is researching a period in the Earth's history starting about 12,900 years ago called the Younger Dryas, when the climate around the North Atlantic returned to a glacial state after having warmed for over 6,000 years.
To Gold's delight, the stars aligned this week when the American Geophysical Union's (AGU) fall meeting was happening in Washington at the same time the youth-led Sunrise Movement was conducting a major climate lobbying campaign on Capitol Hill. So, in addition to presenting her research at the meeting, Gold was also able to lobby members of Congress for the creation of a select committee on the Green New Deal.
Spearheaded by Rep.-elect Alexandria Ocasio-Cortez (D-NY), the idea of a Green New Deal has burst into the political mainstream over the past few months, upending congressional climate politics. The proposal responds to recent climate science by calling for a rapid transition away from oil, gas, and coal, and simultaneously seeks to ease the nation's worsening income equality.
From the seminal congressional testimony of Dr. James Hansen in 1988 confirming the global warming trend was being caused by the buildup of greenhouse gases in the atmosphere to the release of an alarming report in October by the U.N. Intergovernmental Panel on Climate Change, scientists have been at the forefront of calls for action to fight climate change over the past 30 years.
Many scientists are willing and ready to advise lawmakers on the science behind climate change. But it's up to policymakers to pass laws that could help to avert catastrophic global climate change.
"I'm a physicist. I can tell you what happens when you put carbon dioxide in the atmosphere," Dr. Kate Marvel, an associate research scientist at the NASA Goddard Institute for Space Studies, told ThinkProgress. "I can't necessarily tell you the best way not to put it there or to take it out."