Ocean Robbins: We live in a toxic food culture…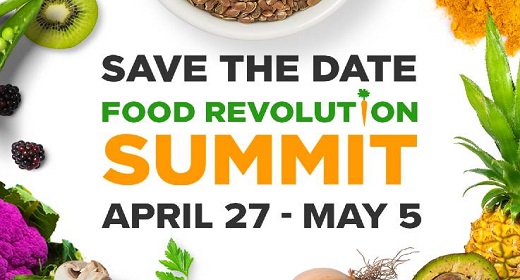 The modern diet is now the leading risk factor for disease. And the industrialized food system is unsustainable. We're running out of water, running out of topsoil, and destabilizing our climate.
But the truth is, YOU can be part of the solution. When you make the right food choices, you can say NO to disease, and you can say YES to a healthy life and a healthy planet.
So how do you make the best choices for yourself, the people you love, and your planet?
We created the Food Revolution Summit to give you knowledge you can use, from experts you can trust. Because you can heal your body and the world… with food. Deliciously!
Are you ready to get inspired to harness the incredible power of food? Are you ready for life-enhancing, health-boosting, world-changing wisdom?
Join the 2019 Food Revolution Summit to Learn 
From These 25 Trusted Authorities on Food & Health
Co-hosted by John Robbins, bestselling author of Diet for A New America, 
and Ocean Robbins, author of the new, bestselling book, 31-Day Food Revolution
John & Ocean Robbins Summit Hosts
Each interview is hosted by bestselling authors and food movement leaders John Robbins and Ocean Robbins. John's books have sold more than 2 million copies and his skill as an interviewer is beyond compare. After 31 years of leading the food movement, he has the unique ability to draw out the most useful and insightful gems from each speaker. Ocean is author of the bestselling book, 31-Day Food Revolution and is skilled at guiding Summit participants along the journey with passion and wisdom. The finale conversation between this father and son team is always insightful, inspiring, and not to be missed!
What Makes the Food Revolution Summit Special?
These are engaging and actionable interviews you won't hear anywhereelse.
The whole experience is high-quality, impeccably research-backed, and easy-to-understand.
You'll get a comprehensive picture of how we CAN heal people and the planet with food.
You'll leave the Summit feeling inspired and hopeful for yourself — and for the world.