Someone hold the phone; are you saying the secret to having a nice body is being a vegan or a vegetarian?
Emily Deschanel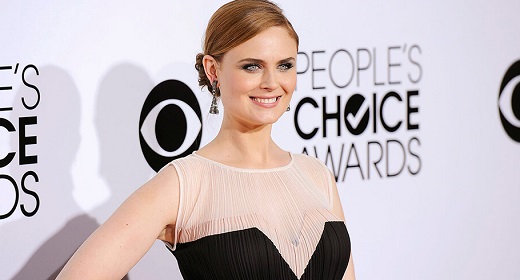 Aside from the fact it takes immense discipline to stay on course, these celebrities commit to this health trend so they can stay in shape for any role they may be cast for in Hollywood. Nevertheless, these stunning stars are vegan and vegetarian.
She was inspired to be vegan after watching the film "Diet for a New America". It has now been 20 years since she became a vegan and even her sister followed suit. She's still standing tall and advocating for veganism and swears her health is better than ever.
Kate Mara
Mara has been a vegan for five plus years and describes her decision by saying that every time a person chooses a meat-free meal they're opting in for better health, preferred treatment of animals, and a better environment.
Click next and find out who else is following suit.
Adam Young
Leading man of Owl City loves vegetarian burgers from Boca Burgers. He was quoted saying that he likes sitting on his front lawn and just listening to the sound of vegetarian patties sizzle. Says it's "pure bliss."
The next page reveals a star you would have never guessed.
BEYONCÉ … Sometimes.
C Flanigan/FilmMagic
Queen of the Beyhive, Beyoncé is not always a vegan. In 2013 she took on a 22-day vegan challenge that was devised by her trainer. Recently, Beyoncé claimed she returned to the plan and even began a vegan meal delivery service.
On the next page holds a man of great altitude.
Brad Pitt
"The Daily Mail" says that he has been a vegetarian for some time now. Angelina Jolie is not very fond of Pitt's eating habits and there are rumors circulating that debate how the couple's kids are eating. Jolie has even been quoted saying "I joke that a big juicy steak is my beauty secret. But seriously, I love red meat."
Click next to see who else made the list.
Christie Brinkley
She seems to never age, Brinkley came to fame as a sports model and eventually claimed her spot on the cover of more than 500 magazines in the world. She dedicated most of her adult life to a vegan lifestyle. In interviews, she says her ageless body and face is because of her diet.
Next page holds a fan favorite.
Carrie-Anne Moss
Trinity as some may know her was on the big screen kicking butt in The Matrix. One day she was going to have a steak, but decided to go for a walk first. On that walk, she was followed by cows and instantly became connected with them. The steak meal didn't happen and since then has been amazed by the vegan diet.
Next up is another gorgeous Carrie.
Carrie Underwood
Initially, she was a vegetarian but then decided to become straight vegan. The transition came when she found out she was lactose intolerant. When her first child was on the way, she prompted to take a break from the diet, but once the baby was born she went back to her vegan ways.
A younger brother is on the next page. See who it is.
Casey Affleck
Ben Affleck's younger brother has adopted the vegan life for 15 years now. In an interview with PETA, Affleck had this to say: "When people ask me why I don't eat meat or any other animal products, I say because they are unhealthy and they are the product of a violent and inhumane industry."
Ahead is a very popular musician.
Chris Martin
Being a vegetarian is the just the tip of the iceberg with Mr. Martin. He also does not consume alcohol and coffee, they are out of his diet. He is just an overall health nut, running and practicing yoga for an hour on the daily.
The next star may bring back some memories.
Dawn Richard
"Cuz my heart is damaged, damaged!" Don't you remember that? Richards career may be damaged, but her eating habits are on point. Once her father found out he had cancer, she switched it up to vegan so she could limit her health risks.
Demi Moore
This Hollywood beauty looks far younger than her age of 53 and she isn't afraid to sport a bikini. She participates in weekly yoga and pilates on top of her vegan diet. Like the others, she credits her routine and veganism for her age-defying looks. She also admits she has felt pressured to stay thin and sexy.
Find out who is in store next.
Ellen Page
Page is the definition of a trooper. Not only does she stay faithful to her vegan diet, she also can be deemed a spokesperson for the lifestyle. She always speaks out on various social media outlets to educate her followers of the terrors of factory farming. She was named the sexiest vegan celebrity of the year in 2014 by PETA.
Ellie Goulding
The beautiful British-born singer also started off a vegetarian but hopped on the vegan bandwagon, and often talks about how much she loves the lifestyle. She contends that she feels so much healthier and leaner even though she already has an athletic frame.
She may not have superpowers but she is super hot. Click next to see who.
Famke Janssen
The former X-Men starlet is a well-known animal lover, especially for her pet dog. She says "When you get that close to an animal, things change and it doesn't seem to matter if it's a dog, chicken or cow," via "Eluxe Magazine". Her veganism led her to launch a campaign for PETA addressing animal cruelty.
This next one can sing like it's nobody's business.
Ariana Grande
In 2013 Grande took to Twitter to announce she was going vegan. She said in numerous interviews that the switch to veganism was to improve her health and because she has a huge love for animals. She says her high energy is attributed to being a vegan.
He was apart of the Hunger Games, but does being a vegan make him hungry? Click next to see.
Liam Hemsworth
Probably one of the hottest men on the vegan train is pictured above. In an interview with MensHealth.com, he said, "there are no negatives to eating like this. I feel nothing but positive, mentally and physically. I love it." Hemsworth would make a perfect promoter for PETA.
You may think it's a joke with the next one, but it is all serious.
Jared Leto
The sexiest male vegan celebrity chosen by PETA in 2014, Leto is as vegan as they come. You would never guess he is 43, but he told "GQ Magazine" that he stays youthful by maintaing his vegan lifestyle for over 20 years now. This joker takes his diet serious.
Up next is a common face in Wes Anderson films.
Jason Schwartzman
A Wes Anderson film regular, he is essentially a vegan; at least that is what he told "The New York Times". He really enjoys vegan ice cream and claims the best ice cream he ever had was vegan. He got his scoops from Lula's Apothecary.
Click next to see a beautiful red-head.
Jessica Chastain
She was raised by a vegan mother who made a living off of running vegan restaurants. Being that she was so young when introduced to the lifestyle, it would make sense that the transition for her would be easier than for most. Chastain was a vegetarian for 15 years before switching to pure vegan.
Clicking next will lead you to a hottie you can't miss.
Jhene Aiko
She is a rising star in the music industry collaborating with artists such as Drake and J. Cole. She's also a vegan. Hailing from Los Angeles, her favorite restaurant is Vegan Glory. She recently told PETA, "Having been educated on the health benefits of a plant-based diet, it only made sense for me to go vegan. I have more energy, and my skin looks better."
The next woman still has the whole package, find out who.
Jennifer Lopez
Lopez became a vegan for personal reasons. She noticed that after she reached the age of 40 she couldn't shake a mere 10 pounds. She tried plenty of tactics but the one that stuck was her shunning meat. Maybe everyone over 40 should consider going vegan to lose weight.
Up next is a rock 'n roll icon.
Joan Jett
Two years away from 60 and you wouldn't even know. Big ups to her vegan eating style. Jett is a hippie at heart, despite what she looks like on the outside. She even shuns black leather worn by rockstars and opts for vegan leather. Who knew there was such a thing?
Bells will be rung when you see who's next.
Kristen Bell
Even as a young girl she did not like to eat meat, something she says was one of the quirks she had as a child. And she loved fruits and vegetables, go figure. Bell seems to favor dark green vegetables such as kale and broccoli. You can't blame her when those types have cancer-fighting compounds.
You might be stuck on who's next. Click to see.
Lea Michele
This gorgeous "Glee" superstar has a very supportive family. When she decided to become a vegan, her mom gladly created vegan versions of her favorite foods. She is a big animal lover and uses her celebrity platform to speak out about the vegan lifestyle and animal rights.
Up next is a beautiful singer that you are sure to enjoy.
Leona Lewis
This London cutie became famous after winning "The X Factor" in 2006. She has been a vegetarian since she was 12 but has confidently switched to veganism after learning the potential harms associated with eggs and dairy products. Lewis is also an ambassador for Hopefield Animal Sanctuary.
The next one might be a Playmate but she likes to keep it vegan.
Lily Cole
She started being a vegetarian at the young age of 10 but tries to eat vegan when she can. She once got ticked off when people asked her what the difference was. Now she is only concerned about decisions that make her feel good, and that she can be proud of.
The next is someone we all know.
Madonna
This settles it, the best way to stay looking and feeling young is by switching to a vegan diet. Demi Moore is not the only one who defies age, as Madonna looks absolutely stunning. Folks, you know the drill now, veganism is the fountain of youth.
Rocks out with her tongue out, up next is a very polarizing entertainer.
Miley Cyrus
She won the sexiest vegetarian celebrity PETA award in 2015, Cyrus is dedicated to being a vegetarian after the loss of her dog in 2014. The new host of "The Voice", she calls the vegetarian life luxurious. In one of her Instagram posts, she writes how much she enjoys being vegetarian.
Natalie Portman
A book written by Jonathan Safran called "Eating Animals" is what helped propel Portman from vegetarianism to straight veganism between 2009 and 2011. She briefly switched back to vegetarianism so she could enjoy baked goods made with eggs.
The singer up next will definitely make you want to get up and dance.
Ne-Yo
The man of many hats has recently turned vegan after a New Year's resolution. The hit singer and songwriter said on Twitter that this was a discipline test and that he was not looking forward to it. Reports show he is still going strong.
The hottie up next just might make you sweat.
Olivia Wilde
What is there to say? When she was getting ordered around by House, she was keeping her thin physique in shape due to her strict vegan diet. She won the award for sexiest celebrity vegan back in 2010 and was a clear favorite. Wilde even has a website dedicated to her green lifestyle.
You may know this next person for various reasons.
Pamela Anderson
This "Baywatch" babe advocates for animal rights and has been vegan for practically her whole life. She even has her own cooking website titled "The Sensual Vegan". There are ethical reasons behind her dietary choices, but she also says it improves her appearance and health. Her and everyone else.
Up next things just get even hotter!
Petra Němcová
Her main reason for going vegan was because she feared the health effects of fish farming and how the planet is near annihilating an extreme amount of fish species. Since making the change she has noticed how drastic her body has changed to become even more fit.
Portia de Rossi
The stunning wife of Ellen DeGeneres, Rossi has been vegan since 2008. Ellen and she both show their dedication to animal welfare by strongly supporting the Gentle Barn, a sanctuary for abused animals located in California. They also support Alley Cat Allies which aims to improve the lives of cats.
One of two beautiful sisters can be seen next.
Rooney Mara
Being healthy runs between the sisters. Mara is a vegan and says she loves to eat (a lot). In an interview with "InStyle" she said, "I basically eat only fruits and vegetables. I've never felt better than I do now." How many different fruits and vegetables can one possibily eat?
The second to last male featured on this list. Click next to see who.
Russell Brand
The British comedian took up being a vegetarian when he was only 14 years old. Like others on this list, he made the switch to vegan after watching a documentary on diet. The one he watched was called "Forks Over Knives". As long as his jokes stay funny he can eat how he chooses.
Pure beauty lies ahead on the next page.
Sophie Monk
This triple threat model, singer, and actress loves animals dearly. She posed naked on a bed with nothing but peppers alongside the tagline "Spice Up Your Life – Go Vegetarian". She is very vocal in her message to fans that letting go of animal products is the best thing you can do for your life.
Up next is the last male to be on the list.
Tobey Maguire
The former Spider-Man stud has been a vegetarian since 1992, but changed it up to vegan in 2009. In an interview with Parade magazine, Maguire had this to say, "It's never really been that hard for me. I've never had any desire to eat meat." He sure did not have a hard time killing his role as Spider-Man.
Last but not least is a curly-headed cutie.
Zendaya
Zendaya told "US Weekly", " I am a vegetarian who doesn't like vegetables too much — makes it challenging!" Yes, Zendaya, that sounds very challenging, you must have a pile of fruit in your purse.
There it is everyone. The stunning celebs that are either vegan or vegetarian. If you didn't know the difference between the two, hopefully, you do now. The major take-away from all this is that leading a vegan lifestyle keeps you youthful.