by Carol Kuruvilla: NASA renamed a West Virginia facility in her honor, 57 years after her calculations helped the first American orbit the Earth…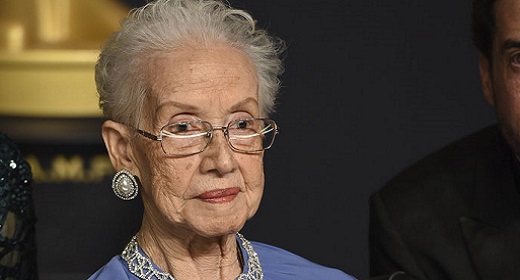 NASA on Friday officially renamed a West Virginia facility in honor of Katherine Johnson, an African-American mathematician whose work for NASA in the 1960s inspired the movie "Hidden Figures."
The center is now known as the Katherine Johnson Independent Verification and Validation Facility.
Staff at the Fairmont facility are responsible for making sure the software on NASA's high-profile missions runs safely and successfully, the center's website states.
Jim Bridenstine, NASA's administrator, said the facility carries on Johnson's legacy of "mission-critical computations."
"I am thrilled we are honoring Katherine Johnson in this way as she is a true American icon who overcame incredible obstacles and inspired so many," Bridenstine said in a statement on Friday.
This isn't the first time Johnson's name will appear on a NASA building. In 2017, NASA dedicated a newly opened building at the Langley Research Center in Hampton, Virginia, in Johnson's honor.
A rededication ceremony for the West Virginia center will take place at a later date.
West Virginia's Republican senator Shelley Moore Capito, who successfully pushed a bill through Congress calling for the facility's renaming, praised the announcement on Friday.