by Shannon Sexton: Learn his story and see the unconventional biopic, which is, as yoga documentaries go, gripping, inspiring, dare we say, epic, even…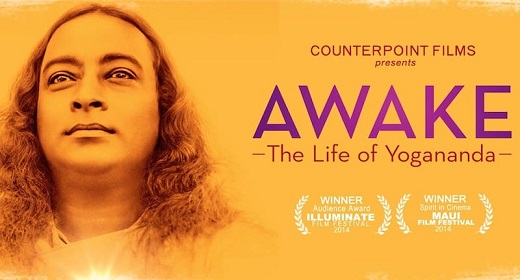 Yogis, meditators, and spiritual seekers, make a movie date. Awake: The Life of Yogananda, began screening in October 2014 and as yoga documentaries go, this unconventional biopic is gripping, inspiring—dare we say, epic, even. In fact, Awake has already won three awards and received accolades from the yoga glitterati, including Ram Dass, Marianne Williamson, and Russell Simmons.
Co-directed by two yoga-practicing filmmakers (Oscar-nominee Paola di Florio and Sundance winner Lisa Leeman), Awake explores the life and teachings of Swami Paramahansa Yogananda, the author of the influential Autobiography of a Yogi and the founder of the Self-Realization Fellowship. Featuring interviews with scientists, yoga teachers, and direct students of Yogananda, the film becomes a kind of who's who of celebrities, including Deepak Chopra, Krishna Das, the late George Harrison and Ravi Shankar.
Awake also captures intimate—and at times heartbreaking—moments of the guru's life. Through slow-mo, sepia-toned reenactments, archival video footage, newspaper clippings, audio recordings, photos, and a narrative spun in Yogananda's own words, the filmmakers hook you emotionally from the get-go.
Get a sneak peek of Awake in the following color stills and photographs from the film.