The goal of Where the Earth Meets the Sky is to create a breakout, feature length documentary film that will reach a global audience to galvanize new and broad support for Tibetan Freedom.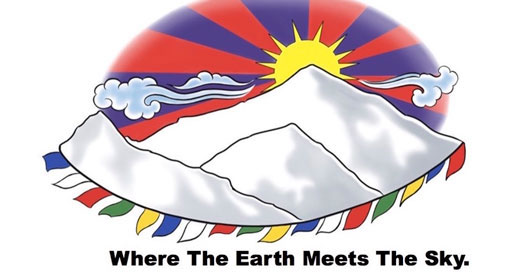 It is also an intimate, genuine, and often funny portrayal of one of the most daring nonviolent direct actions in recent history, as well as the unbreakable bonds of friendship that were forged along the way.
WEBSITE             TRAILER                MAKE A DONATION
We are entering a critical moment in the Tibetan people's epic struggle for freedom. Reeling under seven decades of Chinese occupation, Tibet remains one of the world's last, and most oppressed, colonies. China's all-out campaign to erase Tibet from the global consciousness, by means of coercion and cash, has created a conspiracy of silence on the issue. But Tibetans in Tibet, as well as in exile, continue to resist China's tyranny in their own creative ways, through acts of resistance wherever and whenever possible.
With this film, we will propel Tibet to the center of the global spotlight, just as China prepares to host the 2022 Olympic Games. To reach fresh audiences, members of the Everest Action Team have reunited to share their harrowing and inspirational protest story with the world for the first time. We have assembled a "dream team" of experienced storytellers and high-caliber filmmakers to produce a unique, engaging documentary that we hope will inspire a new generation of people to support the Tibetan cause.
Tibet is one of the most restricted places on the planet today – a no-go zone for international journalists and foreign watchdogs – but our film slips between the bars.
Where the Earth Meets the Sky is a compelling tale of courage and international solidarity; of friends uniting for something much bigger than themselves; of taking risks to see a bit more justice in the world.
Produced by the Everest Action Team themselves, this film is designed to leverage the upcoming Olympic media spotlight to draw attention to China's growing authoritarianism, widespread surveillance, and ongoing brutality in Tibet.
Our team is passionate and driven to make this film come to life, and we are confident we have the right plan and tools to turn it into a major success. We have come as far as we can through self-funding and volunteered time and so, in order to take our film to the next level, we need the support of our community and those out there we haven't yet met but who are committed to supporting Tibetan freedom and innovative, independent, documentary filmmaking.
In essence, if you're reading this, we need you!
And more good news…as a Fiscal Sponsee of the International Documentary Association, your donations are Tax Deductible!* 
WEBSITE             TRAILER                MAKE A DONATION
Please join us by making a contribution—at any level—to support the project and stay in the loop on our filmmaking journey. And be sure to follow our path on social media, @wheretheearthmeetsthesky.
Read on to explore project details and get to know our team.
Thank you! Bhod Gyalo!
Everest Action Team & Students for a Free Tibet
Synopsis:
A group of unlikely, tech-savvy activists orchestrates a high-stakes heist on Mount Everest to steal China's global spotlight ahead of the 2008 Olympic Games, refocusing the world's attention on occupied Tibet. Pulling off the near-impossible and inspiring a generation of activists, this film reveals a rare, behind-the-scenes, glimpse into an historic moment in Tibet's ongoing struggle for freedom.
Storyline:
In 2007, five young activists, including one Tibetan, entered occupied Tibet, breached a militarized zone on the side of Mount Everest, and launched a nonviolent protest of historic proportions.
As part of its aggressive lobby to win the Olympic Games, China promised the most spectacular "Torch Relay" in Olympic history, including summiting Mt. Everest, the world's tallest mountain. For Tibetans, such a symbol of international unity paraded across their occupied country was the height of mockery and disrespect. For human rights activists, it also represented the opportunity of a generation: a chance to steal China's coveted Olympic Spotlight and shine it instead on the horrific occupation of Tibet. Indeed, the elaborate Global Torch Relay and the Opening Ceremonies for Beijing's 2008 Games were the most widely watched events in human history.
At the center of our story is Tendor, "The Torchbearer," a young Tibetan born in exile and raised in the Tibetan Children's Village refugee schools in Dharamsala, India, founded by His Holiness the Dalai Lama's sister. Tendor was brought up on stories of Tibetan resistance, living side by side with friends and schoolmates who escaped Tibet as children (some of whom lost their limbs to frostbite while crossing the Himalayas) and were desperate to see their families again. He grew up longing for the day he would see his homeland with his own eyes, like any exile yearning to return to a free Tibet. Never did he imagine that when that day came, he'd be traveling incognito, mostly hiding in hotels, and pretending to be anything but Tibetan.
Surrounding Tendor is a group of undercover activists, each with a unique skill for the mission's success. Lhadon, "The Mastermind," leads Students for a Free Tibet – the organization that planned the daring protest – and is the public voice of the action. Shannon, "The Organizer," is charged with building her "dream team" for accomplishing the risky mission, and acts as the central hub of the group's connection, personally recruiting each member. Laurel, "The Smooth Talker," has years of experience with nonviolent direct action planning and dealing with authority figures while putting his body on the line for his convictions. Kirsten, "The Smuggler," has spent her career ferrying funds and information across borders for an underground network of frontline activists. Jeff, "The Geek," is a highly trained mountaineer and direct action activist with a brilliant mind for outsmarting the technological obstacles the team eventually faces.
Tendor's love for his homeland, coupled with his enduring faith in his people, drive the team—and the film—ever forward towards Everest and their inevitable arrest. At night, in the cover of their hotel rooms, they are busy making protest T-shirts, assembling a large banner, and designing the "Opening Ceremony for Team Tibet." By day, they struggle to hold their tongues and pretend to be charmed by China's grotesque development of Tibet in order to earn the trust of government minders and nosey tour operators, and to avoid provoking any suspicion of their true intentions.
The team's mission is to expose China's Olympic Torch Relay as a massive publicity stunt meant to cover up the truth of Beijing's appalling human rights record, including the brutal, decades-long occupation of Tibet. To this end, they stage a colorful protest, rich with symbolism and strong messaging…from 17,500 feet.
They successfully conduct—and broadcast—their Opening Ceremony for Team Tibet, unveiling a protest banner and lighting a unique butter-lamp torch, while Tendor sings the banned Tibetan National Anthem. They are immediately arrested at gunpoint and whisked away into days of intense interrogation.
Meanwhile, out in the world, the action is a success. When China unveils its torch route the following day, outlets from CNN to Sports Illustrated pair that story with the Tibetan independence activists who protested on Everest and "haven't been heard from since." The team has hijacked China's Olympic limelight before the torch relay even begins, putting Tibet's occupation front and center at a time that China desperately wants the world to forget it.
With the 2021 release of Where the Earth Meets the Sky we plan to again challenge the Chinese government's false narrative on Tibet and remind the world that a few committed voices of dissent can forever change the story.
Who we are
Creative Team: 
We've brought on a world-class, Emmy nominated, team of Directors, Editors, and Storytellers whose creative credits include, Blackfish, Glenn Campbell I'll Be Me, No Subtitles Necessary, Unfriended, and two of Oliver Stone's documentaries.
Their recent films have debuted at Sundance, Telluride, and Toronto Film Festivals, and they are deeply respected filmmakers within both Hollywood and the independent film world.
Producers:
Tenzin Dorjee
Tenzin Dorjee (Tendor) is a Tibetan activist and writer, and the author of 'The Tibetan Nonviolent Struggle: A Strategic and Historical Analysis.' Born and raised in India, Tendor graduated from the Tibetan Children's Village in Dharamsala and earned his bachelor's degree in international relations from Brown University. He worked at Students for a Free Tibet from 2004 to 2013. He works as Senior Researcher and Strategist at the Tibet Action Institute and is currently a Ph.D. student in the department of political science at Columbia University. He is also a political cartoonist for the Tibetan Review.
Shannon Service
Shannon Service is an independent reporter and filmmaker whose work has appeared at Sundance, the Toronto International Film Festival, the Telluride Film Festival, the Berlin International Film Festival, The New York Times, and The Guardian of London. In 2012, she broke the story of slavery at sea for National Public Radio's Morning Edition. Her feature documentary Ghost Fleet follows up, setting sail with a Thai abolitionist as she scours remote islands for slaves who've jumped ship. Shannon was a finalist for DOC NYC's "Best New Director" award and won the Palm Springs Film Festival's "Best Emerging Director" prize. As a reporter, she has earned several awards including an Edward R. Murrow, a National Press Photographers Association award, and a Knight Award for Best Narrative Science Journalism.
Lhadon Tethong
Lhadon Tethong is a Tibetan independence activist and co-founder and director of Tibet Action Institute, where she leads a team of technologists and rights advocates in developing and advancing open-source communication technologies, nonviolent strategies and innovative training programs for Tibetans and other groups living under extreme repression. Formerly the Executive Director of Students for a Free Tibet (2002-2009), she led the high-profile global campaign to condemn China's rule of Tibet in the lead-up to and during the 2008 Olympic Games, making international headlines as she posted real-time accounts of her travels through Beijing on her blog BeijingWideOpen.org–one of the first in the Tibetan world–before being detained and deported. She was awarded the first annual James Lawson Award for Nonviolent Achievement by the International Center on Nonviolent Conflict in 2011 and currently serves as the Co-Chair of the International Tibet Network, the global coalition of Tibet-related non-governmental organizations.
Dorjee Tseten
Dorjee Tseten is the current Executive Director of Students for a Free Tibet, as well as a strategist and an organizer, leading global campaigns for Tibet. Dorjee served as the President of the Tibetan Youth Congress Baroda chapter during his university studies and developed his skills as a trainer at the Tibetan Center for Conflict Resolution before joining the staff of Students for a Free Tibet (SFT) India in 2009. He served as SFT India's National Director for four years and joined the SFT International team as Asia Director in 2013. In 2016, Dorjee was elected as a Member of the Tibetan Parliament in Exile. Dorjee graduated from MS University in Gujarat with a Bachelors in Economics and Post Graduate Diploma in Human Rights Studies.
Kiri Westby
Kiri Westby is a trained human rights defender who began her career working clandestinely on the front lines of war zones, transporting funds and information across borders for an underground network of feminist activists. Raised in a Tibetan Buddhist household, her affinity to the struggle for religious freedom began at a young age. Kiri now works as a professional writer and stays on her toes chasing her two young children.
Laurel Sutherlin
Laurel Sutherlin is a lifelong environmental and social justice activist who has spent the last decade as a communications strategist with Rainforest Action Network while supporting hard-hitting campaigns with The Yes Men, Students for a Free Tibet and many others. Laurel joined the Tibetan freedom movement over a dozen years ago and has participated in multiple high-profile international acts of civil disobedience to bring attention to the issue. He has worked closely in support of many frontline communities defending fighting projects including old-growth logging, offshore oil drilling, tar sands pipeline infrastructure projects, and palm oil plantation expansion. He's also an avid naturalist and bird nerd.
ARTISTIC CONSULTANT BIOS/REWARDS
Political cartoon by Tendor – Producer
Finding common ground, 8″ x 10″, by Tendor
Photos by Sonam Zoksang – Artistic Consultant
Bio
Sonam Zoksang was born in 1960 in a small village in Tibet called Kyirong. His parents escaped to India one month after his birth. He grew up in refugee schools, got a degree in Buddhist Dialectics, and slowly taught himself photography. In 1985 Zoksang moved to the US where he began his political advocacy for Tibet and has served as a board member for various organizations including the US Tibet Committee. In 1993, he visited Tibet for the first time since his birth. His mission is to tell the story of his homeland through photography. He does this by documenting Tibetans and Tibetan life, both in and out of Tibet, and he has an extensive collection of His Holiness the Dalai Lama's public talks and teachings. He is one of the most well-known and celebrated Tibetan photographers in the world.
Artwork by Lobsang Choephel – Artistic Consultant
Artwork by Lobsang Choephel – Artistic Consultant
Bio
Lobsang Choephel is a Tibetan artist and master calligrapher born and raised in Tibet, educated in India, and currently living in New York. As an exile who has spent most of his life separated from his family in Tibet, he taps into the experience and struggles of his own life to explore brief yet penetrating insights into themes ranging from loneliness to friendship, from anger to compassion, and from attachment to liberation.
"Team Tibet" calligraphy art, 24″ x 18″, by Lobsang Choephel
Artwork by Chungpo Tsering – Artistic Consultant
Bio
Chungpo is a renowned contemporary artist born in Tibet, raised in Nepal, and today based in San Francisco and Dharamsala. Chungpo's abstract paintings evoke a sense of discontinuity and displacement, exploring what it means to be an exile and stateless in a world of nation-states. His work has been widely exhibited in Hong Kong, Thailand, Nepal, Korea, and the U.S.
Holy rocks in Yamdrok Lake, 30″ x 30″, by Chungpo Tsering
The scripture of climate change, 24″ x 18″, by Chungpo Tsering
Artwork by Tenzing Rigdol-Artistic Consultant
Bio
Tenzing Rigdol is a leading Tibetan artist whose work includes painting, sculpture, drawing, collage, digital, video-installation, performance art, and site-specific pieces. His paintings have been exhibited at prestigious galleries and venues around the world, including the Metropolitan Museum of Art and the Moscow International Biennale. Rigdol is also the subject of an award-winning film Bringing Tibet Home, directed by Tenzin Tsetan Choklay, and is an artistic consultant for this film project.
Project Timeline
We have hours of footage from inside the action before the arrest, troves of news footage from around the world during our detention, interviews shot just after we were released, and the temporary sit down interviews that we used in the trailer. We plan to let our Directors/Editors dive into this existing material to create a string out in phase one of the editing process. We will shoot additional interviews and abstract recreations (minimally, but strategically used), and finish the film with an additional thirty weeks of editing.
Our goal is to submit to film festivals for a 2021 release.
Outline of our working production schedule:
$65,000 needed to enter EDIT PHASE ONE.
Reached through individual donors and Kickstarter Campaign running May/June 2019.
EDIT PHASE ONE (≈ 4 weeks)
Production of additional interviews and recreations.
OCTOBER 1, 2019-JUNE 1, 2020
EDIT PHASE TWO (≈ 30 weeks)
Scoring, Color correction, and Sound.
Due date for submission to Sundance Film Festival, 2021.
* TAX DEDUCTIBLE DONATIONS: Your donation is tax deductible! Where the Earth Meets the Sky is a fiscally sponsored project of the International Documentary Association (IDA), a 501(c)(3) nonprofit organization. Contributions in support of Where the Earth Meets the Sky are payable to IDA and are tax deductible, less the value of any goods or services received, as allowed by law. The value of goods and services being offered is noted under each donation level. If you would like to deduct the entire donation you have the option to simply decline the reward at checkout.
Risks and challenges
For this film to have maximum impact, in the lead up to China's hosting of the 2022 Olympics, it needs to release by early 2021, which is a very aggressive production and editing schedule. We have to raise money quickly and get the edit on track or we run the risk of missing this advantageous window of global attention.
We're also taking security seriously, as China and anti-Tibet activists have a long-proven history of swarming and attacking pro-Tibet projects. Finally, and sadly, China truly has done too good of a job of moving Tibet from popular consciousness. This means that these years are crucial for putting it back in, but Tibet isn't currently as sexy as other film topics for funding. We obviously hope to change that, but we really need Tibet supporters to join us now in our efforts to put Tibet back on the global stage where it belongs.