by Johnny Simon: A boon to nature lovers and wide-brimmed-hat-clad influencers alike, "super blooms" are caused by heavy rains in typically dry regions…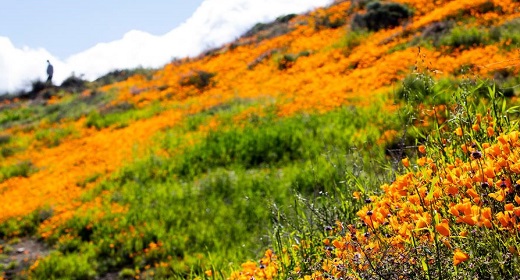 The rains soak seeds of annual flowers that are left dormant in the earth. When springlike weather comes around, an explosion of colorful flowers follow.
Across California, wildflowers have been blooming after weeks of heavy rains. In recent weeks, a bloom of deep orange poppies emerged south of Los Angeles in Walker Canyon, in Lake Elsinore, California, and then a second popped up in Borrego Springs, which sits between San Diego and the Salton Sea:
AP Photo/Gregory Bull – 

People walk among purple wildflowers in bloom near Borrego Springs on March 6.
Source: QZ