by Clint Davis: Aw this is so sweet…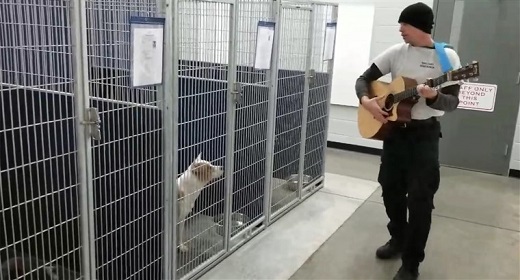 An animal lover in North Carolina has warmed the hearts of people and pups alike with his musical talents. Chad Olds, an employee of the Vance County Animal Shelter in Henderson, has become an overnight star thanks to one very sweet performance he recently gave.
"If we can get that exposure to them animals, they can get out of here, and that's what we want," Olds told Henderson's The Daily Dispatch.
He told the newspaper that the idea came from his boss at the shelter, who suggested Olds sing to the dogs in the adoption room with no camera rolling. "We tried it, and it was amazing," Olds said. "They stopped barking and listened." So they did it again and caught the entire thing on video.
"The adoption room had never been so quiet and at peace," the original post from the Friends of Vance County Animal Shelter Facebook page stated.
According to the American Kennel Club, dogs apparently do enjoy listening to music—depending on the style. Relaxing music, like classical—or, in Olds's case, the soft strumming of an acoustic guitar—can actually calm them down.