by Michael D'Estries: Yoga made a difference in physical health, flexibility and even pain levels…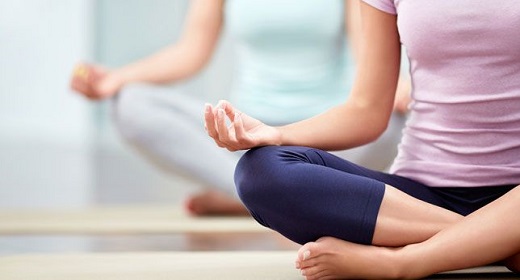 Those suffering from the debilitating pain of rheumatoid arthritis might want to consider purchasing a yoga mat. A recent study published in the Journal of Rheumatology discovered that people with arthritis who practice yoga regularly stand to reap the benefits of reduced joint pain and depression and increased flexibility and energy. As the authors note, this news is especially important in shattering the myth that yoga is not appropriate for those with sensitive joints.
"I think the study is more evidence that, in fact, that's not true," one of the study's authors, Dr. Clifton O. Bingham III, director of the Johns Hopkins Arthritis Center, told Time.
The study, called the "largest, most rigorously conducted, randomized, controlled trial of yoga to date," involved 75 people who did not regularly exercise and had rheumatoid arthritis. One group practiced yoga twice a week with a yoga therapist and once a week at home, while the control group carried on with the normal routine. After eight weeks, improvements with the yoga group were seen across the board, with gains in "joint health, physical functioning, and mental/emotional well-being."
Even more promising, these benefits were still found to exist some nine months later.
In the study, improvements in joint pain, flexibility, energy and mood were seen across the board. A cat would probably help too. (Photo: Homeward Bound Pet Shelter)
And just how intense were these classes? From the researchers:
"Each class began with questions/comments (5 min), breathing exercises and chanting (5 min), a warm-up and moving sequence (surya namaskara; 15 min), and isometric poses (asanas) (20 min) to increase strength, flexibility, and balance. Classes ended with deep relaxation (sivasana; 10 min), a closing chant, and meditation (5 min)."
Speaking with Time, Bingham called the activity transformative for some of his patients.
"What [one patient] learned from the yoga experience was the philosophy of non-harming and the idea that where she is today is good enough," he said. "Those types of things are very difficult to measure in terms of an outcome from a study, but we certainly saw them on a real one-on-one patient level."
Source: MNN