by Jenn Savedge: Yoga studios around the country are scrambling to add daytime classes for kids to meet the demands of home-school families…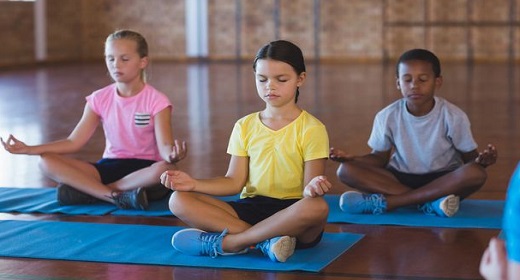 Despite the occasional protest, more and more schools are embracing yoga as part of their physical education curricula. And just as mainstreamed schools are flocking to yoga, so too are home-schoolers, looking to supplement their own P.E. programs with a family-friendly exercise that can be enjoyed by folks of all ages and fitness levels.
A recent article in Yoga Journal found that, around the country, yoga studios are adding daytime classes and teacher trainings that cater to home-schooling families. In the studio setting, home-schooled kids can benefit from the community exercise experience without the fierce competition of local sports teams. A quick Google search brought up several pages of yoga studios — from Maryland to Arkansas to California — that are now advertising classes specifically for home-schoolers.
Lisa Calice, a yoga teacher, mom of three, and home-schooler from Detroit, Mich., told Yoga Journal, "Yoga is a wonderful tool for focus and self-discipline — and home schoolers need self-discipline."
If you are a home-schooling family interested in adding yoga to your child's curriculum, you can try searching for a class at your local gym. But if none exist, or if you would prefer to get your Zen on at home, here are some resources that could help get you started:
Angel Bear Yoga. Includes monthly lesson plans for home-schooled kids.
YogaKids. Includes a free 60-minute webinar on teaching yoga to kids.
Yoga for Kids. I wrote this post a few months ago on doing yoga with kids at home. Although it wasn't written specifically for home-schoolers, it has a lot of good tips and resources on teaching yoga to kids, including poses that are great for little yogis.
Source: MNN