by Vanessa Parsons: Quilting has been enjoying a resurgence thanks to a renewed interest in craft and process driven arts.
The fast pace of modern life, our short attention span and lack of tactile contact, and the disposable nature of most everything we touch has all contributed to a new generation looking to find fulfillment in the material arts such as woodworking, weaving, and quilting, among others.
Part of the appeal of quilting is its international, diverse history, rooted in necessity (need for bed covers, and warmth), economy (reusing scraps and discarded fabric), and ultimately the need for human self expression. Quilts and textiles from Europe, Asia, and Africa have all helped to create a uniquely American quilting tradition, just as the country itself was built from immigrants and international influences.
Quilting came to America with the arrival of immigrants from England, Wales and Holland who brought with them needle skills and intimate knowledge of cloth production. Very few quilts from pre-1750 are known, but with the growth of industry in America, we see more quilts being made, retained, and we see specific styles developing.
One of the earliest quilt trends is the whole-cloth quilt, inspired by East Indian  , Chintzes and Palampores. Indian cotton was the world high standard at this period  and highly prized throughout Europe and the United Kingdom. The high quality of this fabric and the beauty of the elaborately patterned cottons made the fabric too valuable to cut up, so it was used for whole cloth quilts.
Dyed and printed cotton Palampore with Tree of Life Motif, circa 1780 from the Coromandel Coast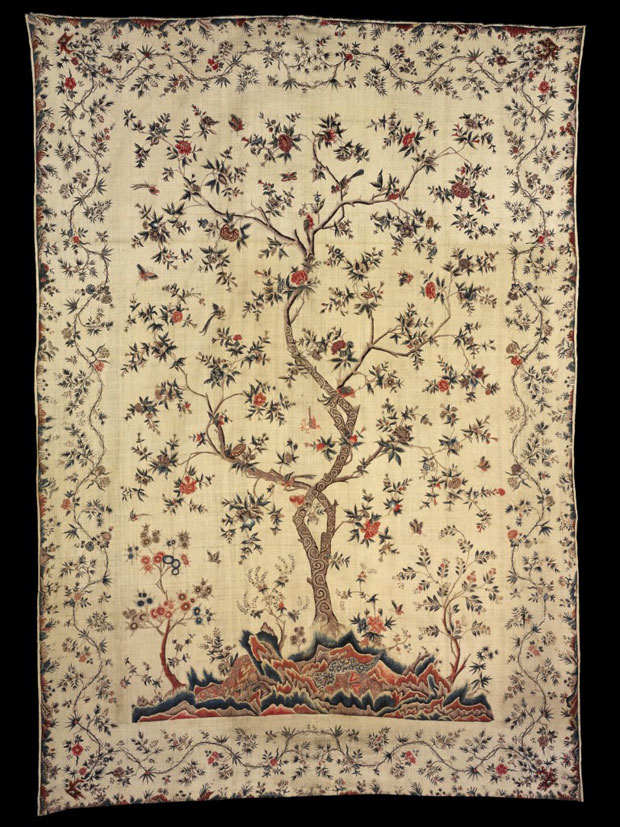 © Victoria and Albert Museum, London 2017. All Rights ReservedChintz Whole-Cloth Quilt, circa 1815, United States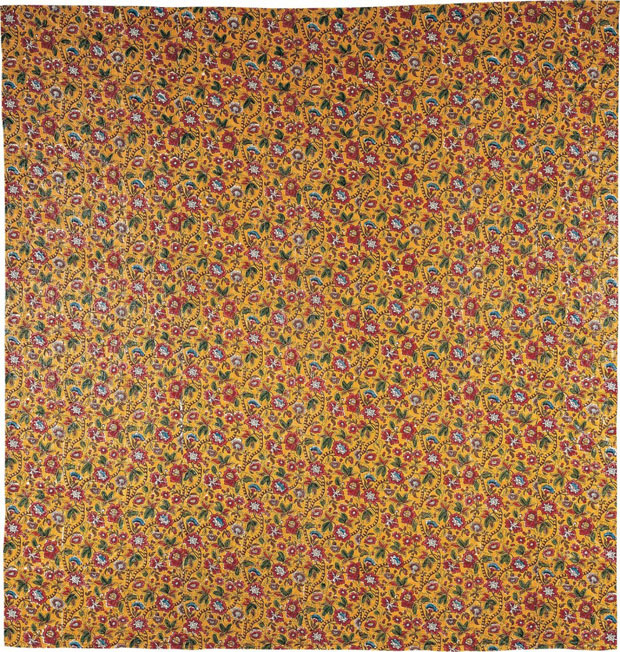 Courtesy American Folk Art Museum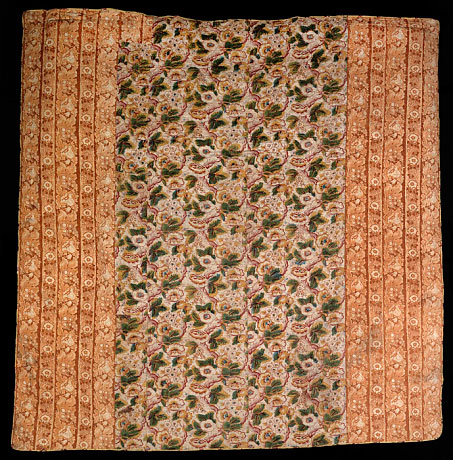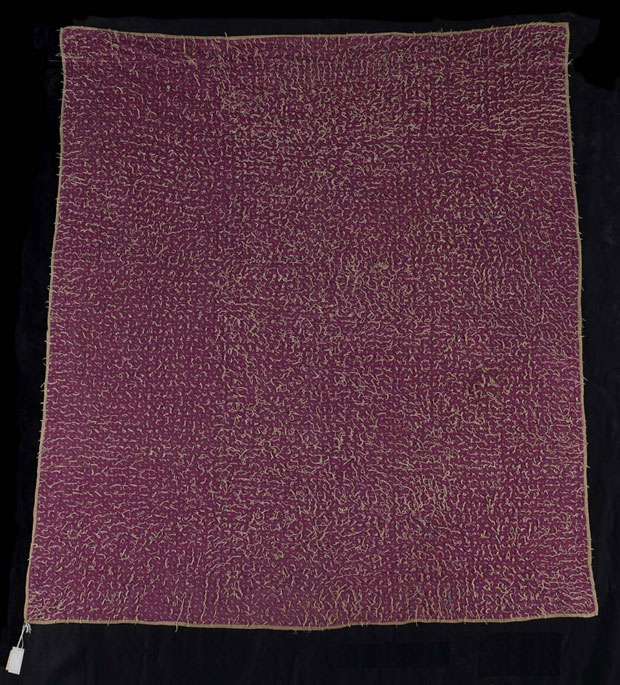 Also inspired by eastern fabrics, the 'Medallion' style quilt became popular at this time. It borrowed from the composition the Indian Tree of Life motif, usually showing leaves and vines encircling a central cornucopia or luscious tree, and was enhanced by cut-out, embroidery and applique.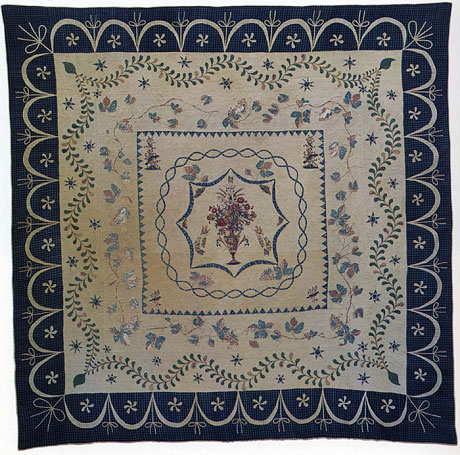 In the early 19th century, the 'pieced' or 'block' quilt becomes fashionable and remains the most broadly identifiable American quilt style. With industrialization, developments in transportation made a diversity of fabric available to the average household. Trains and steamboats were being used by the 1830s. The roller printing machine, introduced into the general usage by 1825, meant fabrics were produced, printed and sold readily in vast numbers.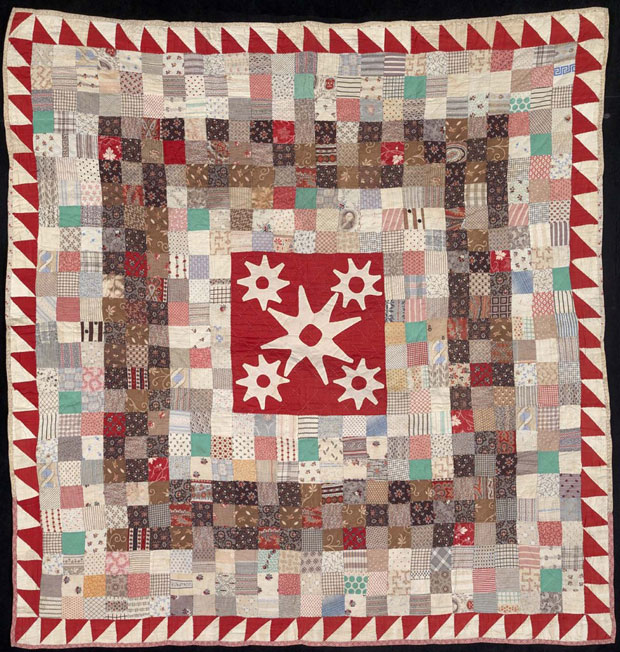 While quilts were useful things that provided warmth and comfort, they are and have always been primarily a means of creative expression, an outlet for women who didn't have much of a voice. This is particularly true of the African American quilting tradition, the roots of which were introduced to America with the arrival African slaves.Textiles in Africa were primarily woven, so there was not a developed quilting tradition there. However, the aesthetic of African textiles; boldly colored stripes, squares, and triangles with repeated patterns provided natural inspiration for pieced quilts.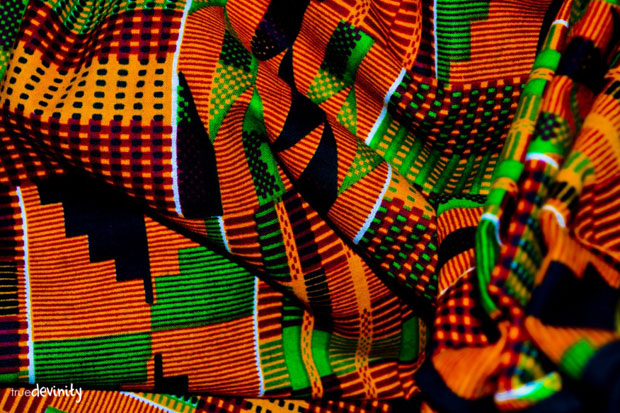 While working on plantations in the Southern states, African American women learned the craft of quilting from their mistresses. Slave women would help their mistresses with quilts keeping with the European tradition, but they also used the skills to create their own quilts which reflected traditional fabrics from their home countries.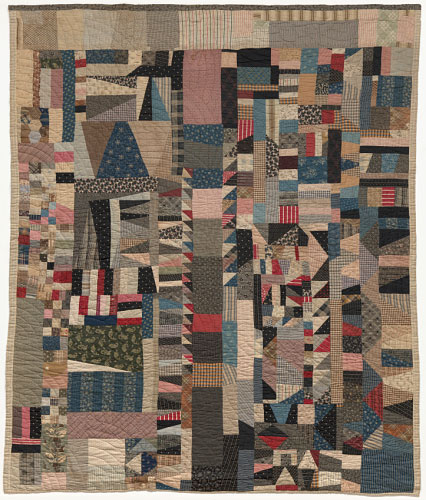 The African American quilting tradition draws on patterns and themes from both European and African history. Quilters would apply an African twist and aesthetic to the established European American patterns.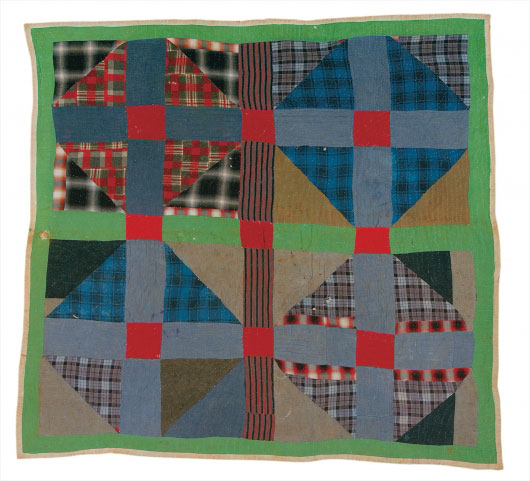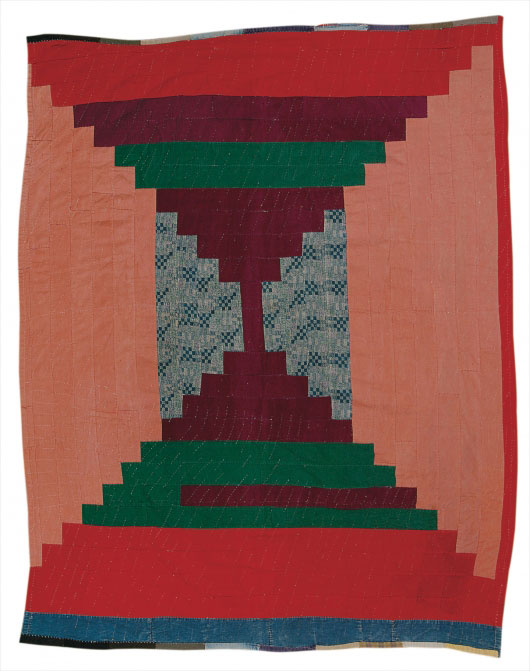 African American quilts introduced bold colors, asymmetrical designs, and spontaneity. They show a respect for mistakes and inconsistency, and are more expressive than traditional European American quilts which stuck to established patterns and rewarded perfection.While the influence of this distinct style didn't immediately spread widely due to very obvious limitations and oppression of slaves and their descendants, there has been a major stylistic impact on contemporary quilting. Especially since the exhibitions and wide documentation of the fantastic quilts of Gee's bend. These quilts also bridged the worlds of craft and fine art – eschewing symbols and using instead expressionist blocks of color that paralleled contemporary art movements.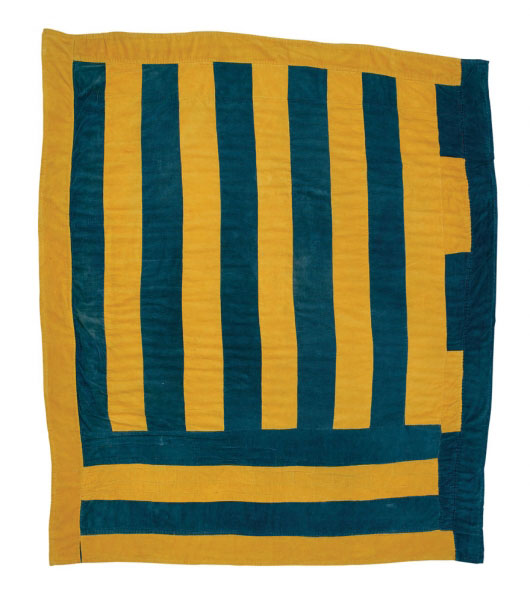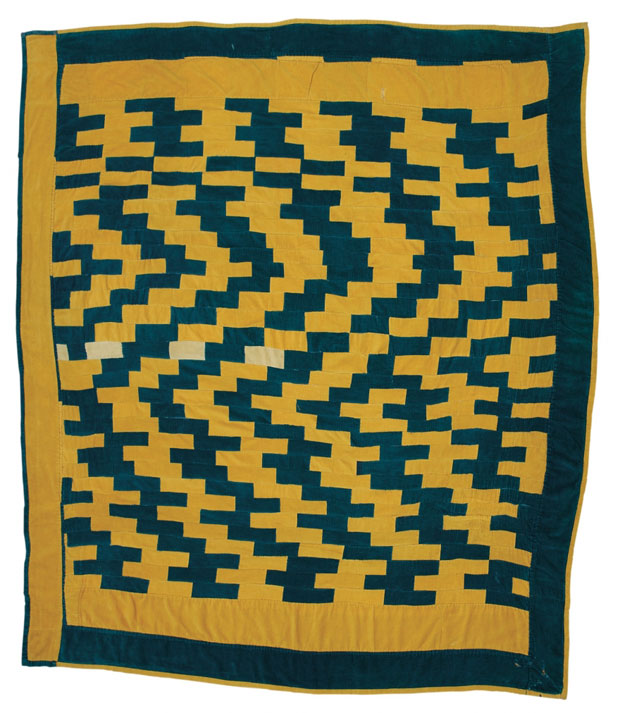 In the 1970s, quilts started to become widely accepted as their own distinct form of fine art, rather than only a craft for women at home. As the feminist movement developed, quilts became primarily a means of expression rather than useful objects. Artists such as Faith Ringgold, Yvonne Wells, and MC Lamb were leaders of the contemporary quilting movement.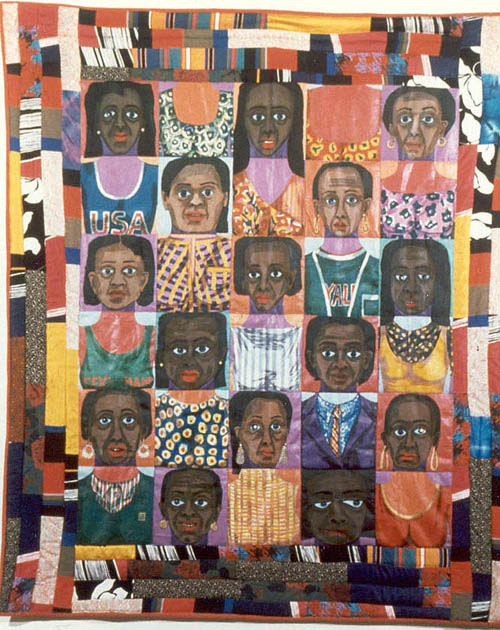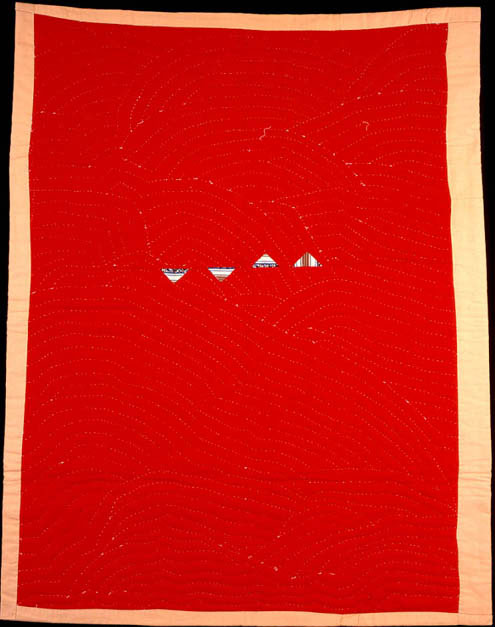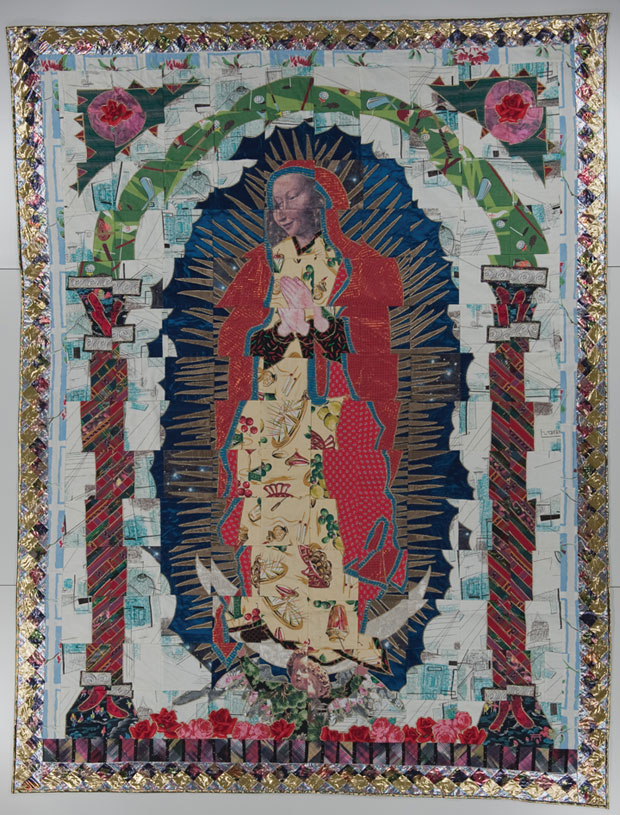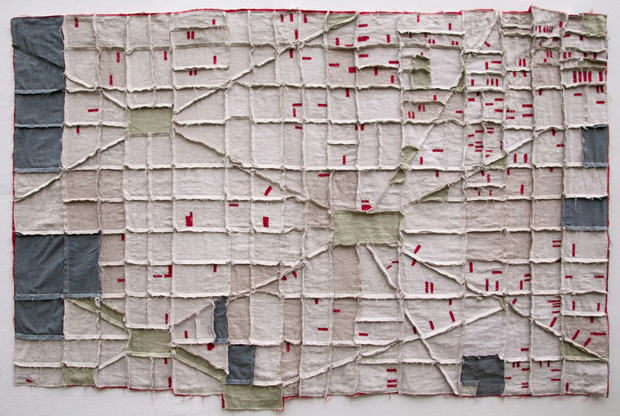 Quilting is a slow process. It requires patience and dedication to a project that can take months or years to complete. But in a world that can feel so hurried, so easily distracted and detached, this process can also create a sense of connection to the women of our country who have been quilting from the beginning. The process has changed very little over the years and it can be very rewarding to sit with a needle and thread, with scraps of fabric strewn about, and to slowly piece together bits of cloth that grow in to something much more than the sum of their parts. It is moving to imagine women of another time quilting these masterpieces together and standing over their finished work, glowing with pride.Emma Redmond will offer a 3 week quilting intensive beginning on May 7th at the Textile Art Center. In this three week class, students will learn the fundamental skills of quilt making. This class will teach general quilting terminology, introduction to the rotary cutter, how to sew and press block units and an overview of hand and machine quilting techniques. Students will be encouraged to experiment and play with color and composition.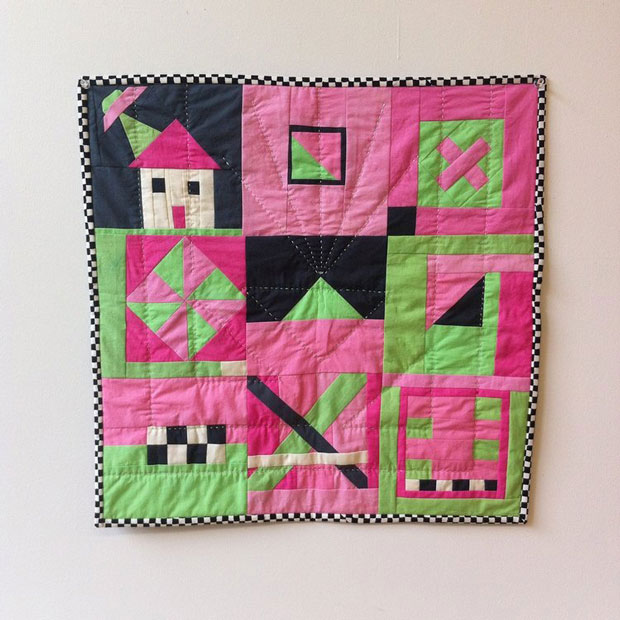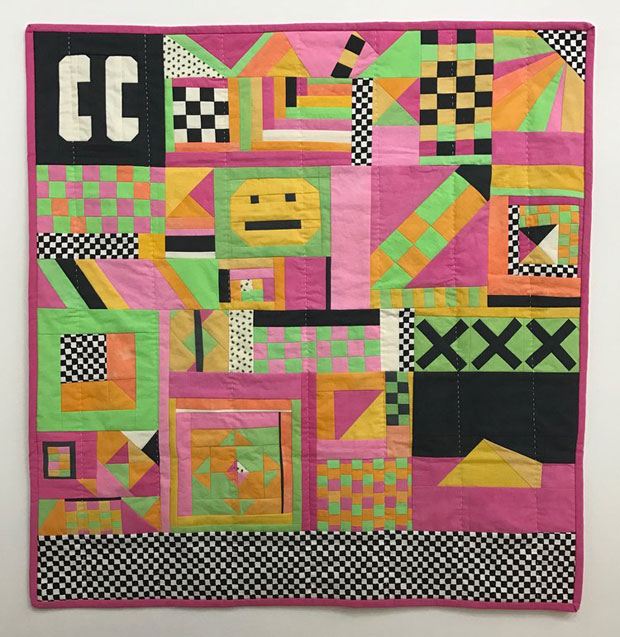 Additional Reading/BibliographyMaude Southwell Wahlman, Signs and Symbols – African Images in African American Quilts, Atlanta, 2001.Pearlie Johnson, 'Quilting Links U.S. and Africa', The International Review of African American Art, http://iraaa.museum.hamptonu.edu/page/Quilting-Links-U%3ES%3E-and-AfricaRoderick Kiracofe, The American Quilt, New York, 1993.Exhibition catalogue, The Quilts of Gee's Bend, Museum of Fine Arts Houston, Atlanta, 2002.Renowned Quilt Collections:The American Folk Art MuseumVictoria and Albert MuseumLuce Foundation Center for American Art at the Smithsonian American Art MuseumThe International Quilt Study Center & Museum
Source: Textile Art Center