By Chloe Rowland: Imagine if part of your volunteer work was snoozing?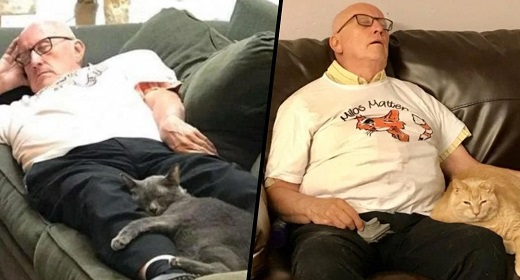 Well, that's exactly the case for one cat-loving seventy-five-year-old, named Terry Lauerman, who attends his local cat sanctuary every day and naps with the cats.
The Safe Haven Pet Sanctuary takes in disabled cats that would otherwise be at risk of euthanasia in other facilities and gives them, well, a safe haven. But the shelter's unique volunteer has been making waves with his snoozy charitable act.
Keep scrolling to learn about the unlikely story of how Terry became a volunteer and to see the adorable snaps of him in action for yourself.
It's truly heartwarming…
The Safe Haven Pet Sanctuary is a non-profit, cage-free cat sanctuary and adoption center.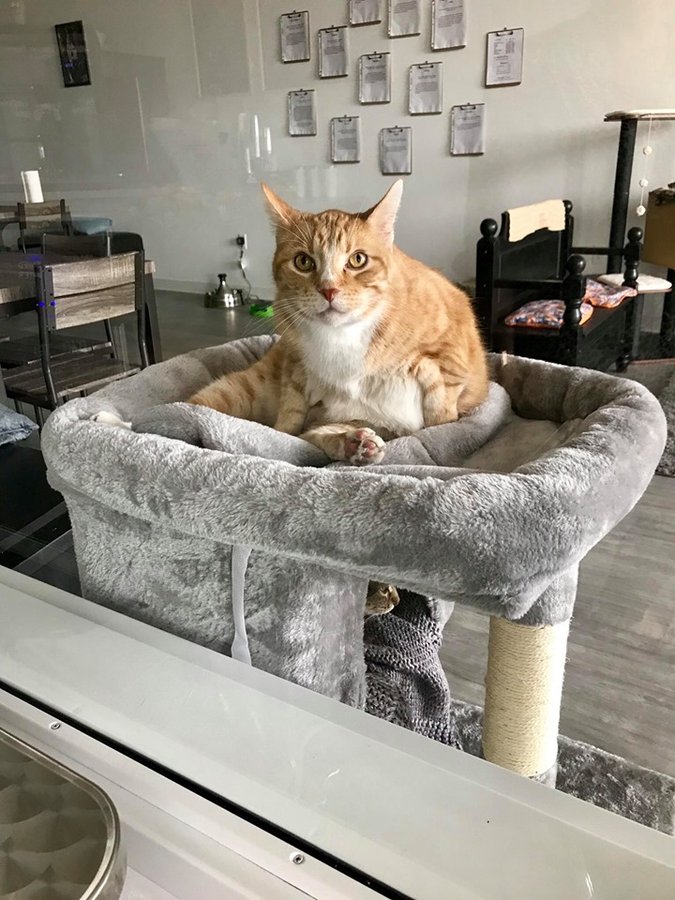 Based in Green Bay, Wisconsin, the shelter rescues cats with physical or psychological disabilities.
The cats would be at risk of euthansia in other facilities.
The shelter is the first nonprofit, no-kill, cat sanctuary and adoption center that specializes in saving kitties with special needs.
The shelter also houses neonatal and senior cats.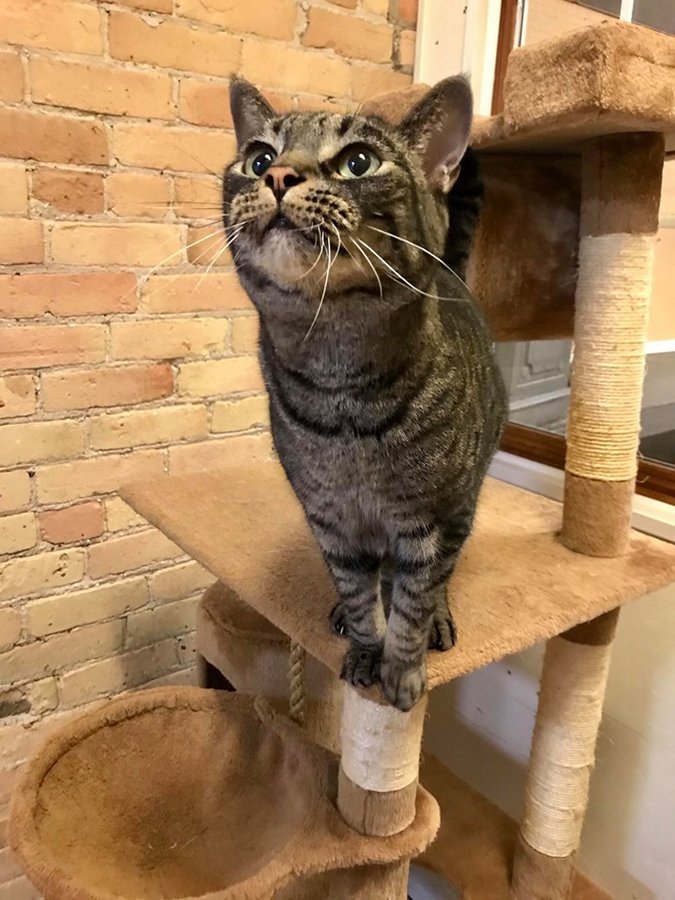 …both of which are also at risk of being put down in other shelters.
Vistors can come and socialize with the shelter's vast array of fluffy goodness.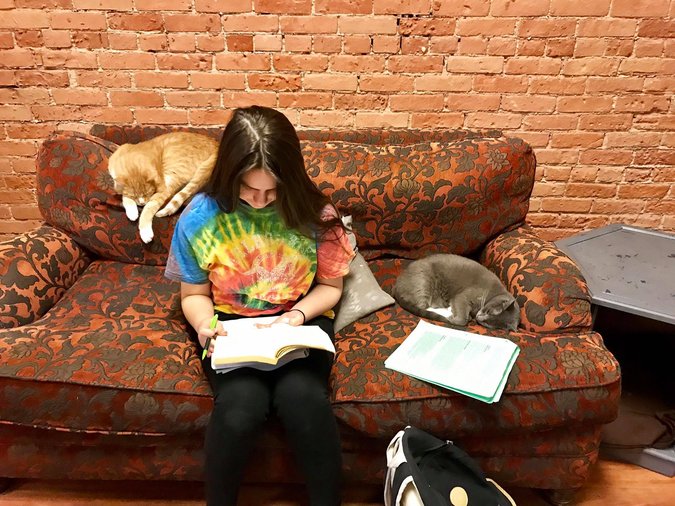 Cat-lovers can come in, grab a drink, and bask in all the cat-related glory.
The cats even join in with exercise classes…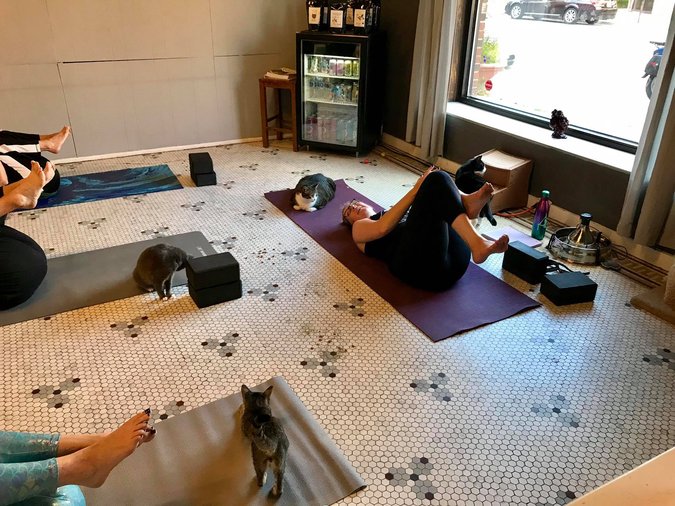 Wondering how many credit cards you should have? Look further than just the number.
Exercising with kitties? We couldn't think of anything better.
The shelter is funded by donations.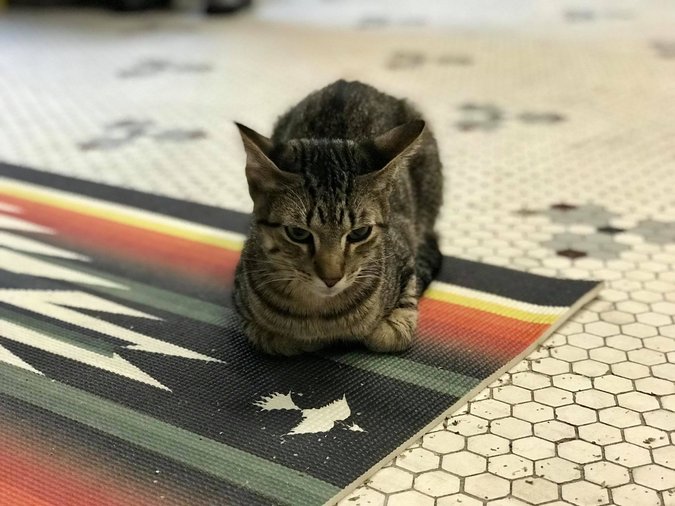 And it's thanks to the dedicated volunteers that the cats are able to have a happy environment to reside in.
But there's one volunteer, in particular, that's become quite the famous face in the shelter.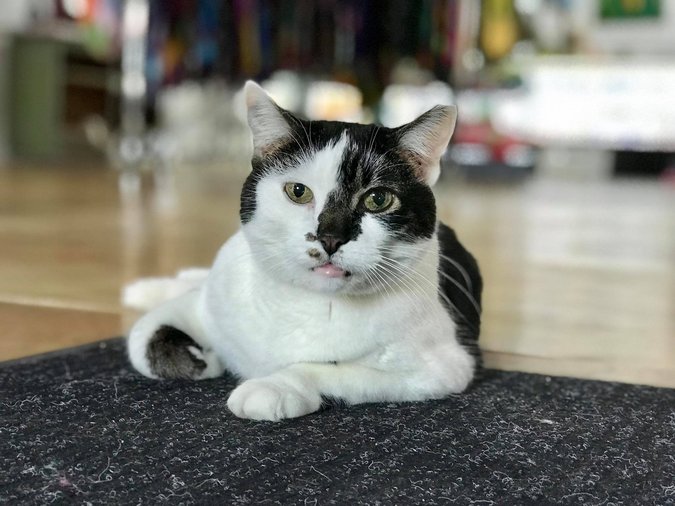 Warning: dangerous levels of cuteness are coming up.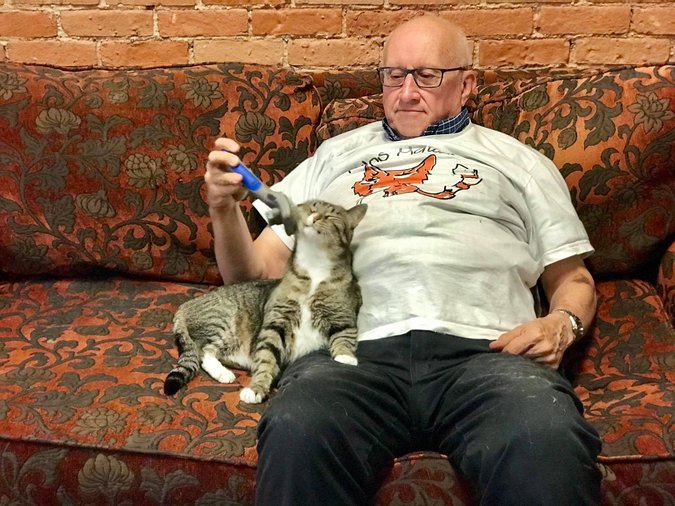 The seventy-five-year-old, known as "Grandpa Terry" volunteers at the sanctaury every day. 
6 months ago, he turned up to the shelter with a cat brush in tow.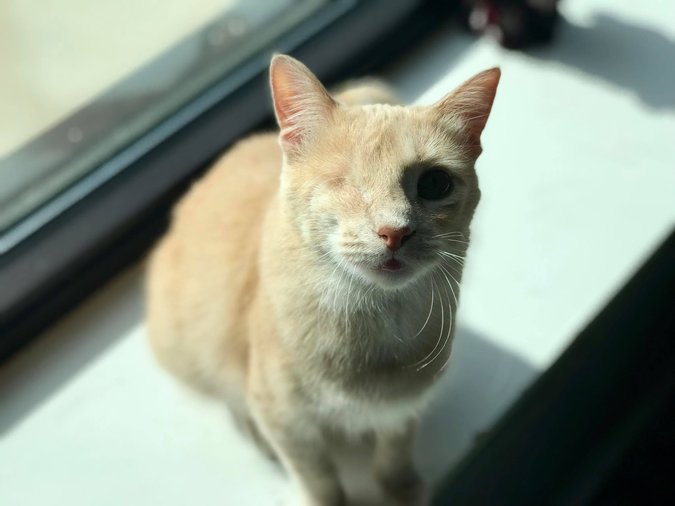 According to the shelter's founder, Elizabeth Feldhausen, Terry "just walked in and started brushing," despite never formally asking to become a volunteer.
After he continued to stroll in to groom the cats, he was offered a position as a volunteer.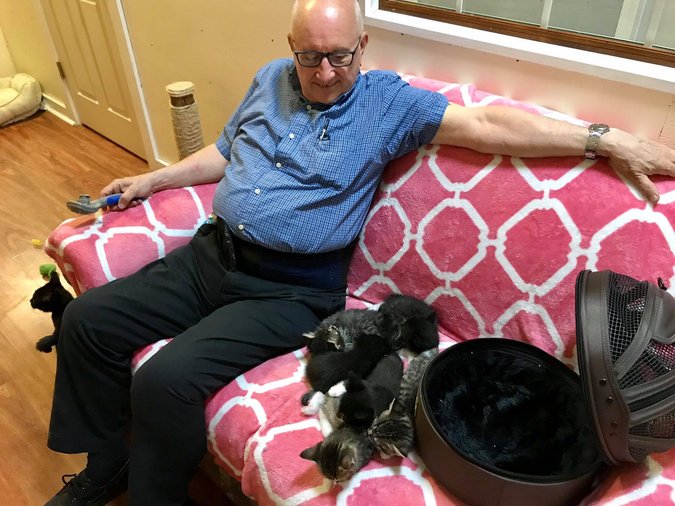 "So eventually we told him he was an official volunteer and had him fill out our volunteer form," Feldhausen explained.
Typically, Terry stays for around 3 hours daily.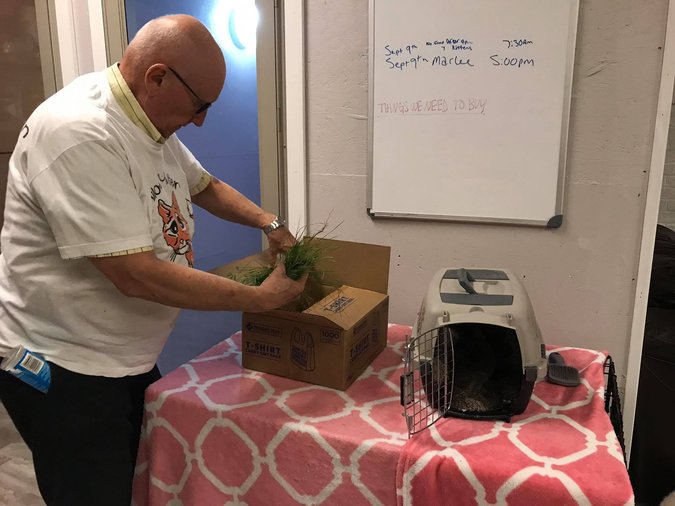 Apparently, he really enjoys his unpaid gig and says that sprucing up the kitties is a "great experience" for both them and him.
But there's one part of his cat-grooming routine that's become more and more of a regular occurrence…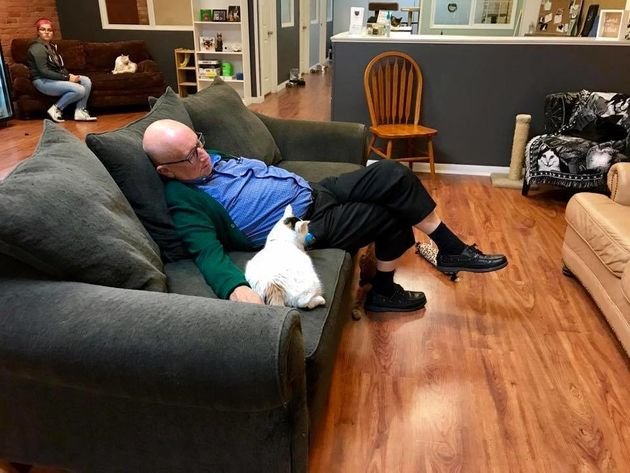 The seventy-five-year-old frequently dozes off alongside the cats.
"[He sleeps for] about an hour, then he'll wake up and switch cats."
His habit of napping has clearly tugged at the heartstrings of the staff…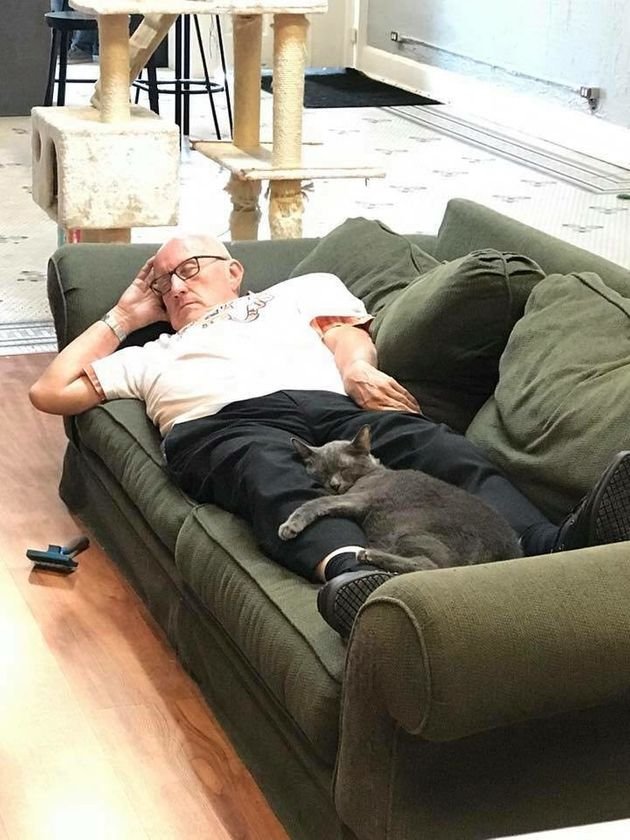 "We are so lucky to have a human like Terry. Terry just came along one day and introduced himself. He said he'd like to brush cats. Eventually, it became every day," the staff wrote on the sanctuary's Facebook page.
"He brushes all of the cats, and can tell you about all of their likes and dislikes."
The staff describes Terry as a "wonderful volunteer."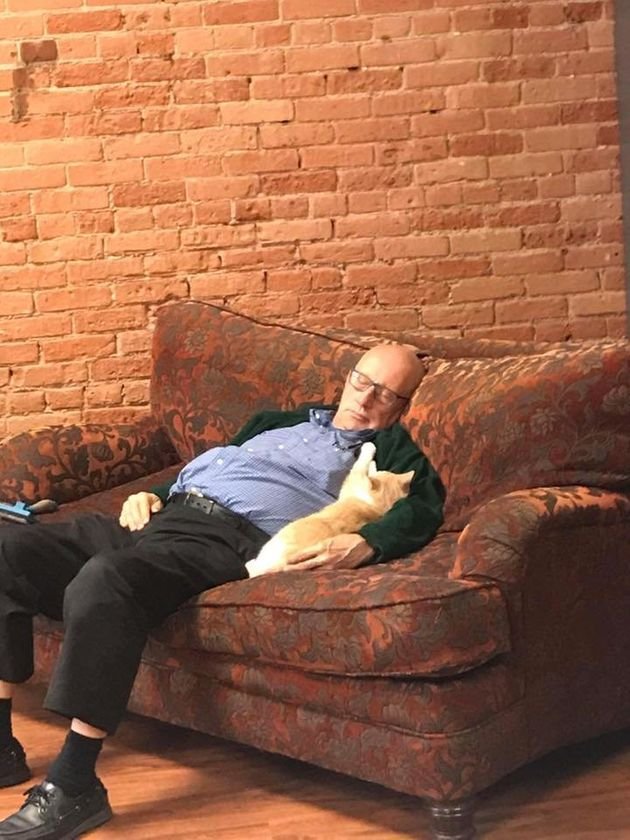 "He also accidentally falls asleep most days. We don't mind – Cats need this! Terry is a wonderful volunteer."
The post, which has since gone viral, has also struck a chord with Facebook users too.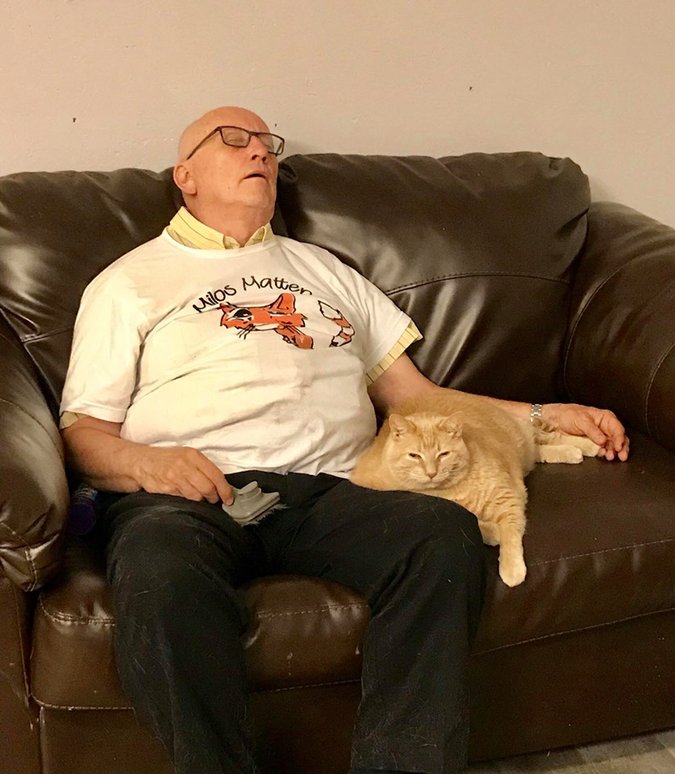 The post how now garnered thousands of shares.
After hearing the news of his newfound cat-fame, Terry is hoping it will encourage more people to donate: "Now if all of those people would just donate $5 to help the kitties, that would make such a big difference!"
You can donate to the Safe Haven Pet Sanctuary here
Want more cat-related content? Keep scrolling to learn more about a new breed of kitties with curly coats.
It looks like a tiny baby otter. Look how cute that lil pink nose is!
Now, whoever owns this Selkirk cat sure knows how to keep it in check. Every time I get my phone out when Banjo's around, she proceeds to curl her little paws around it and chew the corner – as hard as it may be!
Whatever breed of cat you've got, the laundry basket beats its normal bed every time.
I'm not sure that it's anything to do with their jungle instincts… perhaps it's got more to do with the homely instincts they've developed from hundreds of years of being kept as pets? Whatever the genetic profile behind it is, cats absolutely love chilling in the laundry basket.
That sure is one drenched kitty – and, given that its fur is all wet, you can't really get a grasp of quite how curly the hair can be on this breed of cat.
As you can see from this demonstration, the fur of these kitties resembles that of a sheepdog. The thick coat and curly disposition is certainly unusual for a cat.
The best thing about getting a Selkirk cat is that you can sell its fur for ladies' fashion!
I'm only joking, I don't think you can… can you? No, I don't know. I mean, you can sell anything on eBay, can't you? But that isn't why this pictured Selkirk has had its haircut. The thick, sheep-like hair means that these cats have to get groomed from time to time, otherwise they'd start resembling a giant Furby!
Eggs keep their fur silky soft!
Again, just kidding. I suspect that this Selkirk is following its natural instincts to climb onto the kitchen-top.
Lo and behold, it turns out that you can feed cats eggs and this is exactly what the owner of the Selkirk kitten called Misty is doing. Well, you really do learn something new every day. According to cat food company, Purina, "cats benefit from eggs' protein and amino acids." I don't know why a cat food company would be the ones to tell people that they can feed their cats eggs – doesn't seem like a very smart marketing move but, eh, there you have it!
How cute is this furry ball of love…
I think that this cat would suit a rugged old fisherman, keeping him company on long journeys across choppy, challenging seas. Aw, yeah.
The old myth about dogs and cats doesn't ring true here.
Maybe Selkirk cats have a better relationship with dogs than regular cats or maybe this duo are a special case. Growing up, my family dog absolutely loved our cat… sadly, Mr. Ollie couldn't stand the dog and friendship never blossomed.
This cat sure doesn't scream "friendly…"
Switch up your holiday menu with three seasonal sweets your guests will love.
Pompous Albert can't help that he's got such a stern expression and, in a way, it is kinda cute. Heaps of potential for meme-making too, if you're into that kind of thing.
This long haired Selkirk really demonstrates how lovely the coat is.
I'm not sure if you can get a more cuddly-looking breed of cat, it almost looks like it's half-dog, half-cat doesn't it?
This cat is grumpy because it's fed up with being called cute all the time…
He's obviously way more complex and interesting than just being cute and they haven't changed his cat litter in days! Honestly.
This cat is just teasing to be stroked.
That soft fur is reminiscent of cotton candy clouds and childhood teddies.
These Russian Selkirks are just the cutest.
The breed that started in Montana USA really has traveled far and wide as evidence by the fact that the account that shared these two beauties is, from the looks of it, Russian.
Did your mom ever tell you that if you ate your crusts, your hair would go curly?
Well, if that was true, these lil cuties must have eaten loads of bread! – perhaps this owner fed it lots of egg sandwiches!
This one looks like Banjo!
… I mean, besides the fact that Banjo isn't a Selkirk breed, so her fur doesn't have that cute curly sheep-dog thing going on.
I think that it's fairly clear who rules the roost in this house…
And how could you not give a cat that cute all of the privileges reserved for humans? Remote control? Take it… Comfiest seat in the house? It's yours! Well, that egg salad was going to be my dinner but… oh what the heck! You're just so darn soft and squishy!
Mango and Clementine suffer from resting bitchface…
Fortunately, they make up for it in fluffiness and affection.
The curliness is less pronounced on the shorthaired Selkirks.
As you can see from this shorthaired Selkirk, the curliness is much less pronounced than it is on the long-haired ones. That being said, the longer the kitty goes without a haircut, the more likely it is that curls will develop.
100% recommend getting a cat tree.
As I said earlier, cats just love to climb, and now these cat trees have started popping up everywhere. I got one for Banjo and, although she's still pretty cautious of it (and seems to enjoy the cardboard box it came in way more..), I'm confident that she'll brave it one of these days. The good thing about these is that the tree "trunk" is a scratching post, which will wear down your cat's sharp nail and prevent it from destroying all of your nice furniture!
A new generation of Selkirks…
Have you ever seen such a cute lil kitten? This baby Selkirk has the nicest wavy-haired coat – it looks as though it was bathed in angel salt water before being plucked from heaven, landing down here on earth.
This particular breed is called "Selkirk Rex."
They are being bred in Switzerland by a woman called Eleonora Muccio. This breed is said to be different from the original Selkirk breed (which are now being coined Selkirk perm).
The Selkirk perm kittens have a distinctive curliness to their coat, whereas the Selkirk Rex's fur is much thicker and plusher.
In true MGM style, let's end with a roar from a member of the Felidae species…