by Kevin Jones: Maintaining your health and wellness throughout the winter months can be tough…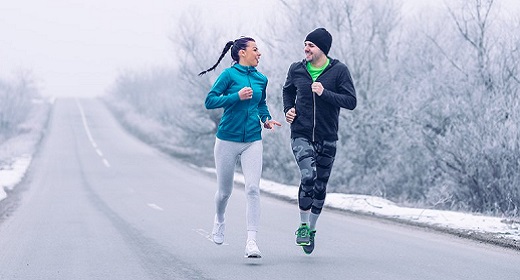 With the weather cooling down and extra stressors with end-of-year responsibilities, happy—and time-consuming—holidays to prepare for, it can be easy to feel stressed out and a bit down.
Many people struggle with these things during the holidays. To help you tackle your winter blues and make your holidays brighter, here are some ways you can improve your happiness this winter.
1. Commit To A Regular Exercise Schedule
One of the best things you can do to help beat the winter blues is to commit to exercise. There is a great deal of research that has gone into the benefits of exercise when it comes to seasonal affective disorder. This research has found that exercising just 30 minutes a day, three days a week can help improve your mood and increase your stamina.
Exercise is also a great way to relieve stress. Have a big project that needs to be wrapped before co-workers leave for Christmas vacation? Take some time to exercise and let that stress ease. Stressed about hosting the in-laws for holiday festivities? By exercising regularly, you give yourself a set time to be alone and just enjoy how your body moves and works.
Along with helping to relieve stress, by exercising this winter, you can keep your dopamine levels up. Cardio workouts in particular release endorphins, dopamine, and other "upper" emotions that help you enjoy a better mood overall.
2. Make Careful And Deliberate Food Choices
The winter season is often a time of indulgence when it comes to food. While research has proven that the boogeyman of tons of holiday weight gain is just a myth, it doesn't mean that changing your eating habits over the winter doesn't have an impact.
For instance, if you tend to follow a plant-based diet most of the year, you may be tempted to indulge in other foods over the holidays. However, this break from your routine can leave you feeling low on energy and bloated, as your digestive system isn't used to breaking down the various foods and drinks that fall outside of your diet. And when you feel like your stomach is carrying a bowling ball of food, it is pretty easy to feel down.
Instead, when you are confronted with the bounty of food options this winter, be mindful as you enjoy. By being deliberate with your food choices, you can keep from feeling bloated and uncomfortable, which is sure to help you feel better this winter. So, if you indulge yourself a bit, try to keep your portions small and don't venture too far from your usual dietary habits.
3. Take Some Time For Your Skin
Winter has a way of sucking the moisture out of everything—the air, your home, and your skin. With less moisture in the air, your skin can more easily dry out. When someone has dry skin, they often look more tired as their skin is dull, and they may feel itchy and uncomfortable.
There are a few things you can do to give your skin a hand. Using lotion not long after you get out of the shower can help lock in the moisture. Keeping a small container of hand lotion with you can help prevent cracked skin, which some people struggle with during the winter. Using lip balm can also help alleviate dry and chapped lips.
Along with carrying topical aids, you can also use essential oils or bath bombs infused with helpful oils like coconut oil. Not only can these things re-hydrate your skin this winter, but you can also take some time for self-care, which can help your mood this winter.
4. Find Ways To Help Others
A great way to break out of the winter blues funk is by volunteering. By focusing on the needs of others, you can often work through or completely release your own feelings of being down this holiday season. If you aren't sure where to start, you can use a national volunteer database to search for local organizations that need volunteers. Other ways you can look for ways to give back are:
Volunteer at a local nursing home
Create premie blankets and hats for your local hospital (check for guidelines)
Throw a fundraising holiday party for your favorite charity
Do a 12 Days Of Christmas for a family in need
These are just a few of the things you can do to bring holiday cheer to others. Take some time to look at what your community may need and see how you can fill that gap this winter.
5. Bundle Up And Get Outside
Feeling like you are trapped in your house when you aren't at work or some other indoor location is enough to depress anyone. Rather than stay cooped up in your house, make an effort to bundle up and get outside at least a couple of times a week.
You could just do something as simple as taking a walk, or think big and go skiing. The important thing is to get time outside. Being in the sun, even with the snow on the ground, can be revitalizing and help chase the winter blues away.
Also, there are a lot of beautiful sights that you miss in the winter by being indoors. From a child's first snowman to a light-bedecked house, there are plenty of things worth seeing once you leave your house this winter.
6. Add More Light To Your Life
Speaking of getting sunlight, there is a biochemical component to the winter blues. As there is less natural sunlight during the winter, it is easier to become depressed. You also receive less vitamin D unless you make a point to get out into the winter light.
To help you break through a winter slump, you can add a vitamin D supplement to your diet, as well as a sun lamp, which is also called a light therapy box or seasonal affective disorder (SAD) lamp. With one of these lamps mimicking outdoor sunlight, they are believed to help with your melatonin and serotonin levels.
You don't have to incorporate everything at once to enjoy the benefits. I do recommend you start by building up your exercise routine, as the rest can more easily fall into place. And as you engage in these various things to help you beat seasonal affective disorder, you can have the best winter ever.