by Jon Fingas: It might be an ideal form of energy storage for solar and wind power…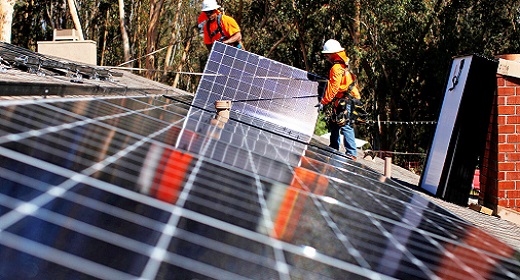 Modern batteries aren't hampered so much by their capacity as their long-term lifespan — a lithium-ion pack can easily become useless after a few years of heavy use. That's bad enough for your phone, but it's worse for energy storage systems that may have to stick around for the long haul. If Harvard researchers have their way, you may not have to worry about replacing power backs quite so often. They've developed a flow battery (that is, a battery that stores energy in liquid solutions) which should last for over a decade. The trick was to modify the molecules in the electrolytes, ferrocene and viologen, so that they're stable, water-soluble and resistant to degradation. When they're dissolved in neutral water, the resulting solution only loses 1 percent of its capacity every 1,000 cycles. It could be several years before you even notice a slight dropoff in performance.
The use of water is also great news for both the environment and your bank account. As it's not corrosive or toxic, you don't have to worry about wrecking your home if the battery leaks — you might just need a mop. The safer materials are also less expensive than the polymers you usually need in flow batteries, and wouldn't require exotic pumps and tanks to withstand harsher chemicals. It needs less maintenance than other flow designs, too.
There's no concrete roadmap for bringing this battery tech to the real world. There's definitely a market for it, though. Renewable energy is becoming increasingly cost-effective, and inexpensive, long-lasting batteries would only help that. You could install solar power at home knowing that the cost of energy storage won't wipe out the money you save on your electricity bill.