The holiday season is upon us, and it's not always a winter wonderland. Practice these mindful habits to cultivate joy even when things feel tough…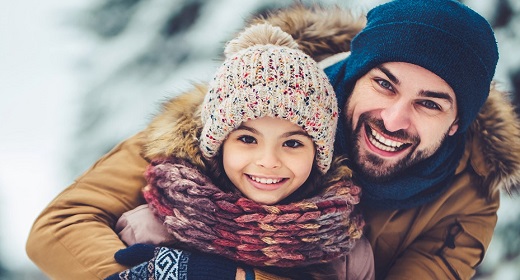 Many of the songs, stories, and messages we hear this time of year are about joy. But accessing joy can be difficult as we navigate the sometimes stressful moments the season also delivers (we're looking at you, holiday shopping). This is your mindful reminder to take time to pause and connect with the here and now, so you can find moments of joy all season long—even when things don't go to plan. Here are three ways to embody deep joy:
1. Soothe your inner critic
Sometimes, we get so caught up in the idea of the picture-perfect holiday that we forget to enjoy the beauty of the season. When we let go of expectations (and ruminations about our shortcomings) and simply appreciate the moments as they unfold (in all their imperfect glory), we open ourselves up to joy.  Explore this simple practice to embrace self-compassion and quiet self-criticism.
2 Don't just gather, connect
Just getting together during the holidays isn't enough to nourish authentic connection with your loved ones. Purposeful in the way you spend time with others. Here are four ways to add mindfulness to your next social gathering and strengthen your connection with the people you care about most.
3. Rewire your mind for moments of joy
Just like training your attention, you can deepen your ability to feel joy by cultivating it in an intentional way. The next time you notice something that makes you smile—a piece of music, a blue sky, a warm cup of tea—pause and connect with that feeling. Try this two-step practice to bring your whole heart to the present moment and spark joy.
Here's hoping you find moments of joy this holiday season.