This is the story of how the Holistic Life Foundation brought mindfulness and yoga to school children in West Baltimore…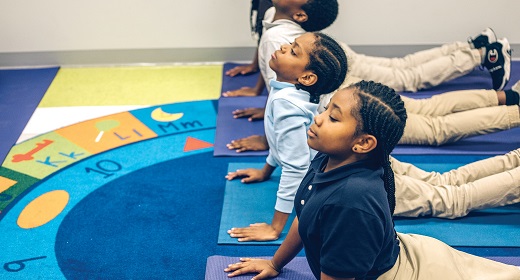 forever changing lives and building a community based on love and compassion.
One afternoon in May, sitting on the floor in a small, private room at Fort Worthington Elementary/Middle School in Baltimore's Clifton-Berea—one of the poorest urban neighborhoods in America—Kamaya, ten years old, in fifth grade, and Jahlil, ten, also in fifth grade, are talking about something new. It's the role of mindfulness in their lives.
Kamaya's father is in prison ("I don't have my dad right now—he'll be home next year") and her mother has her own house; Kamaya lives with her grandmother. A natural chatterbox, Kamaya quickly mentions uncles and cousins and a great-grandmother, a big extended family. She says she got mad just last night, because she wanted to play with her friends, and her mother, who visits her sometimes, wanted her to go to sleep. But instead of fussing and yelling and waking her grandmother, who wasn't feeling well, Kamaya "took a stress breath," which calmed her down. She didn't wake her grandmother. And then she went to sleep herself.