by Sophie Vorrath: Portugal's renewable energy sources generated enough power to exceed total grid demand across the month of March, a new report has found…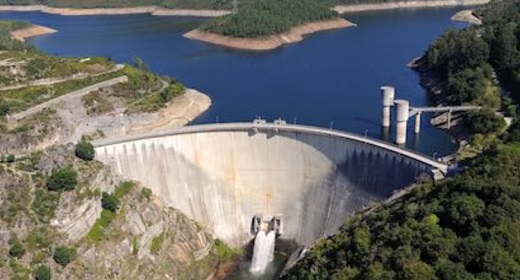 setting a standard that is expected to become the norm for the European nation.
According to Portuguese grid operator, REN, renewable energy output over the month reached 4,812GWh, surpassing the nation's total electricity needs for March, which only topped 4,647GWh.
In that time, power generated by Portugal's hydroelectric dams accounted for 55 per cent of monthly consumption – boosted by drought-breaking rainfall of four times the monthly average – and wind power, 42 per cent.
The achievement comes nearly one year after hydro, wind, and solar power helped push the Iberian country to run on 100 per cent renewable electricity for 107 hours straight. Last March, however, the average renewables supply was 62 per cent.
The new record coincides with the move by the Portuguese government, last Tuesday, to suspend annual subsidies of around €20 million for guaranteed power supplies paid to producers – most of which goes to fossil fuel plants left in stand-by mode.
"Last month's achievement is an example of what will happen more frequently in the near future," said the Portuguese Renewable Energy Association and the Sustainable Earth System Association in a report published last week.
"It is expected that by 2040 the production of renewable electricity will be able to guarantee, in a cost-effective way, the total annual electricity consumption of mainland Portugal."
The group noted that while fossil fuel plants still worked for short periods to complement the electricity supply, those were fully compensated by other periods of greater renewable production.
"These data, besides indicating a historical milestone in the Portuguese electricity sector, demonstrate that renewable energy can be relied upon as a secure and viable source with which to completely meet the country's electricity demands."
The effort was also praised by Green MEP Claude Turmes, who cited Portugal's example as evidence that the EU should support a renewable energy target of more than 27 per cent for 2030.
As Euractive reports, the European Parliament, Commission and member states are currently negotiating an update to the bloc's renewable rules, with MEPs calling for a 35 per cent renewables target, while the EU executive and national capitals favour the current target.
Portugal's renewable energy target, meanwhile, is not all that much higher. According to the IEA, it has a 2020 target of just 31 per cent; 59.6 per cent to come through renewable electricity demand, 35.9 per cent from heating and cooling, and 11.3 per cent from the transport sector.