by Heather Robinson: There is something in yoga practice, isn't there, which brings us in touch with ourselves. It is a fascination often motivating us to practice – a positive action…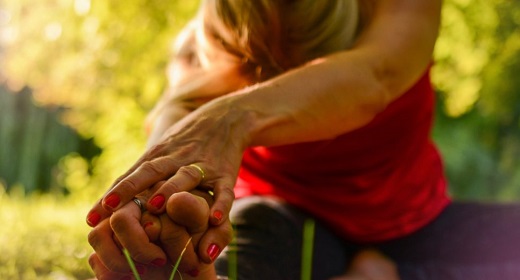 So…
Let's take positive action with our practice of yoga.
And what would that action look like?
Finding my mat perhaps, being somewhere out of the normal hubbub of life – in a personal space, or in a group setting.
A great place to start – tick √
It may need some discipline to get started! Perhaps light food, arriving without rushing, finding our own space, letting go of the normal 'stuff', feeling the body thankfully relaxing. And then before we know it we've engaged….
Let's take positive action with increasing awareness
Somehow it seems to happen, the more I practice the more aware I become.
Perhaps it's that 'niggle' feeling when I'm not 'aligned' or using core muscles
Perhaps it's a deeper connection which comes when linking with the breath in asana
Understanding more about me! In a kindly non- judging way, with guidance and reference.
Working with a yoga teacher, through reflection on models from authoritative texts… all the time taking rain checks
A continuing self-help journey – tick √
Let's take positive action, and let go of the outcome!
When we are in our own yoga space, everyday worries and strivings pause for a while, we don't identify with them. It's time-out! And in time our own practice doesn't need comparison with others.
A contentment with just taking practice helps us accept times when practice flows equally with times when it doesn't. Whatever the outcome it's OK.
Now we're embracing something known as Kriya yoga – how did that happen?!
Take some discipline, bring a little awareness, and know that we are not masters of all we do… And we arrive at Patanjali's Kriya yoga, the yoga of action, as found in the iconic yoga text, The Yoga Sutras of Patanjali, chapter 2 verse 1.
They are like a process, as well as an anchor in our voyage of understanding – in time and space that is appropriate – where we are and what we can let go of. Refining actions with reference for example, to the Yoga Sutras, brings deeper awareness not only of ourselves but also the relationships we have with others.
Three simple, yet powerful elements. Positive change is seeded and waiting to ripen!