by Sue Van Raes: Before you reach for a "boring" glass of orange, apple, or grape juice…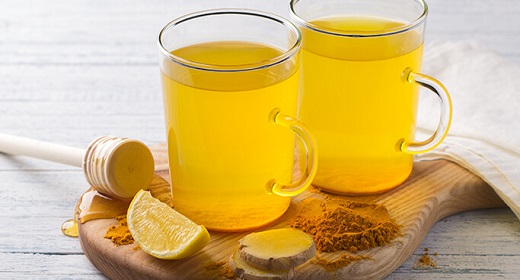 try some fruit-and-vegetable combinations that not only taste great but will also boost your immune system.
With cold and flu season in full swing, it is wise to boost your immune system. And what better way to fortify yourself with vitamins and nutrients than with juices made with delicious fresh fruits and vegetables?
Juicing is efficient and easy to fit into your daily regimen for staying strong, vital, and healthy all winter long. With the right combination of nutrients, you may be able to bypass your medicine cabinet and reach for a potent immune-boosting juice instead.
Try these five immune-boosting juice recipes and discover the benefits for your mind-body health.
All recipes make one serving and can be diluted with water as desired.
1. Turmeric. Ginger. Lemon.
Sip a small one- or two-ounce serving of this juice slowly—it has a spicy punch that warms your palate and your body as it infuses your cells with healthy goodness.
Ingredients:
1-inch piece of fresh turmeric
1-inch piece of fresh ginger
1 lemon (juice only)
Benefits:
Turmeric: Turmeric is the powerful ingredient that gives curry its bright yellow color and contains the healing compound curcumin. It also boasts an excellent ORAC (Oxygen Radical Absorbance Capacity) value of 127,068—a measure of the antioxidant content of foods. The antioxidants in turmeric, including polyphenols, flavonoids, and vitamin C, are a wonderful boost for your immune system.
Ginger: Ginger belongs to the same family as turmeric (Zingiberaceae) and has a similar root-like appearance but is lighter in color. Ginger also contains a high level of antioxidants, along with some notable antimicrobial and antibacterial properties that will keep you stay healthy.
Lemon: Lemons contain high levels of vitamin C, as well as strong antibacterial and antimicrobial properties, making this cheerful fruit a superfood for strengthening your immunity.
2. Apple. Celery. Parsley.
Refresh your palate (and your vitality) with this simple tasty juice.
Ingredients:
1 apple
4 stalks celery
1 bunch of parsley (stems included)
Benefits:
Apple: The antioxidants in apples help protect your cells from oxidative stress and free radical damage, which in turn helps to keep your immune system strong and vital. Researchers have found that apple varieties such as Fuji, Red Delicious, Gala, Liberty, and Northern Spy have the highest antioxidant activity.
Celery: You may have noticed the celery section at your local market dwindling more often as the celery juice craze grows. Not only does celery have a robust antioxidant profile, but research also shows that celery has antibacterial, antifungal, and anti-inflammatory properties, all of which will help your immune system stay strong.
Parsley: You have no doubt seen parsley served as a garnish, or perhaps you have enjoyed it as a subtle spice in your favorite soup. But did you know that the essential oil in parsley is highly antibacterial and antifungal? Add a little parsley to your juice for an extra immune boost.
3. Carrot. Orange. Cardamom.
Try this incredibly refreshing and nutritional juice to supercharge your day and your immune system.
Ingredients:
3–4 carrots
2 oranges
1 teaspoon cardamom
Benefits: