by Jeff Reinke: The United Parcel Service (UPS) recently announced plans to order 10,000 electric delivery vans from UK-based company Arrival…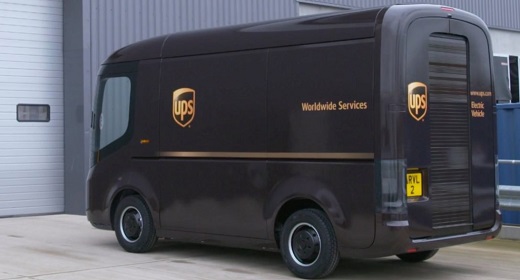 UPS is also obtaining an ownership stake in the London startup by investing an undisclosed amount.
Arrival claims that its vehicles' combined use of "ultra-lightweight composite materials" and proprietary electronics and motors reduce the overall weight of the vehicle so dramatically that operating costs are 50% less than their traditional counterparts. The vehicles feature a 150-mile range between charging with configurations ranging from 3.5 to 7.5 tons. According to the guidelines of the deal, UPS will also have an option for up to 10,000 additional vehicles.
Arrival, which was founded in 2017, is off to a strong start in 2020. In addition to the UPS business and investment, Hyundai recently staked the company with a $100 million infusion of capital.
UPS will look to use the Arrival vehicles in the UK, as well as throughout Europe and North America over the next four years. The deal with Arrival is the latest in a string of moves showcasing the global logistics provider's dedication to new vehicle technology.
In 2017 UPS began a project to convert 1,500 of its New York City delivery trucks to battery-electric power. It's also tried out electric trucks from Daimler and is committed to 125 of Tesla's electric semis once they become available. The company has also purchased 1,000 electric delivery vans from Ohio-based Workhorse.
UPS, which is headquartered in Atlanta, employs over 480,000 people around the globe and registers over $70 billion in annual revenues.